At the age of sweet 16, many of us, especially girls, want to look the best and wear the best of the brands. We have someone who is living that dream at your Adda. Kelly Cutrone is her Idol and believes Coco Chanel is the epitome of the feminist movement. She is just 16 and writes for a few fashion magazines. We are proud to have one of the youngest fashion bloggers of India, Arushi Khosla at your adda for an exclusive interview. If you are a fashion evangelist, or someone who loves wearing beautiful clothes, this is for you!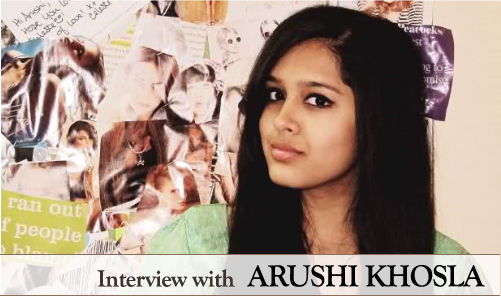 Q: When and why did you start blogging?
A: 2 years now, I think!
Q: What topics do you generally blog about?
A: My blog is a style blog so it encapsulates lots of that. It's a style diary of sorts; I document exactly what I'm wearing around twice a week. I also put in interviews with photographers/editors, etc. that I get in touch with through my other writing assignments for bigger websites/online magazines and sometimes opinion pieces.  Tons of designer collaborations as well!
Q: Do you ever get stuck when writing an entry? What do you do then?
A: Oh, definitely! I tend to just leave it be and try a fresh idea till I get a little more clarity on my previous topic.
Q: How did your inclination towards fashion and likewise things start? Were you influenced by someone from your family or peers?
A: I'd have to say magazines and style blogs really influenced me to do my own thing.
Q: We have seen your love for high heels on your blog. Our readers would love to know more such pet peeves.
A: I wear heels constantly. It's probably because I'm only 5 feet 4, midget territory, basically so I feel the need to add to my height and also, flats just don't do it for me. So I'm running to the supermarket in oxford platforms. It can get kind of ridiculous. I love crazy colored mascara that most people think is tacky and I would pick skirts over shorts anyday. I also think Tom Ford is way more influential than Tom Hanks.
Q:  You have received a lot of recognition at an early age. In fact, at BlogAdda you are the youngest blogger interviewed till now! How do you feel about this and what are you looking forward to achieving in future?
A: I think it's a new platform in India, still, social media, that is. So because I'm one of the few, it's really emphasized. In the larger scheme of things, I'm just another blogger in a sea of style stars! I eventually want to go to fashion school in NYC and am going to start working on my applications this summer, in my senior year (12th grade)!
Q: You have observed the US fashion trends closely. How would you rate Indian trends in comparison with US trends? Also, what do you feel has changed/lacked in Indian Fashion?
A: Indian fashion has a lot of potential because we have so many incredibly talented young designers who are pushing boundaries- Prashant Verma, Amit Aggarwal, Varun Sardana, Gaurav Gupta, etc. but our system, like every other system in this country is severely messed up. We need to hold one fashion week like the rest of the world; buyers from Paris and NY don't have time to attend 15 different fashion weeks and it's extremely detrimental to our designers' interest.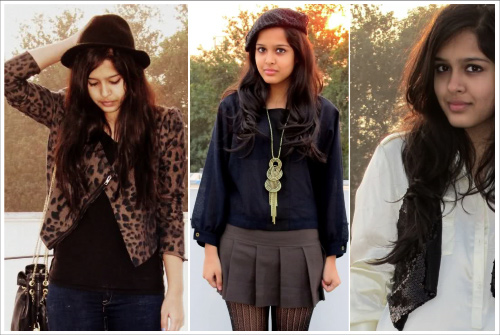 Also- online presence is being built around every brand around and our designers really need to jump in on the game. Pieces from Indian designers would sell like hot cakes if exposed to a global audience but we're still not taking the leap, inexplicably. We need to embrace online luxury retailers! We buy European clothes and they would also buy Indian pieces if given the opportunity.  Of course, in this whole thing, I am not commenting on designers like Bibhu Mohapatra, Ashish Gupta, Naeem Khan, Manish Arora, etc. who've made it big abroad because their market is essentially there.
Q: Which Indian designers are on your favorite list? Given a chance whom would you like to work with & why?
A: I love Prashant Verma, Gaurav Gupta, Nandita Basu, Amit Aggarwal, Varun Sardana, Gauri & Nainika, Little Shilpa (again- mostly based abroad).
Q: One of your post mentions the number of fashion weeks in India. What changes, if any, would you like to see in these fashion weeks?
A: I think WIFW this season made a lot of positive changes as far as administration was concerned. I mentioned some changes that should be made to fashion weeks above.
Q: Which clothing style do you prefer the most & why? We haven't seen much of Indian clothing in your blog. Will you experiment with that style on your blog?
A: Well, I don't know. I think Indian traditional clothes are gorgeous for weddings and suchlike but I'm not sure about how I'd want to incorporate them into my daily wardrobe.
Q: If you wanted to interview one designer, who would it be? And which is that one question you would ask him/her?
A: Phillip Lim. "How does someone with a degree in medicine, suddenly leave everything and become an overnight success?". He's incredible and such a classic success story.
Q: Name 5 best designers & models, according to you both Indian & non-Indian.
A:  Indian designers I named above.
Indian models: Indrani Dasgupta, Bhawna Sharma, Pia Trivedi, Lakshmi Menon (again she mostly does work abroad now).
International designers: Proenza Schouler (Jack and Lazaro), Dries Van Noten, Acne, the late Lee McQueen, Altuzarra, Nicholas Ghesquiere, Stefano Pilati (for YSL), Christophe Decarnin (Balmain), Isabel Marant, Olivier Theyskens.
International models: Karlie Kloss, Daria Werbowy, Natalia Vodianova, Freja, Amy Wesson, Behati Prinsloo, Coco Rocha, Erin Wasson, Constance Jablonski.
Q: At your age it is difficult to even balance studies & social life. How do you manage to do both along with working & blogging? Our readers would love to know about your life other than blogging & working and also more about your managerial skills!
A: I try to keep up my grades- even more so now, as college draws nearer! It's really not as complicated as it sounds, I'm a late sleeper!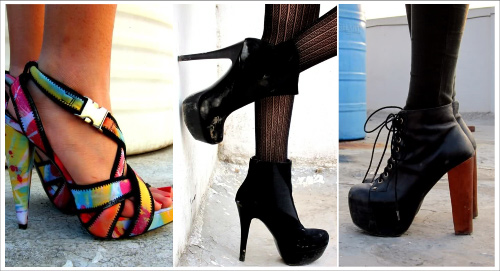 Q: Do you promote your blog? What promotional techniques work best for you and why?
A: Social media: Twitter, Facebook, Tumblr. Link exchanges at times, rarely, though.
Q: How important is it for the blogger to interact with their readers? Do you respond to all the comments that you receive?
A: I respond when a question is asked, definitely. And I respond to every email. I also comment on the blogs that I particularly like. I'm always tweeting with other bloggers/readers.
Q: What do you find to be the most gratifying aspect of blogging?
A: Getting your voice out there, even if it's in a limited form and only for the eyes of 600 people a day! Having access to things you wouldn't otherwise, getting to meet amazing people, being part of the global fashion blogging community.
Q: How, in general, would you rate the quality of Indian blogs? Share your favourite five blogs.
A: We need to grow a LOT but there are some gems:
Q: What is your advice to someone who wants to start a blog?
A: Don't try to copy someone else's voice – then you're just a flake and nobody will want to read/see what you have to say/show.
Q: Do you earn revenue through your blog? How does one go about it?
A: Some, yes from advertisers/sponsors. And then I get some free clothes every once in a while to review. There are fashion bloggers who do this as their fulltime job and earn thousands of dollars every month. They really market, network, treat it as a business. I'm just a kid! Haha.
Q: Let's conclude off with a few favorites.
Color: Mmm… can't say. I love greens and black and lots of metallics.
Movie: Breakfast at Tiffany's, Amelie, The Virgin Suicides, Empire of the Sun randomly come to mind.
TV Show: One Tree Hill, Kell on Earth, Pretty Little Liars, Glee, 90210, Bones, Prison Break *when it used to be on*. And Modern Family, How I Met Your Mother. And all time favorites: Sex & the City and the OC. Completely epic. I watch WAY too much online TV.
Book: The Fourth Hand, Virgin Suicides, Versace, The Sun Also Rises, Pearl Harbor, Catch 22.
Time of Day: Night. I'm freaking nocturnal.
Your Zodiac Sign: Saggitarius. But they're supposedly changed and now I'm a cusp between Saggitarius and Scorpio.
Thank you Arushi for this wonderful interview and we wish you all the best. This is just the start for you and we are sure you will go places. Readers, let us encourage such wonderful talent in the Indian Blogosphere as we do our bit in promoting the best of the Indian Bloggers.
Connect with Arushi: Blog, BlogAdda, Twitter