Everyday we wake up from bed looking forward to something. It might be a party, might be a boring day at work, could also be playing with children or a day full of mixed emotions. We don't really know what's in store for us. Ever imagined what it would feel like to think that this must be the last party, this must be the last day at work or the last time playing with your children. These will be the thoughts going on in a cancer patient's mind. Mind is the key and if you gain control over it you survive. The survivors of cancer are not survivors just by mere miracle and a good treatment but also by their sheer will to overcome the everyday fear and live a happy life.
We hereby bring to you one such lady who is a survivor of stage III invasive breast cancer, who had been diagnosed at an early age of 29, and is a mother of two. Farida Rizwan has battled against this dreaded disease for 15 long years and has tasted victory. She never thought that she's dying. Farida is a warrior and a true warrior always wins and so did she. She shares her journey with all of us in an exclusive interview with BlogAdda!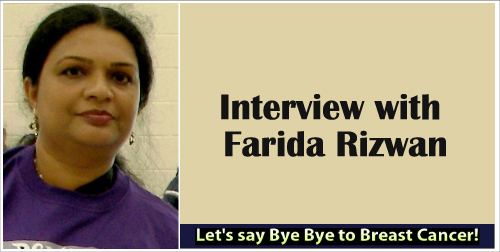 Q: When and why did you start blogging?
A: Initially I started blogging on yahoo 360. Unfortunately it got closed down and I stopped blogging for a while. Later on I found out blogspot. Actually I came over to blogspot to read posts about Jill (http://sci-teach912.blogspot.com/). Slowly my passion for writing took over and here I am with chapters from my life. I think few of the chapters have some hidden meaning for people to learn from so I feel I should share it with as many as possible. What better way is there than blogging for this purpose?
Q: What topics do you generally blog about?
A: There is no particular topic in my blog. As the name suggests they are chapters from the book called life. It is all about my life and my view about situations. I just allow my thoughts to flow freely on my blog without giving a second thought as to may be people will think I am crazy. Mostly it is about my poems, childhood, my children, family, cancer etc.
Q: Do you ever get stuck when writing an entry? What do you do then?
A: I don't know how to answer that particular question. I never sit down to write something. Actually I write when some idea comes into my mind and I feel a need to pen it down. At times my mind is crowded with many thoughts but none of them are good enough to be written about. They do not have a rhythm about them. That is when I back off from writing. I would rather be silent on blog rather than blabber on about things that do not make sense. May be it can be called writers block or something. But being a simple house wife I would never consider myself a serious writer in the first place to talk about a block.
Q: Do you promote your blog? What promotional techniques work best for you and why?
A: I would not lie and say that I do not mind whether someone reads my blog or not. Every visitor and comments mean a lot to me. I have thought of promoting my blog but have not done much towards it because of time restrictions I have and also because of my ignorance ;). I have been a part of blogadda and indiblogger where I have met wonderful bloggers and that is the only promotional technique I have used so far along with sharing few of my posts on my facebook page.
Q: How important is it for the blogger to interact with their readers? Do you respond to all the comments that you receive?
A: At times the topic we post will be something to be discussed and then interaction will be very important. You cannot post a questioning topic and keep mum over it. Other than that, it is a choice. I usually try to respond to the comments I receive but it is not possible. In the same way I read a blog and leave my comment when it impresses me but do not expect the blogger to respond to me.
Q. What was your first reaction when you came to know you have breast cancer? How did your family, friends and relatives react? Who was your support system?
A: It was 15th April 1996, Monday, around 11 a.m. I remember exactly what I said when I heard the words "Farida, I am sorry to tell you this. But it is invasive breast cancer and you need to go for surgery as soon as possible" and I said aloud, " OK! What next?" along with all the cursing words silently. I was already going through a lot at that time. My sister was in final stages of cancer survival and I had seen her suffer without treatment.
The tumor had burst and her chest was covered in a big wound which she cleaned and bandaged every day. I was struggling to cope with my special needs daughter who had multiple disabilities, doctors not being able to pin point what was wrong with her. Financially my family was in dumps without a stable income. My biggest support systems were my two kids for whom I had to be strong. My family was struggling to cope with my sister's cancer and even though they tried, they had their own limits. Friends were not around and for the relatives it was a debate as to why God had punished me so. Some said it was because of my open minded attitude towards religion, not being obedient wife, being proud, etc. My husband had jumped the bandwagon too. I just sighed and moved on.
Q. You were very brave enough to battle with this dreaded disease. It would have been difficult to keep up the hope living in your heart and mind in this long span. What or who was your driving force behind this battle?
A: I cannot say I was brave in this battle. Did I have a choice? I had seen my sister suffer making her choice of not going for treatment. I had seen my dad suffer through chemotherapy. But he had suffered and survived where as my sister lost her battle when I was going through my treatment. All I had to do was hold my kids near to my heart and say to myself that I am going to be there for them. I am not going to desert them when they are so young and go away. That was enough to bring hope and will power to fight on.
Going through chemotherapy, surgery and the whole course of treatment is very hard on body and mind. At times I would feel I have lost the real 'me' somewhere to cancer and this was some stranger who was in my place. But then I would crack myself up with weirdest funny thought and I knew it was me… because no one else could have that particular crazy sense of humour when fighting cancer. Having your sense of humour intact is very important. I had faith in God that he was taking me through just a sharp bend and not the end. I had hidden lessons to learn from my experience with cancer.
Q: Time for some fun! You love computer games. 🙂 Which are your favorite games and who introduced you to it?
A: If I have got to know about love at first sight; it is through computers. I fell in love with computer the first time I laid my eyes on it. Since then it has been an inseparable part of my life. I play racing games with my son (though the teen wins it most of the time). Facebook has fast become a part of my life which is helping me stay connected with people I care about. Facebook games and competitions fascinate me. Word games have been my love over there. I have made it to all time high scores at times.
Q: If you were given a chance to travel around the world, which would be the five places you would want to visit and why?
A: As a child I carried the dream of visiting two places in my life. One was Sikkim and another was Disney world. Surprisingly I could make it to Disney World but I am still waiting to visit Sikkim. Niagara has been another fascination for me along with a visit to a place where we can play in snow. How about taking me to Greece and Sweden? I would love being there too.
Q: When you are not blogging you teach children. As a teacher how do you think you can make a difference to the children's lives? Are you happy with the current educational system? If not what are the changes you would like to see and why?
A: Let me clarify something else over here, I am also a student along with being a teacher. When we look at the system we never feel happy about it but do we particularly contribute towards any change other than complaining about the system. I know we all feel the education system in India is not good enough, but then how come students from India have made a place for themselves in the world. I am teacher by choice and not by chance. I love teaching more than any other job I would get. Being with children works like a therapy for me. I am quite sure that children sense love when you have it in your heart for them and they respond to it. I have never had any trouble disciplining children be it my own or the students I teach.
The only change we need is to have teachers who love teaching and have affection for children. Wrong people with wrong attitude, in any field do not bear good results and so it is in education. I wonder at times when I read about harsh corporal punishments which have maimed students. Do our kids deserve this? Having been highly influenced by my own teachers, I know what difference a teacher can make in an individual's life. I hope teachers realize their own worth and live up to it.
Q. How did you manage work and your health at the same time? Not to mention, your motherhood too.
A: We get our quota of 24 hours tax free every day. I spend it wisely. Give priorities to the tasks that need urgent attention and time and then move on to less important tasks finally keeping some time for enjoying life and having fun. I try not to skip anything including the fun part and chatting with my kids.
Q. In what way have you been spreading awareness about it or wish to in future?
A: I try to talk to people and convince them to go for test if they feel any difference in their breasts. Early detection and proper treatment can help people survive cancer. The risk is less in the initial stages. The most difficult task is convincing people that all the shamans out there are lying to them. I have seen a young mother lose her life because I failed to convince her that she was being led on the false path. I cannot say I did not try hard. Many people are scared of chemotherapy and surgery so they opt for something simple which does not work out for them. I find it very frustrating to watch people being misled in the name of cure for cancer. I wish to start or join an awareness program and counseling center for cancer someday.
This is a hard journey and we need support when we are walking through it. Those who have not been through breast cancer or any other type of cancer will not realize what a person is going through. One of the reasons why I am so close to my survivor friends I connected through net, then my real life connections. I have seen Mrs. Harmala Gupta running a great support system.
There are many cancer support centers around India, but in the village I live people do not have any access to this kind of awareness and I feel that is the case in every village in India. Sadly even the doctors around here are not very well informed about cancer symptoms or care. The awareness programs should reach villages where it is most needed. The urban educated person will have access to information more easily then a rural uneducated person. I know my sister may have survived if I had known back then what I know about breast cancer now, though I am not sure she would opt for treatment.
Q: What do you find to be the most gratifying aspect of blogging?
A: I live in a small village and communication here is limited to discussing T.V. serials (which I cannot do as I do not even have a T.V. in my home anymore), religion or gossiping about some person. I was brought up in Bangalore where my lifestyle was quite different from what I have at present. Blogging saves me from suffocation. I can express myself over my blog and at times I am lucky enough to find people who understand me. At times my luck takes a leap and I find people appreciating me too.
I am used to writing journals from my childhood. The feeling of writing something for ourselves is quite different from the one we put out for the world to see. Blogging gives us our own space to put out our views for the world to see.
Q: How, in general, would you rate the quality of Indian blogs? Share your favourite five blogs.
A: We Indians do not cease to surprise ourselves and the world given to anything. So it is with blogging too. I have come across amazing blogs by Indians. I wish I had more free time to read blogs. Studying, teaching, taking care of two teens along with monotonous house work does not allow me the luxury of reading anymore.
Choosing five blogs is the toughest thing you have asked me to do so far.
I want to mention the blog that introduced me to blogspot. Jeff is an amazing person who has seen his best friend Jill lose her battle with cancer My Life…lived my way.
Also another warrior in the crusade against breast cancer –Kathi – The Accidental Amazon.
These are few of the blogs I regularly visit and read.
Q: What is your advice to someone who wants to start a blog?
A: Pay careful attention to the tips on blogadda.
Q: Do you earn revenue through your blog? How does one go about it?
A: I wish I could say yes to that question but unfortunately I have not generated any income through internet so far. There are smart bloggers who tell me they earn consistently through their blogs. I think I should seek their advice sometime.
Let's conclude off with a few favorites.
Color: The Uranus color of greenish blue.
Movie: Forrest Gump, Taare Zameen par. I love comedies.
TV Show: Kaun Banega crorepati. AB was great in the show.
Book: Another of your tough question to answer . Can never pick one because I love most of them. Mark Twain, Scot Peck, Somerset Maugham etc are my favourite writers. Recently I read Dan Brown's "The lost symbol" and think it is great as are his other books.
Time of Day: Early in the morning. Every day I wake up with a good feeling I am still here and I can do so much more again today.
Your Zodiac Sign: I am a cusp. Born around midnight during the transition of Libra and Scorpio and sure I am a (con)fusion of the two.
Thank you Farida for this awesome interview. We salute your spirit are proud to have you at our Adda. Let us all say together say 'Bye Bye to breast cancer'. Support us in this initiative by spreading the word around and doing your bit.
This interview is part of the Breast Cancer Awareness Campaign that BlogAdda is jointly doing with Indusladies.com. We invite you to join the campaign and promote breast cancer awareness. All Tangy Tuesday Picks and Spicy Saturday picks for October will feature ONLY bloggers who join this campaign. More details here. Thank you.