"The problem with SEO, is it's a industry in which it's getting saturated." believes the man whom we have interviewed.  He is a serial entrepreneur, blogger, investor & the co-founder of 2 Internet companies Crazy Egg, and KISSmetrics. By the age of 21 not only was he among top 100 blogger by Technorati, but he was also one of the top influencers on the web according to the Wall Street Journal. We have none other than Neil Patel interviewed for you.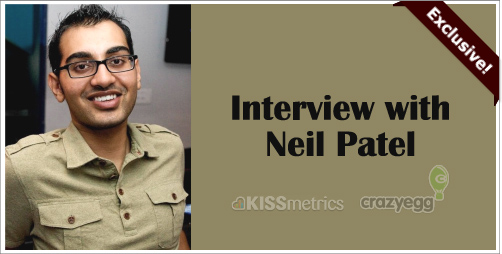 Q: When and why did you start blogging?
A: I started blogging around 4 years ago. For the past 2 years or so I have been blogging at Quick Sprout.
Q: What topics do you generally blog about?
A: I blog on topics that are related to business, marketing and blogging.
Q: Do you ever get stuck when writing an entry?  What do you do then?
A: I don't get stuck too often because I typically know what I am going to blog about before I write down the first word of a blog post.
The hardest part for me is to come up with new blog topics. I usually get around this by reading other blogs. This helps spur my creativity.

Q: What promotional techniques work best for you and why?
A: Leveraging Twitter and Facebook works well for me. Every time I write a new blog post, it goes out to all my friends on Facebook and Twitter.
Q: How important is it for the blogger to interact with their readers? Do you respond to all the comments that you receive?
A: It is very important. By doing things like responding to every commentor you are more likely to gain loyal readers.
Yes, I personally respond to every commentor.
Q: How, in general, would you rate the quality of Indian blogs? Share your favourite five blogs.

A: I am Indian and proud of being Indian, but I don't read many blogs written by Indians. I really want to support Indian bloggers, but I don't know of too many Indians that blog. The only one I know of is Persuasive.net which is a good blog on persuasive communication.
I guess as a new user to BlogAdda, I will have to find some good Indian blogs to read.
As for my 5 favorite blogs:
Q: You co-founded SMM company ACS in 2003 when probably Social Media was at its nascent stage. What prompted you to start and how has it changed from then?
A: I started it because I thought social media marketing would be a large component of Internet marketing. When I started in social media marketing, sites like Digg were the dominant social sites.
Currently Digg is still a big social site, but companies are more so leveraging new sites like Twitter these days.
Social media has changed from being more news oriented to creating interactions with your target customers.

Q: The first trace of Entrepreneurship in you was the the stuff which you used to sell in the college. 🙂 When we go back to your history, we observe that you always went against the tide (Eg. Advice Monkey). How can a person know if he is a born entrepreneur and the tips to be a successful entrepreneur? How important is taking risks to become a successful entrepreneur?

A: You know because you typically do stuff that entrepreneurs do. For example, you may sell lemonade to people on your street. I wish I had a better answer, but something inside of you will tell you that you are an entrepreneur.
The best tips I can give are:
Don't be afraid to take risks because without taking risks you won't ever succeed.
Most entrepreneurs' fail and when you fail don't give up. Keep on trying and things will go well for you sooner or later.
Do something you are passionate about because it won't feel like work. This way you will work harder and longer.
Q: The Indian Startup Scene is growing. What advice do you have for budding entrepreneurs in a developing economy like India? Are you thinking of doing something for Indian startups and play the role of angel investor?
A: Look at businesses ideas that have worked well in other countries and see if they have been brought to India. This could be an easy way to come up with a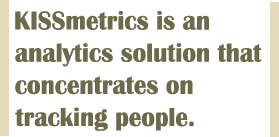 company/business that has a higher chance of succeeding.
I have thought about doing something for Indian startups, but I am not ready yet. I will probably help fund some Indian startups, but I don't think that will happen for at least 3 years. For now I need to focus on getting my new startup off the ground. After I make a bit more money, I promise to give back to the Indian community.

Q: Brands are always being talked about in the Social Media irrespective of whether they are present or not. Do you think the time has come when the brands have to start using the social media for one on one interaction?
A: I don't think the time has come… it will be a few years at least. If you look at the companies that are leveraging social media, it is a small number compared to the total number of companies in this world.
Q: Kissmetrics! What prompted you to do something different from Google Analytics and what can we see in the future from Kissmetrics? Crazyegg was the trendsetter and one of the first ones to introduce Heat Maps. What kind of changes do we see in Analytics in the near future?
A: In every industry, things have to evolve. It is just how the business world works. Google Analtyics and Omniture are great products and I use them myself, but it is hard for them to evolve the demands that new aged websites have because they already have thousands, if not millions of users.
Plus when you are a large company, you tend to move slow.
KISSmetrics is an analytics solution that concentrates on tracking people. I wish I could give you more insight, but you'll have to wait and see. 😉
Q: Do you think you would have achieved the same had you lived in India? What should India be doing to be more conducive to attract more tech companies to start operations here?
A: I don't think I would have. Although I love India, being in California has given me access to things like Venture Capital and more networking opportunities.
I know you can build a .com company in India, but the odds are probably a bit better if you live in the U.S.A and more so if you live in San Francisco.

Q: What do you find to be the most gratifying aspect of blogging?
A: I love helping people. I don't make any money on my blog, but I love it when I have changed someone's life through my blog.
Q: What is your advice to someone who wants to start a blog?
A: Write on something you love. If you don't, you'll tend to not blog often enough.
Q: Let's conclude off with a few favorites.
Color: White
Movie: Cool Runnings
TV Show: The Philanthropist (I think it got canceled)

Book: The Dip

Time of Day: Morning

That was an interview filled with complete #gyan and tips for entrepreneurs and Startups. Thanks a lot Neil for taking the time and giving us this wonderful interview. We are eagerly looking forward to the new version of KISSmetrics and wish you all the best for the same.