The blogger who is interviewed this week is an Al-Avalathi as he calls himself :). He is an  NITian and works for HP as a Customer Insights Consultant. He is one of the early adopters of Internet and a big fan of Google and Wikipedia. He blogs at Nikhil's Musings. A blogger who stays in Bangalore but has his heart in Kerala. Here are Nikhil's witty answers for you.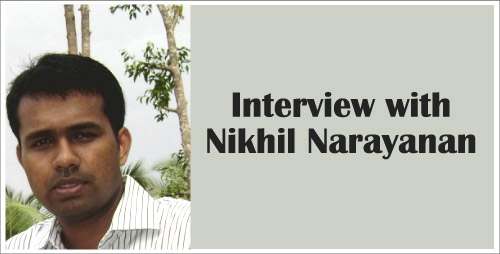 Q: When and why did you start blogging? Was it out of curiosity or something else?
A: I used to try my hand at newsletters (some even anonymous) during my NITW days. I loved to write, but where to write was the question. The Hindu did not respond to a piece that I sent them for their Metro supplement.
During the 2003 invasion of Iraq, blogging was in the news thanks to an anonymous Iraqi blogger, Salam Pax. And soon I stumbled upon the blogs of Anirudha Marathe and Venkat But it took some more months for me to take a plunge, the fear of "will I be able to do justice to this" was on top of my mind. Finally, I started blogging on 21 May 2004.
Q: What topics do you generally blog about?
A: Though my posts can't be categorized into any genre, most of my posts are personal with a smattering of Kerala here and there.
Q: Do you ever get stuck when writing an entry?  What do you do then?
A: Most times I get stuck ending my posts. Then, I just wind it up in an evidently abrupt fashion. I don't have a solution. If you have, let me know K.

Q: Which tools/plugins do you use to efficiently manage your blog? Any widgets or tips you would like to share with our readers.
A: I am a fan of Google Analytics. Not for efficient management, but to snoop around real time, I use the Wassup WP plugin.
Q: How important is it for the blogger to interact with their readers? Do you respond to all the comments that you receive?
A: Not responding to comments is like giving a constipated look to someone who smiles at you.
I do respond to all the comments unless they are the ones selling Viagra and likes. [Akismet Zindabad] Most comments do bring in some value and share a commenter's experience or anecdote.
Q: How, in general, would you rate the quality of Indian blogs? Share your favourite five blogs.
A: God! Tough question this one is. [PASS]
My list keeps changing. Maddy and his history blog are my current favourites.

Q: What do you find to be the most gratifying aspect of blogging?
A: The fact that without the use of pester power, people are reading what I write.
Q : You were one of the people who was instrumental behind Shashi Tharoor's online campaign. What was the brief and the goal that was given when you had set out on this venture?
A:  Mmmm, not exactly. When his candidature was announced I spoke to some members in the campaign team. I was asked to do whatever I could do online to get votes

for Dr. Tharoor. Together with many fellow bloggers, we all did our best.
I feel each one of us did a good job spreading the word about Dr. Tharoor's candidature. The goal was to create maximum buzz and convert that into votes.
Q: "One of the early adopter's of Internet" your profile mentions. How has the internet changed the lives of Indians then and now ?
A: Oh, did I say that? I was hooked onto the net sometime in 1998. I was an addict even then, when browsing on Netscape was not much favored due to bandwidth constraints. Not sure how many of you would know, the text based browser Lynx was the option for us. [Thank you NIT Warangal]
Internet has helped change the lives a lot. Could you have imagined booking tickets online 15 years back? Or say filing tax returns online. There are so many of such examples around us.
Q: We all know how fond are you of Business quizzes. Can you tell us more about how this interest was born and what goes in for preparing a business quiz?
A: I used to be enthu about quizzes even in school. I was the typical doubt-master kind of student in school.
It was during MBA that I started participating in Business Quizzes. There is no set of things to do for a Business Quiz. Be a sucker for information, there is nothing that is irrelevant.
Q: Fish and rice, one of the staple food of Kerala. What is one thing about Kerala which is its USP according to you and why is it known as 'God's own country'?

A: Please don't bring in fish during the interview. I will leave this and push off for lunch.
The state itself! Nature has blessed Kerala with hills, mountains, beaches, rivers and back waters.
Almost any photograph taken will qualify for a tourist brochure. May be god was selfish and created a country for him to stay. 🙂

Q: The buzz word in the online space is Social Media. State like Kerala where Politics form a major factor in ones life, how do you think can social media be used to bring about a change in society?
A: Political awareness and political activism are very high in Kerala. How I wish social media could bring in some sense into the Pinarayi supporters of the world.
Wait, Social Media is part of a CIA agenda. No, we don't want it in the state. 😉
Q: What promotional techniques work best for you and why?
A: The oldest promotional technique I used was forcing friends to read my posts. Sensible comments on others' posts do help. Socialising in the online world has helped as well.
Getting featured on Desipundit and being a contributor has brought in good traction. [Thanks @patrix]
PS: Blogadda featuring my Shashi Tharoor post did wonders. Thanks!

Q: Do you earn revenue through your blog? How does one go about it?
A: After accumulating a whopping 10 USD in over 3 years, I realised that no one clicks on those Google Ads even by mistake. Then I tried other ads like Komli and Tyroo. The height of optimism was joining the Shaadi.com affiliate program through which I gained nothing but monthly emails that gave me hope that I will soon start earning. After enough failures, I took off all the ads.
Q: What is your advice to someone who wants to start a blog?
A: Start. Force friends to read. Cajole colleagues. And ya, please don't use a black template with green font; be nice to the readers' eyes.
Nikhil can be contacted at : Blog, BlogAdda, Facebook, Twitter, Linkedin
Thanks a lot Nikhil for the wonderful Interview. It was a pleasure interviewing you and having your views on various issues.  We are sure our readers would have felt the same. Readers do let us know your feedback and let us know if you are enjoying the interviews.