Rajiv Dingra is a social media and digital media evangelist who is also the Founder & CEO of WATMedia Pvt Ltd which owns WATBlog.com – India's leading digital media blog. He is a prolific blogger who has over 1400 blog posts to his credit at WATBlog. WATBlog showcases news, views, reviews and interviews around the Web, Advertising and Technology front. Rajiv does some great analysis of the digital media industry in India and often brings out deep insights with his inimitable style of writing. Here is the brain behind WATBlog – Rajiv Dingra.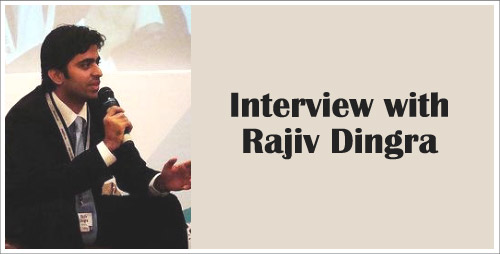 Q: When and why did you start blogging? Was it out of curiosity or something else?
A: I started WATBlog in 2006 July. I was a startup entrepreneur then running a fresher jobsite. I had also spent 6 months working in a digital advertising startup and I felt I had good amount of insight and knowledge. I wanted to showcase that to the world. WATBlog was started not as a business but as a passion to delve deeper into the digital media space.
Q: What topics do you generally blog about?
A: I personally like blogging about digital marketing, digital media businesses, social media, entrepreneurship and startups. WATBlog though covers a wider range as there are more than 10 active bloggers blogging about Telecom, VoIP, Social Media, SAAS and technology trends.
Q: Do you ever get stuck when writing an entry?  What do you do then?
A: Yes sometimes. But that is because I'm doing a lot more than just blogging at that moment. We run a successful social media consulting arm WATConsult which keeps me busy and therefore sometimes in the middle of blogging I am called upon and the entry gets stuck. With regards to what I do.. well after close to 1400 posts I'm good with carrying on from where I left off and completing the blog.

Q: Do you earn revenue through your blog? How does one go about it?
A: Yes, since the last 10 months WATBlog has been making revenue via ads and events. If one would count WATConsult (as a beneficiary of the WATBlog brand) then we are making revenue since 2 and a half years.  Well, ad revenue will take time coming so my suggestion to bloggers would be to build a brand and see alternative channels of revenue. We saw alternative channels in events and consulting and those have served us well.

Q: How important is it for the blogger to interact with their readers? Do you respond to all the comments that you receive?

A: Its very important. I try to respond to those on my posts. Sometimes the readers converse among themselves and its nice to just read their views and insights on our story.
Q: How, in general, would you rate the quality of Indian blogs? Share your favourite five blogs.
A: Indian blogs are interesting and according to me can be classified into those providing news  vs those providing insights and analysis (on one or many verticals) while a large number of them are personal ramblings on various things.   I like
Indiaprblog
8 tricky social media marketing questions from clients, answered by Dave Evans
Webyantra
VC & Startup Founders saga continues
Ofcourse Watblog.com (I write fewer posts these days so I read a lot of the posts)
Social Media Poised at $3.1 Billion Globally in 2014 – India's Potential?

Q: What do you find to be the most gratifying aspect of blogging?
A: Well, blogging is like a well done research. One is enriched with one's own insights when one blogs. I believe we can give shape to thoughts and views by blogging and reading our readers views.

Q: WATConsult operates WATblog, WATShow, WATJob, WATGame, WATPR. Tell us more about them and WAT Next 🙂 ?
A: I'd like to correct you here WATConsult is a subsidiary of WATMedia Pvt Ltd (the parent company). So the parent company operates all our businesses be it media properties like WATblog, WATShow.com, WATJob.com, WATGame.com, WATPR.com or consulting business WATConsult.com or our events WATBlog panels and WATBlog Wednesdays.
The answer WATNext would be answered this year. We have always had a big vision with the WAT brand and recently at our birthday we gave out WATTITUDE tshirts as well. WATTITUDE is a definition of those who have a digital attitude and showcase the same via their blogs, twitter ids and facebook profiles. Over time, WAT aims to be a thought leader in the digital media space by enabling connections, conversations and collaborations within this space i.e. (Web Advertising and Technology space). Our new initiatives would be in making this vision a reality. We have a simple goal. We want to grow the digital media industry and play the role of the enabler.
Q: Lately, Mainstream Media has developed a breaking news syndrome. Does this happen in the internet space as well and how do you manage it?
A:

Well, it will happen and is already happening in the internet space. Check the twitter id for breaking news on and see the number of followers. This just states that there is a following for breaking news kind of content. But then again to do it regularly isn't an easy and scalable task. But yes this syndrome will exist in all media forms.
Q: WATblog covers WAT events in the country with WATshow doing video interviews. Which was the most difficult interview to take and why?
A: Well, we never found any interview difficult as such as we do our research well. As far as exciting interviews are concerned I have 4 personal favourites which I personally interviewed. Matt Mullenweg – WordPress Founder, Om Malik – GigaOm, Sanjeev Bikhchandani – Naukri.com and Ashish Gupta – Helion Ventures. From the other WATShows, I would say Jimmy Wales – Wikipedia & Esther Dyson – Edventure holdings would be special but my team interviewed them.

Q: How would you differentiate WATblog in terms of content and offerings with other players like Medianama & PluggD covering the similar space?

A: I think this question itself is misplaced as all these three platforms are different in their genesis. WATBlog is covering the entire WAT Space and has been around for over 3 years, we have video in WATShow and have covered as well as conducted our own events. By sheer volume and breadth of coverage we are bigger than both the entities you mentioned above. With regards to traffic you can check Alexa, Compete or any other third party tool to compare us. Now besides for these factors the content itself is different for Medianama and Pluggd. Medianama focuses more on Telecom while Pluggd focuses on startups. WATBlog on the other hand is enabling the digital media industry as a whole be it startups or telecom or any digital marketing professional.
Our content spread is broader as we have over 10 regular bloggers which again is a differentiator as none of the above two can truly be called a 'group blog'. And we have been a group blog since inception (overall more that 50 contributors). I think we can be compared to a Techcrunch or Mashable in that regards as most of our bloggers are remotely working with us. Also, I personally power just about 40% of content at WATBlog. From the 3500 posts on WATBlog I have posted about 1400 odd (you can do the math) that tells you that in the true sense of the term we are a group blog that believes in the wisdom of many vs one. We are here to build the WAT brand whether Rajiv Dingra is alive or dead 😉 For me success would be that WAT brand lives on despite my existence.
Having said this I feel Pluggd and Medianama are doing a fantastic job and we feel proud that they are growing the space and themselves with it. We would want more such niche content players so that our larger vision of growing the digital media space is met.
Q: What do you think is the biggest thing that marketers fail to realize about digital advertising and social media ?
A: Marketers fail to realise that this is just a decade old industry and the consumers of the media have still not grown up to be the sellers or buyers of the media. For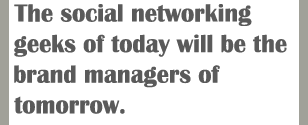 example, the social networking geeks of today will be the brand managers of tomorrow in 3-5 years. That is when you will see the digital media spend rising more than ever before. Also, as current marketers are not heavy consumers they feel this medium is small and non impactful this realization would be easy once both the buyers and the sellers of the medium are heavy users themselves.
Q: Which tools/plugins do you use to efficiently manage your blog? Any widgets or tips you would like to share with our readers.
A: My favourite plugins would be Fireshot – (Firefox addon) for screenshot, Google Sitemaps XML plugin for WordPress, absolute comments plugin for comment replies, Facebook connect plugin for WordPress.
Q: What promotional techniques work best for you and why?
A: We don't promote. We just make sure we blog good content and we take our readers feedback seriously. WATBlog is at a stage where good content + going offline with events and other opportunities is the way to grow.

Q: What is your advice to someone who wants to start a blog?
A: Do it coz you love doing it and not coz of any other reason.

Q: Let's conclude off with a few favorites.
Color: Blue
Movie: Catch me if you can
TV Show: How I met your mother
Book: The monk who sold his ferrari
Time of Day: Morning
Connect with Rajiv : BlogAdda : LinkedIn : Twitter : Facebook
Thank you Rajiv for your  answers. It was our pleasure interviewing you and we are sure our readers would enjoy reading the insightful answers.
Friends, do let us know if you liked the interview and what would you like to see in the future at BlogAdda. Your feedback is very valuable. BlogAdda invites guest bloggers to write at our blog. We have Ashu Mittal writing in with 5 tips for effective photography that will be useful to everyone. If you are interested to write in as a guest blogger, do send a mail at guestblogger@blogadda.com