We continue our series of posts where we ask the top Indian Bloggers, 'What is the most gratifying aspect of Blogging?'. For some 'it is sending subtle messages to wife' while for others 'it could be reaching out to the community'. What is yours? Share with us and get inspired by reading what these awesome bloggers have to say.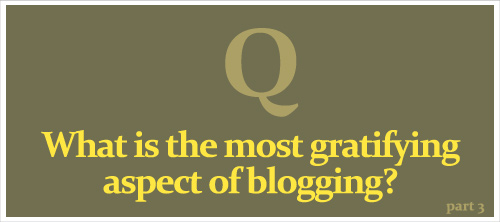 Just go with your heart, post about things that you are passionate about and love to share with others.

For me the most gratifying aspect of blogging is that I can send my wife subtle messages… which only she can understand.

Very clearly, the huge amount of friends I have made there. I have friends ranging in age from 25 to 84, across the world.
Making friends with like-minded people from all over the world. When somebody says that a blogpost of mine made him/her laugh or think or even pause for a while, it makes my day.

The fact that no matter what you're into, there are similar people out there. And they can find you, and you can find them

Reaching out to people, whom otherwise you might never had crossed paths with.

Use Social Networks for Social Change: Facebook, MySpace and More.

Having space to write about the things you want to, in the way that you want to, and being able to click on the "Publish" button yourself, without having to go through a long-winded editorial process.

Mostly that I am entertained by it. Yes, I am a self-absorbed person.

Blogging helps me express much more than what I can express vocally.

Impact. I have been able to touch a lot of people and impact their thinking.


To find that the number of followers on the side bar has gone up!

The fact that you can write what you want and it's out there for people to see. Something that just wasn't possible before.

The internet has played a big role in shaping who I am today.


The biggest change in the blogosphere is the respectability which the blogger is getting.

Each new comment, fan, follower – It's all an awesome reminder that you're doing something right.

To me, it's the constantly amazing realization that there are actually people out there who take the trouble to read the rubbish I write, and actually enjoy it.

Blogging has been therapeutic for me. It has helped me communicate with myself and shed all that is not me.

The feedback (both positive and negative) of readers is very rewarding and inspiring for a blogger.
We thank all the bloggers for taking out time and sharing so much insights. All of you are awesome and we love you all! For all those who are reading, we will appreciate if you post comments and share with us your thoughts on this. We love you as well! Have a good time at BlogAdda.