As the calendar flips to the last month of the year, the mood around changes subtly. Knowingly or unknowingly, most of us slip into a mood that is part introspection-about-the-year-gone-by and hope-for-the-coming-year. We at BlogAdda have had an eventful year, and to keep up with the pace of things, we want to welcome 2015 with something new- a new avatar of BlogAdda!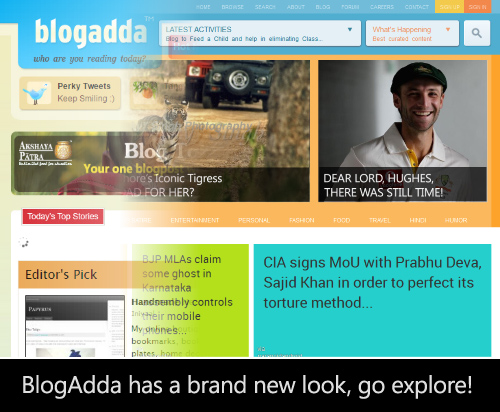 2014 saw many new things happen at BlogAdda. It saw the inception and organization of WIN '14 India's first every Blogging Awards and Conference that brought together bloggers, industry specialists and influencers for a day long session.
We decided to celebrate the common thread binding all of us- blogging, with Game of Blogs where for the first time, 300 bloggers all over India collaborated to weave a story together, which will go into making the nation's first 'blog-sourced' book.
We also strived to do something innovative for the bloggers with interesting activities. #WhatTheBlack set social media buzzing with its black and beautiful products which you blogged about, while #ZestUpYourLife took 50 bloggers to a fun trip to Goa.
2014 was also the year of wish fulfilment through BlogAdda. 10 bloggers realized their dream of travelling when they won an all expenses paid trip to Malaysia through a BlogAdda activity. Through #BlogToFeedAChild, we entered the realm of Blogger Social Responsibility, and every post that bloggers wrote for the same fed a child for an entire year.
All these initiatives have set the tone for a very interesting 2015 too. Needless to say, all this would have been impossible without the constant enthusiasm and support of the entire blogging community, and for that we are deeply grateful. We wish to take this synergy forward, and create more possibilities for bloggers.
We give to you BlogAdda with a brand new look and feel, and a fresh interface which will no doubt freshen your BlogAdda experience. It's the same trusty BlogAdda name, with a few changes to renew our relationship with you.
Feel free to browse through, click on things that catch your eye and discover great new content that people like you have contributed. This is obviously not the end of the road as far as innovation goes, and like all good things, BlogAdda is also a constant Work in Progress. But one thing that won't change is our commitment to presenting new experiences and opportunities to the Blogosphere, which we will continue in the years to come.
We're sure you will have a great experience with the new BlogAdda and maintain your continued relationship with us. We would love to hear what you have to say about the new BlogAdda, so talk to us at contact@blogadda.com