Travelling is something we all love! It is like leaving your own world for some time to go explore another wonderful one.
We've received an overwhelming response from you guys for this activity!
The 100 #MalaysiaJao Goodie Bags have already been sent! We're glad you have liked all the goodies as we see in your updates on Facebook & Twitter!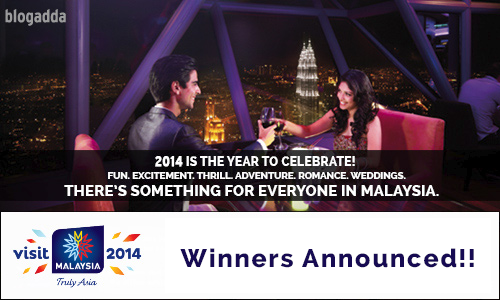 Bloggers, we know these results are awaited with crossed fingers. The list of 10 awesome bloggers selected by Tourism Malaysia who win a trip to Malaysia as a part of our #MalaysiaJao Activity are :
Heena Shah-Dhedhi for her post Malaysian Dreams
Due to unforeseen circumstances, Heena will not be able to travel to Malaysia, hence we have one more winner for this. Please scroll down to see who it is. 🙂
Manjulika Pramod for her post Cuti-Cuti Malaysia
Shalini Digvijay for her post If wishes were horses,over worked teachers would fly Visit Malaysia 2014 
Surbhi Bafna for her post Malaysia Malanga
Swati Sammie for her post MALAYSIA – TRULY ASIA! 
Sunita Rajwade for her post Malaysia – A dream destination of leisure and pleasure.
Vaisakhi Mishra for her post Malaysia Truly Asia
Ragini Puri for her post My Malaysia Musing: High on Heritage
Sangeeta for her post In the quest of hidden treasures in Malaysia
Sarita Gupta for her post Malaysia – an Asian paradise!
And our new winner is…
Ananya Kiran for her post Asha's Dream
BlogAdda would like to wish all the awesome winners for the #MalaysiaJao Activity  a hearty Congratulations!
Thank You for your participation. All the winners will receive an email from us with further details! 
We've got more opportunities for you to win 🙂
Last few hours to participate in the #KannaKeepCalm Activity! Do check out @ http://starsports.blogadda.com Amazing prizes to be won! 

We're here with a special 

#Selfie

 twist in the 

#MyRoleModel

 Activity for you! 

Bloggers, check it out & submit posts @ http://myrolemodel.blogadda.com