Somebody wise has rightly said, "True happiness comes from the joy of deeds well done, the Zest of creating things new." We, at BlogAdda, believe exactly in this adage. Zest for life could sometimes be described as the lust for life, the mad need to make every day different and to make every moment count. With the #ZestUpYourLife event in Goa, Tata Motors (one of the biggest auto company in India) and we tried to capture the same spirit of joie de vivre!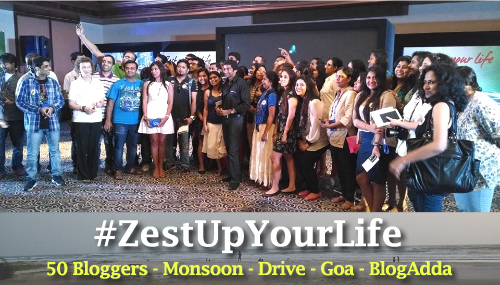 So, when Tata Motors associated themselves with us for ​#ZestUpYourLife​, little did we know that we would take up the Blogosphere and the social media world by storm. The Zest story, for us, started with a small informal huddle with the team where we sat over the table, throwing ideas at each other on what Zest meant to us. What Zest really means and how do we get you to experience it, under one roof, on one platform while making 'The Experience' very unique for each one of you. You flooded us with some amazing blogposts and then, came the highlight of the show – The Bloggers' Meet along the pristine white Goan sands.
We had a huge responsibility of giving 50 of you ​an​ experience which you will never forget. Did we succeed in that? Well, we are still reeling from the all the praise you showered on us with cakes, bouquets, cards and mentions on the Twitter. You sure know how to make us feel special, flushed, warm, teary eyed and well, mushy! Suddenly then all the overtimes, sleepless nights, last-minute rush and hustle and bustle – that went into planning and executing this event – felt rewarded. Thank You.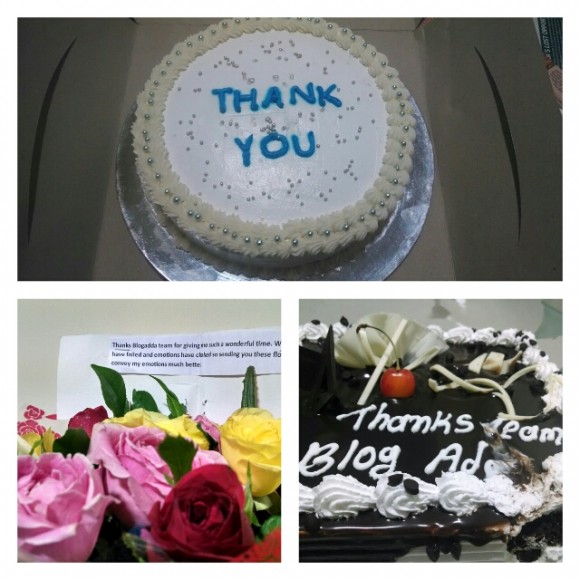 Do you know what we achieved during the weekend in Goa? An everlasting memory of smiles from each one of the amazing bloggers present there.  Let's make this a habit now. Who is in for a next meet? Do we hear a Yes?
Wanted to share this because it is quite an innovation. The delectable face of social media @blogadda #ZestUpYourLife pic.twitter.com/tEYPPLxlzT

— Specter (@Deckle_Edge) July 30, 2014
Big shoutout to all these guys with placards who stood for 2 hrs #ZestUpYourLife @blogadda @BAvity @tataZest #goa pic.twitter.com/QJxTNpWkwQ

— Roxanne D'souza (@Head2Heels_) July 27, 2014
Another group selfie with @msnehamathur @kavismusings #zestupyourlife pic.twitter.com/VOhw9acMiw

— Nandita Iyer (@saffrontrail) July 27, 2014
a room full of bloggers at work. #ZestUpYourLife @blogadda I cant quite match them. I need the peace of the morning! pic.twitter.com/8gnz5aeiH0

— Kavi (@KavisMusings) July 27, 2014
#Selfie time #ZestUpYourLife meet by @blogadda @TataZest & @TataMotors wid @narainracing @MissMalini & super bloggers pic.twitter.com/hxRuAbqI3k

— Pranay Nigotiya (@pranaynigotiya) July 26, 2014
The best thing about the @blogadda @TataZest #ZestUpYourLife @BAvity meet up was meeting amazing bloggers!Followed by driving the Zest 🚗

— Cupcake Fairy (@caramelwings) July 27, 2014
Heartfelt thanks to all the wonderful bloggers who came in for #ZestUpYourLife. Was only possible with your awesome support. You rock.

— Nirav Sanghavi (@nirav) July 28, 2014
We will miss you! #ZestUpYourLife. Thank you for coming. pic.twitter.com/Tshzf6WgS2

— BlogAdda (@blogadda) July 27, 2014