The weekend is upon us, and everyone has plans of relaxation lined up. For bloggers, these plans have to include writing, right? That's why we're back with another W.O.W. creative writing prompt.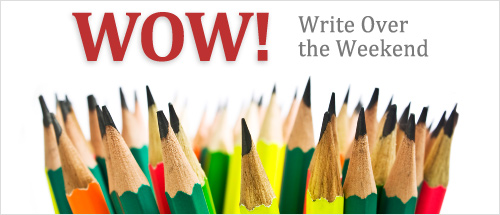 This week you have to write on 'My reflection smiled, I didn't'
From the time we're kids, we are obsessed with our reflections. Whenever we pass by a reflective surface, we can't resist taking a peek at ourselves. Our reflections tell us everything from what we look like, to what we're feeling and also shed light about our imperfections. We also reflect on the past, and though the mirror might seem hazy sometimes, it shows us new aspects about us.
OK, we don't want to say too much, so fire up your brain cells and start writing and don't forget to include the prompt in your blog post!
Remember, you have time only till Sunday midnight!
Include this code:
This post is a part of Write Over the Weekend, an initiative for Indian Bloggers by BlogAdda.
Good news! There is now an easier way to submit your WOW entries, so submit your entries via the link below for them to be considered valid.

Bloggers now have a chance to Earn Unlimited by participating in the Gillette #WillYouShave activity. Don't miss this opportunity!
Every weekend, we give a creative writing prompt for you to write on! Hope you enjoy our creative writing inspiration for this week. 🙂
All those who are featured in WOW can now flaunt the WOW badge on your blog. Download your badge now!