The 12th Edition of Action Plan, Asia's fastest-growing social entrepreneurship competition is here.
Abhyuday, the social body of IIT Bombay works towards fostering leadership and social impact. It aims to create a socially conscious environment and empower the youth to work towards the world's challenges. It is known for its commitment to contributing to society and creating a positive impact through various campaigns, events, and competitions.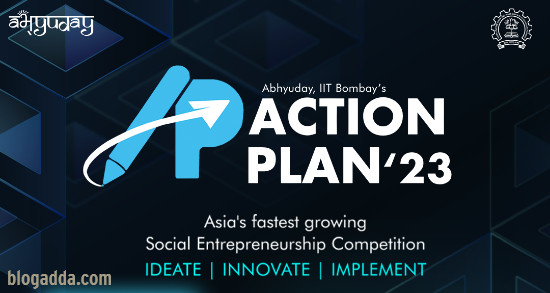 The Action Plan Competition, hosted by Abhyuday, IIT Bombay, plays a pivotal role in helping ideas and startups convert their vision into reality by developing a scalable business model. This flagship competition empowers young minds to tackle grassroots-level problems and design sustainable business models. Teams progress through transformative stages, crafting a Business Model Canvas and presenting before mentors and investors, adhering to the 3I's mantra: Ideate – Innovate – Implement.
Since its inception a decade ago, Action Plan has grown tremendously. What began with 50 teams competing for a modest Rs. 10,000 prize has evolved into a competition that now sees over 2000 entries vying for prizes worth lakhs of rupees, along with excellent incubation, networking, and funding opportunities.
Action Plan is a 4-month long competition that unfolds in three stages, culminating in a final pitching round at IIT Bombay's Social Fest in January 2024.
The registration for the competition will be open till 20th October, 2023. After this phase, the top 25% of teams will progress to the second stage.
Participants have the opportunity to register within five crucial sectors: Healthcare, Education and Finance, Rural Development, Women Empowerment, and Sustainability.
This year's Action Plan introduces two distinct tracks:
Social Entrepreneurship: Open to registered startups incorporated within the last four years.
Social Innovation: Welcomes individuals or teams with plans or ideas to address critical social problems, enabling them to build their startup concept from the ground up throughout the various stages of the competition.
Action Plan offers prizes worth 75 lakhs+ of rupees, exclusive mentorship, potential funding, incubation opportunities, networking events, startup services, media coverage, and a host of other incentives.
Interested participants can register for the competition at https://actionplan.abhyudayiitb.org/

Abhyuday, IIT Bombay's Action Plan, has emerged as a beacon for aspiring social entrepreneurs, providing them with a platform to turn their ideas into impactful ventures. With its impressive track record, robust mentorship, and substantial prizes, Action Plan stands as a testament to the power of innovative thinking and social consciousness. Don't miss the chance to be part of this transformative journey towards a better, more sustainable future.
Members of BlogAdda wanting to attend the competition can write to us at bavity@blogadda.com