Pragyan is the ISO 9001 and 20121 certified annual International Techno-Managerial fest of NIT Trichy. Pragyan is part of a premier group of techno-fests committed to disseminating information on the latest technological advancements for our posterity.
The road to Pragyan '23 has been eventful, with events, workshops, and outreach initiatives to expand the realm of technology to everyone.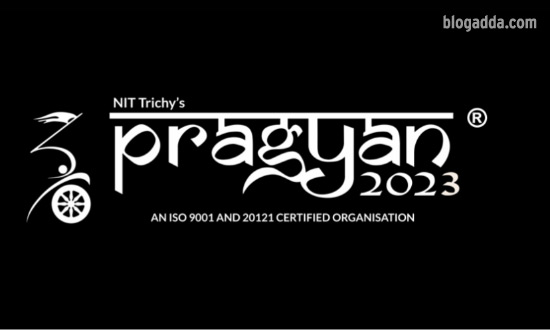 Ingenium, a highly-anticipated technical contest at the national level, and Sangam, the flagship hardware hackathon of Pragyan, in association with SCIEnT, have sparked a new era of novel ideas and creations.
Pragyan '23 collaborated with WIN-NITT to host a Women's Day spotlight talk with Soundarya Balasubramani, a gold medalist alumni of NIT Trichy.
As a part of the fest's social responsibility initiatives, Techids and Young Techie 3.0 were organized to inspire innovation among the youth. Pragyan also conducted Golden Hour Gathering, an engaging event for senior citizens to educate them about ever-evolving technology.
Pragyan, in association with the Technical Council of NIT Trichy, hosted Youth Summit 2023 at Comfort Inn Sys, Bangalore. With eight sessions with various speakers and over 80 participants, the event aimed to ignite the hunger for innovation amongst young minds.
Pragyan is hosting a wide range of events this year, grouped into eight unique clusters, with 50-plus events, paving the way for an exciting and diverse experience.
Pragyan will also host a series of guest lectures that noteworthy technocrats will deliver. This year's lineup features Advait Danke, Atul Gurtu, J Sai Deepak, Abhijit Chavda, and Ashneer Grover. They are sure to offer inspiring inputs and insights to everyone.
Pragyan '23 will also feature exhibits from the world of robotics that will inspire the attendees. Workshops will form an integral part of Pragyan '23, with hands-on sessions held in specific technological niches by experts.
Pragyan '23 also comes with a set of infotainment programs that will lighten up the fest, such as Indie Flow art, which will feature LED light shows and pyro shows. Pragyan '23 will have incredible street performances by Sylvian Potiron, magical mentalism by Karan Singh, and mesmerizing tron dance performances by the Skeleton Dance Crew. This year, Lost Stories from Sunburn will also make an appearance at the fest.
With so many unique and engaging events, there's something for everyone at Pragyan. We hope to see you all at Pragyan '23! The fest is held between March 23 – March 26, 2023. More details available at https://www.pragyan.org/23/
Members interested to attend can write to us at bavity@blogadda.com