The response to 'What has been your most memorable Online Shopping Experience' were indeed overwhelming. We just loved the way you all shared your most memorable online shopping experience. Your posts were very insightful, engaging and we enjoyed every bit of it. It is now time to announce the Winners. So, cross your fingers and pray it's you! The winners have been selected by our "Premium Blogger', Shilpa Garg. Read what she has to say and find out who are the winners.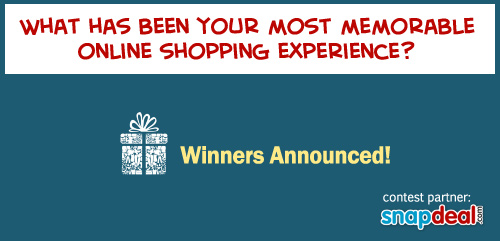 Blogger who has won SD Cash worth Rs 10,000
Y is going through the pregnancy blues. Her best friends are in 3 different countries. To cheer their friend Y, the three friends get together to spread cheer around by planning a surprise e-baby-shower for the Mommy-to-be! So, they order not one, or two items but so many from various shopping portals along with Pizzas too…. everything was shopped online and delivered on the said date with all friends joining the party online! Technology and online shopping that brought happiness and smiles… a heart-warming experience shared by Nisha!
Bloggers who have won SD Cash worth Rs 5,000 each
Swaram: Customer 'Service' indeed!
Online shopping is easy and comfortable, but what about the customer service? Swaram shares her online shopping experience which resulted in some issue. The personalised customer service and going that extra mile to make a customer truly happy and satisfied is the icing on the cake indeed!
Suranga Date: Shopping with a smile, Delivering in Style!
Suranga shares her online shopping experience which dates some 20 years ago, when shopping online had just started in India. Customization as per the customer needs, a prompt delivery in the given delivery window period and with a service that truly touched the hearts. A memorable experience, without a doubt!
Bloggers who have won SD Cash worth Rs 1,000 each
Always Happy: E-Shopping Aur Dhokha
Shopping online is not only about smiles and satisfaction, promptness and value for money but could be about 'expired good or simply fooled' or 'dhokha,  jo aaj yeh mere saath hua hai, kal aapke saath bhi ho sakta hai'! A fun poem which warns you about the perils of online shopping.
For a person who is very cautious, and is very careful with money and who researches everything before buying, My Era's plan to surprise her husband on their anniversary with a gift from online shopping, landed her with not only a cool deal but a beautiful friendship too!
Jaspreet Soni: Karting With The Mouse
Your MIL loves books, but lives in a city with no big book stores and she has the technology terror too. So, what will you do? Well, Jas opened the doors of online shopping for her Mother-in-Law and there's a lot of pride and happy smiles all around!
Congratulations to all the winners! You will soon receive an email from us with further details.

You can also participate to write about the future to win access to INK.