"When you want something, all the universe conspires in helping you to achieve it" – says Paulo Coelho and we agree. After all, easy shopping experience has been one of the most coveted desires of mankind- where there are lots of options to choose from, but is easy and not tiring! And voila, God did hear us; we were introduced to the wonderful concept of 'online shopping'.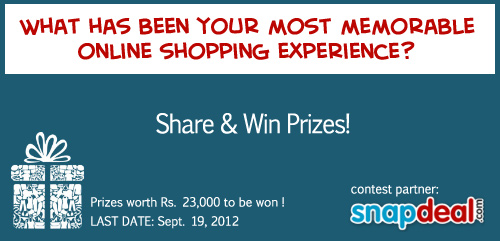 We think, no one can deny how online shopping has indeed changed the way we 'shop till we drop' (now we never drop, only the bank balance steadily does so! :P). No more long checkout lines, no more waiting in front of trial rooms, no more aching feet and yes, even the wallet doesn't feel "used" (well, doesn't 'feel' used we said, we didn't say anything about usage! :P). The best part are the never ending offers, the year long discounts, the ability to compare prices, products across a varied array of aisles, and never feel tired and burnt out.
Now, if you want to point out the follies of online shopping, well let us tell you right at the outset that we are stoic and biased followers of retail therapy and thus, always want to remember the smile it spreads everytime we religiously follow it.
We are sure that you too have a lot of stories to share about such smiles. Don't we tell you over and over again that we love your stories? So, tell us about your favourite online shopping experience and guess what you stand to win? Yes yes, you got it right – a chance to shop more from Snapdeal.com! Ain't that cool – a favourite shopping 'click' will open doors to more exciting one's!
So, what are you waiting for. Just sit back and remember the time when you opened that parcel you had long awaited and it still brings a smile on your face. After you have basked in the memory, just blog about it and let us know.
Shopping always pays and when you are with BlogAdda, we insist to make an arrangement so that you don't have to pay! Just blog, win and shop from Snapdeal.com – it can't get more simple and wishful!
Kindly include this code in your post and then submit the link below
This post is a part of the contest at BlogAdda.com in association with Snapdeal.com
The last date for this contest is September 19, 2012.