These days, we hear a lot about people getting addicted to the Internet and the Social Media. Our Premium Blogger, Purba Ray has this very interesting post on 'Confessions of a Social Media Addict'. Purba, the post is all yours. 🙂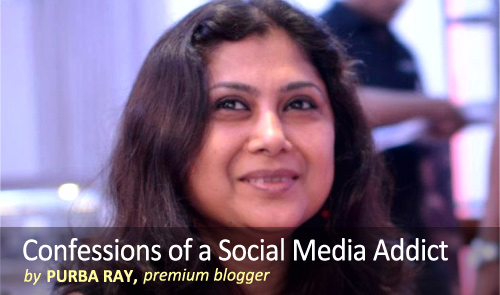 When Sheila joined Facebook, it was confirmed what she had suspected all along – she was beautiful.  One never gets tired of hearing the truth.  So, she started uploading a new profile picture every week.  Gosh! You still look the same, Hellow gorgeous, Hey beautifool, wanna be freinds?  Life had never looked this good.  In fact, her side profile with her tongue sticking out got her 105 likes.  That night she started accusingly at her husband and said – do you have any idea, how lucky you are?
Her status updates were another story. From initiating debates on plight of women in Afghanistan, to ungrateful maids, to the rotting state of the economy, to sharing images of deformed babies to feed the starving in Ethiopia – Sheila was now feeling like the prettier version of Oprah. Realizing that her quick wit and superior intellect needed a bigger platform, she started a blog.
Sheila was the centre of a universe she had created, just like a toddler is for her parents. Look at me Mommeee, I am flying! 26 ½ people called me brilliant. Ain't I awesome, Ma! Her little achievements, sob stories and rants had an audience spanning continents. Thrashing sentiments out of her keyboard, brandishing her opinions, she was out to change the world. Pen is mightier than the sword, outrage is stronger than nonchalance.
She made a grand entry to the Twitter world.  Mayawati sent an e-hathi to welcome her, Mamata demanded a roll-back, Abhishek Manu Sanghvi invited her to his cottage for an in-depth discussion about her career, Meira Kumar asked her to "baith jaiye, shant ho jaiye".  But Sheila knew, in reality they were quaking in their boots with fear. She, the queen of satire, who could nip ballooning egos in the bud, destroy careers by writing secret diaries on behalf of celebrities and tweet the meanest jokes at their expense. Being funny was never this fun. Outraging in 140 characters had never felt this good.  Newspapers were falling over each other to publish her tweets. Sheila Sharma was now India famous in Gobargaon.
In the meantime, Sheila stopped making phone-calls to her family; preferred tweeting to texting inane "how are yous" to friends and outsourced her memory to Google. At gatherings when Ms Sharma met real humans, she felt listless; longing to go back to her hordes of followers and fans. The fools they were, they had no idea how big she was. The other day when the waiter came running with a slip of paper, Sheila gave him her autograph with a flourish. When he gave her a perplexed look, she realized it was the bill.
Sheila Sharma got a tennis elbow without playing tennis. Her thumb stuck to her smartphone like Fevicol, her mind crowded with great thoughts – the real world felt unreal and the unreal, real. She felt like a stranger in a crowd.
A few weeks back, Sheila's son came running to her and declared that her Internet addiction was making her insane. When she scoffed at him, he thrust Newsweek's cover-story on "How connection addiction is rewiring our brains", at Sheila's face. The article suggested that the current incarnation of Internet- portable, social, accelerated, and all pervasive – may be making us not just dumber or lonelier but more depressed and anxious, prone to obsessive-compulsive and attention deficient disorders. In fact, the Internet addiction disorder will soon be included as a recognized mental disorder.  The brain of internet addicts is a lot like the brains of drug and alcohol addicts.  Our excessive internet dependence not only encourages but even promotes insanity.  (Source)
Don't we all know how difficult it is to be offline? The insatiable need to know what's happening to whom, who vacationed where, why Shinde got home and why Aishwarya is still so fat! We seem to have rewired our lives around all things inconsequential.
I have seen friends deactivate accounts because it was messing up their real lives, only to resurface a few weeks later.  The pull is too strong.  Real life seems too banal in comparison to the excitement online.  A world that is created to entertain and inform, 24×7.  A medium, where we are not just spectators watching silently from sidelines, but an active part of it – contributing and sharing what we think is important.  We decide what the 'important' is. We create it.  An anonymous Madrasan spewing hate against Delhi boys becomes an overnight star. A revolution is plotted and gives birth to an uprising.  An unknown boy from Allahabad desperately seeking female attention through his badly done site becomes an internet sensation.
Social media is empowering.
But is it making us meaner, too judgemental for our own good?  Is our evolution as a wired generation, changing our behaviour patterns? I feel social networking sites encourage the Narcissus in us. The constant need to highlight our achievements and share, has led to many of us documenting events in our life rather than experiencing it – through images, micro-blogging, blog-posts. In our quest for approval from our peers, many of us ending up Photoshopping our lives. Look, what my loving sister gave me for my birthday! My darling, have I told you, you are more precious than Mastercard!  It's as if we are play acting to project a utopian existence we crave for.
A click of a mouse is all it takes to unfriend and block. Changing your relationship status to "single" can rid you of your girlfriend. Posting nasty pics of your ex-best friend is justice delivered.  Unfortunately, life is not as simple. The pleasant is intertwined with the unpleasant.
Sheila's case in not an isolated one. Like her, I am aware that the online world has given me more than I could have imagined- recognition, respect, connecting with the most amazing people I could never have met in real life and reconnecting with friends I had lost.  But, I also know I am an addict.  The sad part is, secretly I think I'm better off than others. The day I realize, I'm as bad or even worse, is when I will be able to reclaim a life that I sacrificed at the altar of Time Berner's Lee's greatest creation – the World Wide Web. Because I know, in sickness and health, in good times and in bad and in joy and sorrow, it's family and friends who will be by my side.  For the online world, it will be just an account that became silent.