Right from our childhood days we are constantly told that 'Child, your future is bright'. We are actually made to ponder what the future holds for us. As Buckminster Fuller said wisely, 'The best way to predict the future is to design it'. What do you think? Presenting to you something very different at your adda.
Update: The winners of the contest have now been announced. The two bloggers who will attend the 3 day INK conference are Aditi Parekh & Kavi Arasu.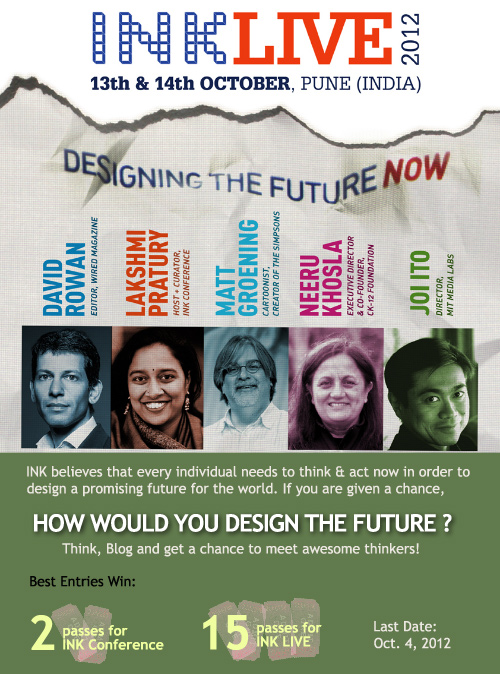 BlogAdda.com in association with INKtalks present to you a contest which will make you think. We believe that every individual needs to think and act now in order to design a promising future for the world. The question is HOW?
That's when YOU come in the picture! We want to know your ideas about how you would go about creating a better future. What does the theme mean to you? What is your interpretation of the theme? How do you see yourself designing the future?
The idea on your blogpost can relate to any theme – Environment, Entrepreneurship, Arts, Culture, Music, Technology etc. It should be original, strong and impressive, with the potential to change the world!
I have the idea, now what?
Blog about the idea and share the link with us in the comments form below. Also copy paste the code that is provided below:
I am designing the future in association with BlogAdda.com & INK talks.
Interesting, what do I get?
TWO awesome bloggers with their ideas will get to attend the prestigious INK conference. Not only that, 15 awesome bloggers based on their ideas will get passes to attend INKLive. 🙂
What is INK all about?
INK conference, in association with TED, is an annual conference that aims to fuel innovation and foster knowledge by bringing together the world's most fascinating thinkers and doers on a global stage. The ideas that these speakers put forth are then transmitted worldwide via the World Wide Web, inspiring thought, conversation, and – ultimately – action.
You can read more about our INK experience, our INK coverage. the prelude to INK 2011 and our INK dashboard
Let's not wait. Let us start designing the future. 🙂
Note: If you do not have a blog, you can write your entry in a word document and mail it to us at inklive@blogadda.com with the subject line INK 2012.