Every conference has their share of best sessions and speakers. At INK Conference 2011, almost all of them were brilliant. We did cover the Day 1/2 and Day 3/4 in our earlier post, while over here, we share our experience about a few sessions. Go through them and then view their talks when they will be live at inktalks.com.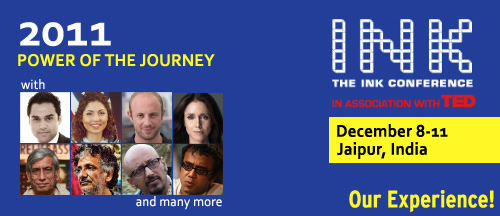 Julie Taymor
American film, opera and theater director, best known for her direction of The Lion King on Broadway (1997).
Julie, by narrating her experiences, evoked us emotionally as well as mentally. Everything should come from within, is what she concluded, when she saw 20 cave dancers in Indonesia dancing for no one but themselves. How many of us do something just for our own pleasure, without expectation of any appreciation from our peers? She recollects an incident during the talk, in which she had gone with a friend to watch a volcano. On her friend's persuasion she followed and focused the trail that led towards the volcano. The moral she concluded from that incident, was that once you focus on the goal, the tough journey becomes easy to travel. Thank you Julie for this learning.


Amish Tripathi
Author of the Shiva Trilogy
A determined person is what we call Amish. Who knew that a banker, who left everything to pursue his passion, would top the bestselling list with his Shiva Trilogy. He said, that even if he had only one reader for his books which could be his long suffering wife, he would still be writing. 🙂 His one quote summed it up all when he said 'Where the journey itself becomes a thing of joy, the destination doesn't matter'.


Aisha Chaudhary
Survivor of immune deficiency disorder
She overcame a predicted life expectancy of only one year with sheer determination to live. Attitude and not Aptitude decides your Altitude, and she, with her moving talk proved it to us. She taught us to believe in miracles. Miracles are good things that are unlikely to happen. 🙂 She also made us learn how we can live a moment twice, once in our head, and second when we are actually doing it. How many of us actually thought in that manner? Deservedly, she received the first standing ovation of INK Conference 2011. Aisha, keep smiling and make others smile as well. 🙂


Madhumita Halder
Creators of the World's first Indian Language word game – Aksharit (Scrabble in Hindi)
In the current age of Computer and console games, who plays board games? Madhumita decided to take the road less travelled and founded the World's First Indian word game – Aksharit, i.e. Scrabble in Hindi. Her creation can be very helpful for students who have less knowledge of English, and they can brush up their Hindi word skills through this word game. Not only students, but for working individuals also this word game can be very useful. Madhumita's company, MadRat Games, has released the game in various Indian languages. Madhumita's talk was very interesting where she shared her thoughts and her caravan of exploration. We wish her all the best for her future endeavors.


Drumjam
Has introduced over 450,000 people to the joys of group drumming
It's a very rare scenario when more than 150 people get together for a jam session. At INK, we had a chance to be a part of this rare musical session. We were assembled in circles, sitting with drums in our hand. Someone has rightly said, Music binds and heals people. After a Drumjam session, we believed in that statement even more. We played for around an hour and it was so much fun. After the drums, we were given boomwhacker, color coded, varying length sticks. An electrifying session very well conducted by Roberto and his team at Drumjam. Different sessions like this bring out the creativity and this one was an absolute energy-filled one!
Rob Cook
Received Oscar for his contributions, the first ever given for software

Q: What does it take to make Nemo, Violoet or Jack from The Incredibles? A: Rob Cook. When you make a movie, the director has a vision and the characters make his vision come alive on screen. How does it work for animated characters and movies? Rob in this talk shared his story from the developers perspective of Pixar. For a 2 hour animated movie, it takes countless hours to create it. 'Have Fun! We work hard but we have a playful way of doing things' – Rob Cook. 


Anupam Mishra
A Gandhian and an environmental activist
He is the author of two path breaking books, based on water conservation. Anupam Mishra spoke about how our ancestors have devised a very effective method for saving water and villagers in Rajasthan, who have no water to waste, use rain water harvesting to their fullest benefit. We take inspiration from such people, who use this ancestral medium and teach us the way for sustainable living. Rainwater harvesting has existed in India since eons! Anupam Mishra in his talk took us back in time with visuals and examples of rainwater harvesting done in Rajasthan. A talk which made us feel proud of our history and innovations. Anupam is also a believer of the Gandhian philosophy which reflected in his talk.


Deepak Ravindran
Founder of SMS Gyaan
Deepak has a vision where mobile users who didn't have access or knowledge of Internet, can benefit from its vast resource of information. SMS Gyan is his creation, a mobile meta search engine over SMS. He makes things simpler by providing Internet information in mobile phones on the go. One can just type a question and send the message to 55444 through their mobile phone, and SMS Gyan would answer it. They have gained more than 2 million users till now. That's what we call innovative and revolutionary!


Charles Ma
Bharatanatyam dancer, contemporary choreographer and teacher
As Nikhil Velanpur said before the talk, 'Hamare pass Ma hain, Charles Ma'. Expressive eyes form a very integral part of Bharatnatyam. But what we saw on stage was a boy with small eyes but big dreams. A boy with small eyes has no chance to make a successful career in a traditional Indian dance form like Bharatnatyam, commented people on Charles Ma. They were surely proved wrong. Charles started this talk with a very graceful performance and then went on tell his story in his South Indian accent. A talk filled with humour, dreams and ambitions. 'If there is purity of intentions, you will flow through the complexities of life like the river Ganga' – Charles Ma. A successful challenger!


John and Elora Hardy
Founder of Green School in Bali, where kids get a holistic and green education
We have been hearing quite often that life is a vicious circle and what happened in history will happen again. In the early ages, we used to have houses created from bamboos and other natural elements. Then came bricks, concrete and other latest innovations. John and Elora through their talk shared with us their journey on their passion for creating houses and communities using Bamboo. A jewelry designer by profession, John set up the Green School in Bali, where students learn in open air, and between vast acres of greenery. Very thoughtful of John. He made us add 'Visiting the Green School' at Bali into our bucket list. 🙂


Kalyan Varma
Wildlife photographer, and co-founder India Nature Watch, the largest online community of wildlife photographers
We had the privilege to interview Kalyan much before he was selected as a INK fellow. 🙂 When we create something we expect it to fetch us returns. But here was a man who used to click amazing photographs of wild animals, by spending hours and nights in the jungles, and then allowed the community to use it for free. Kalyan believes "People respect freedom and people pay for freedom".  Looking forward to see a film soon from Kalyan!
Check out his video taken at the conference. 🙂


Ruchi Sanghvi
First female engineer at Facebook
We got to know on what used to happen in the early days at the Facebook office from their first female engineer. "How would you have done things differently if you had not feared?" asked Ruchi to us through this talk. She taught us when we do not fear anything, things are not the same anymore. When you observe an infant, you will see that he wants to explore and know everything – he will put his hand in the mud, go near dogs double his size, try to climb the staircase even when they wobble. We were taught that we should be like them – fearless, and enjoy doing the things we have taken in hand.


Prakash Amte
Provides community services to tribal people and wild animals.
We have just one word for him. He is a LEGEND in his own right. A person who continues to work for the society in the interiors of Maharastra without any expectations. Like father Baba Amte, he gives medical attention to the rural and tribal people, who otherwise have almost no access to such facilities. We echo Nikhil Pahwa's tweet 'Prakash Amte's talk was really moving, teary eyed and goose pimples.'


Shirin Juwaley
Human Rights Activist and acid attack survivor
Shirin Juwaley asked us a question, Why should you treat disfigured people differently? This talk made us look into the mirror and ask this question 'Is beauty so important for us?' How many times have you looked at someone who is not normal and shied away? This talk echoed Shirin's quote – Attitudes are the real disability. When do we break the sterotype and change our attitude? We were left thinking at the end of the talk.


Talavya
Tabla players
What do we say about them? We cannot even type as fast as they play the Tabla! They made us experience what musical ecstasy is. They helped us attain musical nirvana in the 18 minutes they played. They transported us into their world from where we did not want to return.


Anu Aga
Business Leader

"Death is not a tragedy, what is a tragedy is not investing in the living" – Anu Aga. She explained us that life has to move on and you gotta do it by crossing the hurdles that life throws on you. Very very inspiring talk. She met with two incidents in life, where the first time she lost her husband, and soon after she lost her son. She however understood that she has no control over external situations, but she can control her inner turmoils. Huge applaud for the courage she has shown in her life.


Abhishek Bhagat
Developer of an automatic food-making machine
You do not need to be in big cities to innovate. 'Necessity is the mother of invention' and what do you do when you start missing Ghar ka Khaana? You invent a device that will help you make food like the one cooked at home. Abhishek did exactly that and his talk was simple but he touched the hearts of people making them stand up and clap for him.


Anand Agarawala
Entrepreneur and product designer
People say that the tablets and the apps are the future. Anand exhibited what lies ahead for us in this talk. An iPad app which will infuse life into non living objects. An app we are excitedly looking forward to. "Silicon Valley is the #hollywood for nerds!' – Anand Agarwala.


Babar Ali
World's youngest headmaster
Last year, he was an INK Fellow and this time he returned as a speaker. He informed us that soon his students will be able to study in a proper school building of their own. We have heard his story and now we hear his continued persistence to serve the villagers around him and impart education. Still achieving, still pursuing what he set out for.


Krushnaa Patil
Youngest Indian woman to successfully climb Mount Everest
This talk was not advisable for all those who have the fear of heights. 🙂 There is no mountain high enough for Krushnaa! She explained one of the toughest journey she encountered and how does she feel after it. We also experienced through Krushnaa, what it feels like to be in the last 2 minutes before you reach the summit. 🙂


Gokul Das
Dhak (drum used during festivals in Bengal) player
Indian Folk Music. Have you heard about 'Dhak' an Indian Folk instrument? Gokul played us the sound of 'Dhak' and mesmerized us as Talavya did earlier. A perfect session and an awesome discovery.


Vikram Bhaskaran
Founder of Samosapedia, the definitive guide to South Asian Lingo
Remember 'Load shedding, Gold spot, Green Onida TV Devil, DD logo, Amar Chitra Katha, Safari Suit – Time machine'? These are the emblems of the 90's. The childhood days for many. Hence was born the 'Samosapedia' which is the definitive guide to South Asian lingo. Together, we'll catalog and celebrate the rich, diverse and ever-evolving landscape of this regions shared vernacular, says Vikram.



Anousheh Ansari
First female space tourist
She is the first woman private space tourist, and she shared her dream story with us. The most striking thing about her, was we found her smiling always. Her objective is to become a Space Ambassador, and she wants to bring space travel experience to others. She is someone who had a dream of exploring Space and viewing earth from a different perspective.


Anupam Mukerji
The Fake IPL Player
What can we tell about the Fake IPL player? We forgot to tell him that, we were among the first one's to discover and comment when the Fake IPL player blog went live. He started his talk by declaring that the one thing I want to do in life is play a hoax that would bring down the government. He harnessed the power of Google to its full extent and his blog is a testimony on how you can ghost write making it look like real. 🙂 We loved his talk and wish him all the best for his next venture, The Pitch Invasion.


Bhavik Gandhi
Endurance Athlete
Never give up is what Bhavik kept in his mind, when he failed thrice in rowing 5000 kms across the Atlantic ocean. He was stopped several times by the water border securities. Water leakage, sleep deprived, food deprived, isolation, were just some of the hurdles that came his way. He rowed over these obstacles as well, and finally achieved what he had wanted to, after 2 years of preparation. Go for it attitude reflects in his personality. Do we need anything more to get inspired? 'If you have a problem, you ignore it, if you cant ignore it, you fix it. If you can't fix it, you learn to live with it'. – Bhavik Gandhi. His talk about how he achieved this dream made us believe that nothing is impossible. Another awe inspiring talk. And Bhavik seems to be preparing for his new sailing record in 2012. We wish him all the best!


Anusha Yadav
Photographer and Founder of Indian Memory Project
Anusha Yadav took us back to the good ol' days, through her Indian Memory Project, that aims to collate and preserve Indian history through photographs of family archives. We also saw the photo of a couple who played a very important role in the Fight for freedom in India. The picture was of the time when married couples shied to even stand besides each other, but this one bravely held hands and posed for the picture. The fighter was truly reflected in this picture of 1914. A picture says a thousand words, and this is what her project wants to achieve, by collating our history through pictures from family archives. Let us all contribute to her project.


Michael Pollack
Venture Philanthropist 
Michael, earlier an investment banker, is a survivor of the 26/11 terrorist attack in Mumbai on Taj Hotel. He shared a nerve chilling story of his escape from the hotel, and gives all the credit to staff at Taj. He is most thankful to that one person working in Taj, who rescued him safely, but was unable to save himself. Michael also told us, how his 8 year long business partner got separated with him, fearing the terrorist attacks. 'My driving aim since 26/11 is to use my good fortune to empower world-class social entrepreneurs to educate those born less fortunate', says Michael.


Arunachalam Muruganathan
Invented a sanitary napkin-making machine that operates on a small scale
An innovator who thought something for the hygiene of rural women, landed up at INK for the efforts he took to accomplish what he desired for. He made sanitary napkins available to rural women at a very cheap cost and also invented a machine that has the ability to produce 120 napkins in one hour. All this was done by Arunachalam Muruganantham. The previous evening while we spoke with him, we told him that he will be receiving a standing ovation for his speech and our prediction did come true. 🙂
Check out his video taken at the conference. 🙂
These were the speakers who influenced, motivate d and encouraged us to dream and aspire to achieve them. Every dream is different and might not be always special for others. But that should not let us down from trying to achieve it. And once you go for it, there is always someone like INK to appreciate it. Thank you INK, Lakshmi and the whole team for introducing such an insightful meet! We don't know how these pointers will help us in the long run, but we surely can claim ourselves as Billionaires of Moments, after filling our memory bucket with moments of INK. Thank you to all the speakers who shared their 'Power of Journey'. 🙂 Also a special shoutout to Shilo for the visual experience, Jeevz for the sound and Vinod for the animations. 🙂 See you next year in Bangalore!