When one graduates in zoology, you expect the person to become a zoologist. But, the person whom we have interviewed today chose to pursue a career in advertising. So how and why did this transformation happen? Let us ask the person himself. Today at your Adda, we have Lakshmipathy Bhat, Vice President of a communications agency and one of the top bloggers in India blogging on advertising trends and insights on digital advertising. He loves all things Apple, authentic Udupi food, gadgets, cricket and lots more. Let us hear his story in this exclusive interview. 🙂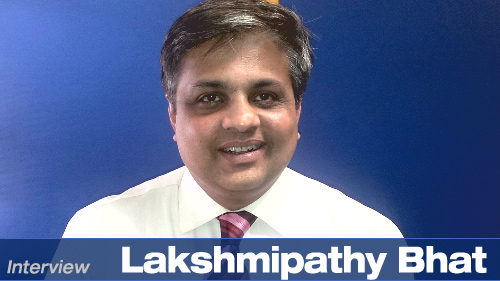 Q: When and why did you start blogging?

A: I dabbled with Blogger & Live sometime in 2005 (I think). Like many bloggers, I was unsure of what the purpose of my blog was and ended up writing something like 'My first blog post – more coming soon' as my first post. Sure enough, the 'more coming soon' never really happened. I started writing regularly on WordPress.com mainly to comment on global advertising campaigns. Sometime in 2007, I was also inspired by the several advertising and Apple blogs. So I started 'Mac Love, Not War' (was very proud of the clever title!) and Bhat's Blog on WordPress.com. I was pretty impressed with the ease of use and the quality of design templates available there. I then did some research on self-hosted WordPress blogs and decided to have my own domain.
I figured that it would be impossible for me to maintain 2 blogs (one on Apple and the other on Advertising). Besides, there were great Apple fan blogs with a team of writers who could do a better job. So I decided to focus on Advertising news, views on my blog, with a little bit about Apple – as a brand. I started blogging mainly as a medium to convey my views of advertising as a business. Over time it has become a mix of news & views: observations on new campaigns, advertising trends and so on.
Q: What topics do you generally blog about?

A: Most of my posts are about advertising campaigns of note – both Indian and global. It could be a TV commercial, an ambient idea or digital – basically brand communication that appealed to me.
Q: Do you ever get stuck when writing an entry? What do you do then?

A: Yes of course. I try and post at least once a week (usually write my posts late at night or on the weekend). During the work week, I try and make a note of campaigns that I liked or just write down the topic I want to write on. I try to expand on them when I write a post. Most of my posts are written on the fly on the WordPress dashboard. On some topics, I write & re-write several times. When I get stuck or unable to get the flow, I simply take a break and come back to it at a later time. Playing with my daughter (she is 6 now) makes for a great break. 🙂
Q: You graduated with background in science but pursued a career in advertising. How did this shift happen? Did you take any formal course in Advertising?
A: I wanted to become a Doctor. But I did not make it to any of the Medical Colleges in Chennai (thanks to the reservation quota). I took Zoology since that was the only stream available :). I had a passion for the advertising business even when in college. I was not enamoured by the glamorous side of the business (many are) but the creative side of the business. After graduation, I used to maintain folders of print ads of various agencies, maintain a register of TV spots (a TV AD Index of sorts) – even created a few ads. I approached several agencies but most asked me to come back after doing my MBA. I wanted to but once I got my first break in advertising I simply carried on – learning on the job.
Q: In one of your posts you speak about the differences in today's and earlier days of marketing to kids. As a VP of an advertising agency, what do you think should be the responsibility of an agency in using kids for advertisements of products meant for parents? And as a parent, what do you expect such advertisements/agencies should do or not do?
A: Kids influence brand choice across categories – even categories that are not targeted at them (some durable, electronics for example). That's a reality. I am not sure if advertising is the only influence that creates this. Films, parents, society at large play a role too.
In advertising, the protagonist showed is not necessarily the target audience always. In the '90s there was a popular ad for Philips sound system which showed a couple of 60-year olds rocking to Highway Star. The ad was obviously targeted at the youth who would've enjoyed the setting. Coming to kids in advertising, it does disturb me that kids who are unable to distinguish between reality & fantasy get influenced by ads. My daughter saw an ad for a glue stick brand and upon use expected to see 'purple coloured stars' coming out of the page (just like how they showed in the ad). Initially, I discouraged her from watching TV or preferred her watching CBeebies (as it doesn't have as many ads as other channels) but it's a futile exercise. Other kids in school talk about Ben 10, Chhota Bheem and some ad – and your kid joins in too.
The marketing compulsion is that advertising must appeal to kids – especially in categories like confectionary, breakfast cereals, biscuits. But if the product is meant for adults and kids are used in a creative manner, I don't see an issue.
Q: What kind of ads do you like more, the one that are jazzier or simple and witty? Which of these, do you feel works more in favour of the companies? Name one good and bad ad from each of the medium, (print/TV/radio/web) that you've recently seen and heard.
A: My personal preference is for ads that tell a story well in a humourous, entertaining way. However, what works (jazzier or simple/witty) depends on many factors: the category, the competition, brand's life stage and so on. As I have mentioned in my blog, I love print advertising as a medium. Maybe because I grew up in advertising when print advertising was popular. My first agency, Trikaya Grey was known for creative ads in general and they were especially strong in the print medium. Their ads for Mauritius Tourism, Sweetex, Sterling Resorts, Baygon and several others – the most notable being the Nude Models Wanted ad.
Among the recent TV ads, I love the Volkswagen 'The Force' commercial, the Old Spice campaign with Isaiah Mustafa, the ads for Canal Plus and several others. In print I liked the Ivory ads, the recent Epica D'Or winner at the Epica Awards and some of the work from the UAE. I can't recall a great radio spot that I've heard recently. On the web, I loved the Swiss Tourism work, the effort by IKEA were great. Among the new media work, I thought the London Victoria Terminus act by Lynx was brilliant.
Q: You are a sucker for all things Apple. After being called as 'Lucky', you are also called as the 'Apple Baba' among friends. What is the reason that this brand is the apple of your eye? 🙂 How has Steve Jobs inspired you and what are the things that you would want to see from Apple in the coming years?
A: The reason for Apple being the 'apple of my eye' – ha, where do I begin. The beginning maybe a good place. When I joined advertising, the only computers used in Creative & Studio (pre-production) were Macintosh computers. I worked in a branch where I had to perforce do a bit of everything – meet clients, come back & write the Minutes, brief creative, monitor the creative jobs and so on. When free, I used to dabble with the Macs in Studio – the operating system was OS9 then. I was fascinated by the sleek interface – it was so different from the Windows ones used by others. My interest in all things Apple grew till I became obsessed. The big turning point was the launch of iMac and the Powerbook, followed by the iPod. I was smitten by the design and the ease of use. I bought my first Powerbook in 1999/2000 and then followed it up with several Macbooks, iPods and iPhones.
The biggest impression Steve Jobs had on me was on presentation skills. I was fascinated by the way he conducted the Keynote sessions and how different they were from the typical PowerPoint presentations. In my presentations, I try to incorporate at least a little bit of his style – keep the presentation visual, make one point in a slide and so on. The other thing about Steve Jobs and Apple which impressed me were (a) attention to detail and (b) doing what they believe is right irrespective of what the world thinks. Though I am not sure I practice either of those!
As far as future of Apple goes, I am sure they will continue to churn out thoughtfully designed products that are superior to existing options. I would like them to kick Android's ass but then that's wishful thinking. 🙂 Android is bound to the volume leader in mobile devices simply because of the sheer number of devices its available on. I think Apple will continue to focus on high-margin, premium end of the market which means India will not be in its radar any time soon.
Q: After Advertising, how effective do you think is social media in reaching their audience? How can the companies use the medium for best results?
A: Social Media is the flavour of the season when it comes to marketers. But I don't think it's an effective tool for all brands and all categories. In India (as in several markets) TV is still the most effective medium. In order to use social media effectively I think we need to stop seeing it as a 'separate medium'. Right now, many see it as an 'add-on' to the TV campaign and use it more to tick off a check list of 'surround activity'. As many pundits have said, the most effective use of the medium is when brands create content that has 'pass along' value or aids conversation.
Q: Are the Indian companies experimenting enough with Ambient ads? If not, what are the reasons according to you? Do you recommend Indian companies to use this type of advertising?
A: Many copywriters who come for an interview usually come up with ideas on ambient medium – usually anti-smoking ads or don't drink & drive ads. Strangely, the medium is still under-exploited in India. Many creatives still think unusual billboard campaigns but not enough on new media, new 'spaces'. This could partly be because of lack of knowledge on what's possible from a tech POV. But some good work has happened – the Aircel life boat hoarding in Mumbai for example. The work done by Walls Ice Cream, Fruit Bursts in New Zealand or Kraft bus shelters are great inspiration.
Q: "The satisfaction of writing a blog post that you are even half-way happy with, makes the slogging worth it". You said this in a post where you spoke about personal blogging and mentioned that blogging is hard work. Considering the hard work that it requires, what pushes you to take out time for your blog and your readers?
A: Firstly, I began writing with zero expectations about readership. I just wrote to pour my thoughts out. The readership was a bonus. I do realize that there are far better options for reading in the online space. There are far better writers who blog. So just putting out something that I am happy with is a big high. The bigger high is when there are some comments on a post or when its re-tweeted. I realize that discussion over at tech blogs (1000s of comments) is no comparison. Advertising is a niche space and will appeal to a handful. So getting a few comments going is a nice bonus. I envy the sheer number and quality of comments on The Ad Contrarian though. 🙂
Q: What does the ad man do on a lazy Sunday at home?
A: Well, there are chores to do. 🙂 And kid to play with. My daughter doesn't have kids of her age in the neighborhood and she is our only child. So I end up being the bakra for her games. I also love taking her to Hippocampus, which is a lending library and activity centre. I also use the day to update my blog, when free.
Q: You wrote a post in 2008 saying that Brands need to take blogs seriously. How far do you think this has changed in India, in last 3 years, and what more can be done?
A: I think blogs are taken seriously by tech, IT and auto companies only, thus far. In the US, mommy bloggers are an important segment for companies like P&G. In India, there is a big opportunity with food, travel and tech segments. The big change will happen when Indian-language online content takes off aided by broadband penetration.
Q: Digital Advertising graph has grown well till now in India. Do you think it will grow like the traditional media or can even be more popular than it, in next 5 years?
A: Since the base for digital advertising is still small, the growth is likely to be huge in the coming years. With big FMCG spenders like Unilever India giving importance to Digital, it only augurs well for the medium.
Q: You have another blog on Posterous. How different it is from LBhat?
A: Frankly, I don't update my Posterous or Tumblr blogs as often as I would like to. I like the content (from others) on both and serves as an interesting place for links.
Q: Do you promote your blog? What promotional techniques work best for you and why?
A: I promote my blog posts through Twitter. But I am very bad at doing what the pundits say as a must-do to promote traffic on your blog: actively comment on other blogs.
Q: How important is it for the blogger to interact with their readers? Do you respond to all the comments that you receive?

A: I think its important for a blogger to respond to every comment. I admire those who do it diligently. But not all of my posts are about sharing a POV – they could be just sharing an interesting ad. And when it receives a 'I like it' comment, its difficult to respond. But when somebody presents an opposite view it is easier to have a conversation going.
Q: What do you find to be the most gratifying aspect of blogging?
A: The increase in page views, comments, no. of subscribers, etc. are all important. But the big high is when I meet random people and they say that they are fans of my blog. 🙂
Q: How, in general, would you rate the quality of Indian blogs? Share your favourite five blogs.

A: The Indian tech blogs are pretty mediocre compared to the ones abroad. I feel they are merely PR mediums with little to add in terms of objective reporting or opinions. Among individual blogs, I love:
Q: What is your advice to someone who wants to start a blog?
A: There are several options today for 'quick' or micro-blogging: Twitter, Tumblr, Posterous and so on. So if it's about having a quick take on a particular topic any of these will be perfect. But if it's about having a POV, reaching out to a specific audience and building a readership base then one's better off starting a blog. My advice would be: be clear about the reason – why the blog exists. Is it about offering a POV on a subject? Being seen as an expert? Pure entertainment? Once you define that stick to the core, depending on your strengths. Be clear about what you want out of it: readership, Google ranks? Then choose a platform wisely – WordPress would be my choice. Use plugins and basic SEO practices to promote your blog.
Q: Do you earn revenue through your blog? How does one go about it?
A: Yes, I do earn from AdSense. But it's not a huge sum. I have placed some AdSense code on my blog theme.
Q: According to you, what is the future of Blogging?
A: I think blogs – in some form will thrive especially in niche subjects. People are looking for opinions and view points on the web and so, those fulfilling these needs will thrive.
Q: Let's conclude off with a few favorites.
Color: Blue
Movie(s): Pulp Fiction, Sholay (of course), Airplane!, Snatch, Lock, Stock & Two Smoking Barrels
TV Show: 24, CSI, My Family
Book: Golden Gate, Rise and Fall of the Third Reich, Truth Lies and Advertising
Time of Day: Early morning (I look suspiciously at people who say, 'I am not a morning person')
Your Zodiac Sign: Scorpio
We are sure our readers would have got a different perspective of advertising after reading this interview. Thank you Sir for this wonderful interview and sharing with us your thoughts and insights advertising in India and the trends. Friends, if you have any queries, do ask him using the comments form below.