In our earlier post we shared our experience of Day 1 and 2 at the INK Conference 2011, in Jaipur. We are back to share about Day 3 and Day 4. We heard talks of artists, technology speakers, musicians, challengers and more encouraging people. Here's our take: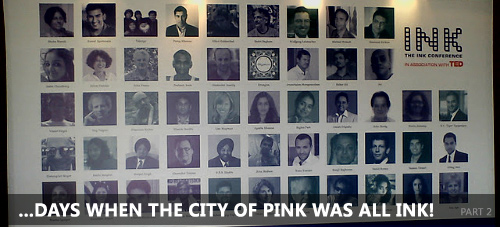 Day 3

Day 3 started with the melodious tunes of piano, played by Suman Sridhar. The theme of the first session was 'Facing Your Fears'. We proceeded to listen to Babar Ali, the youngest headmaster of the World. He delivered a speech last year too at INK, in correct English, that he learnt in just one year. Krushna Patil, an INK Fellow, is the another perfect example of what a determined person is. She is the second youngest Indian to climb Mount Everest. She has climbed many high peaks in seven continents. With Gokul Das and Shantanu Moitra, started the next session 'Magic Flights'.  Vikram Bhaskaran, of Samosapedia, website for South Asian lingo narrated the idea behind Samosapedia and what's next in the pipeline. Anousheh Ansari is the first woman private space tourist, and she shared her dream story with us. The most striking thing about her, was we found her smiling always. A very cheerful personality with an inspiring story to tell. 🙂
Raghava KK was the artist at INK last year, and this year he returned as speaker at INK 2011. He is in progress of making an iPad app, which allows you to shake and look at two perspectives of a news story. Shake it, and you will see the other side of the story.
Next set of speakers lined up were for 'Challenge and Obstacles' theme. We were in awe of Bhavik Gandhi's tale. He rowed single handed across the Atlantic, spending 106 days alone in the sea in a 23 ft rowing boat. After 3 failed attempts he managed to achieve what he had envisioned. Doing transaction online has a new dimension with GharPay, by Arpit Mohan. This NIK fellow has made buying online and paying offline come together. Alexander Asseily, has build an opinion network, where people from various regions can come and comment online on different ideas. Anusha Yadav took us back to the good ol' days, through her Indian Memory Project, that aims to collate and preserve Indian history through photographs of family archives. Abhay Deol for a change acted to an impromptu script. 🙂 Dibakar Banerjee showcased the trailer of his latest movie exclusively for INK attendees apart from his talk.

Michael Pollack, earlier an investment banker, is a survivor of the 26/11 terrorist attack in Mumbai on Taj Hotel. He shared a nerve chilling story of his escape from the hotel, and gives all the credit to staff at Taj. He is most thankful to a person working in Taj, who rescued him safely, but was unable to save himself. Michael also told us, how his 8 year long business partner got divided with him, by giving the reason that he was afraid of further terrorist attacks on him and the business, since he is rescued now. Ramji Raghavan is a person who has educated many rural children in science, with his simple and mobile techniques. He started Agastya for teaching science to economically backward students.
INK also had arranged snake charmers, and gave us a Royal Rajasthani treatment. Day 3 ended with Bollywood Night at the City Palace.
Day 4
'Coming Home' was the theme of the first session of the last day of INK 2011. An innovator who thought something for the hygiene of rural woman, landed up at INK for the efforts he took to accomplish what he desired for. He made sanitary napkins available to rural women at a very cheap cost and also invented a machine that has the ability to produce 120 napkins in one hour. All this was done by Arunachalam Muruganantham. Joi is a music band that mixes the sounds of rock, soul and folk. We all rocked to his tunes at INK! Robert Gupta opened the next session of 'Looking Forward'. We were mesmerized with his violin performance and his heartfelt speech. No slides, no presentations, but 15 minutes of pure bliss! While Raghava KK was the artist for last year, Shilo Suleman was the artist for this year. Her brilliant creations were visible everywhere in the hotel lobby and the stage.
Alexander Tsiaras taught us to know our body through his simple videos of the human body. His aim is to make available these videos to everyone, and make them aware of their body and medical condition. Anupam Mishra spoke twice, explaining us why Gandhian philosophy should be incorporated and on using Rain Water Harvesting on a larger scale.
Author of 'The Art of Choosing', Sheena Iyengar, visually challenged, was the concluding speaker at INK 2011.
This was our experience of INK – motivating, enlightening and strikingly impressive! We are looking forward to INK Conference 2012, in Bangalore.