If INK Conference 2010 was an experience, then INK Conference 2011 was a thrilling experience! Visuals of insightful speakers emerge as we recall the 90 hours spent with world's most amazing thINKers, in the Land of Kings & Colors. INK left its blue mark in the city of pink that was undeniably very welcoming. INK Conference speakers, living upto this year's theme, shared dynamic stories of their journey called life. These innovators have bootstrapped themselves out of the unvarying situations and gifted world with newfangled ideas, while some others have taken the traditional methods to a different tangent and made it possible for people at grassroot level to benefit from what they already have. So here is the striking picture painted in these four days: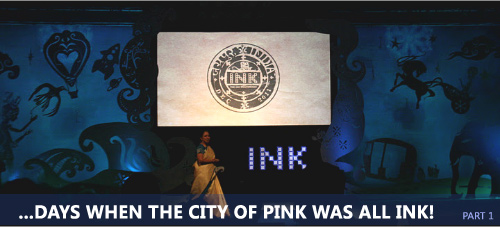 Day 1
The theme of the first session was 'Call to Adventure'. The conference started with a musical performance by Shantanu Moitra and Swanand Kirkire. When that set the mood right, next up on stage was Julie Taymor, best known for directing The Lion King on Broadway. She was inspired by various cultures that she incorporated in the movie. She says, in the long run, the goal will only matter; focus and vision is the key. This was followed by Amish Tripathi, the author of the famous Shiva Trilogy, who was rejected by many publications for his first book. And now the creations of this banker-turned-author are among the bestseller list. One speaker who inspired and moved all of us was 15 year old Aisha Chaudhary, born with immune deficiency disorder, who overcame a predicted life expectancy of only one year. She received a standing ovation for her sheer determination and will to live life. She says, "You live every moment twice, once in your mind and once when you actually live it".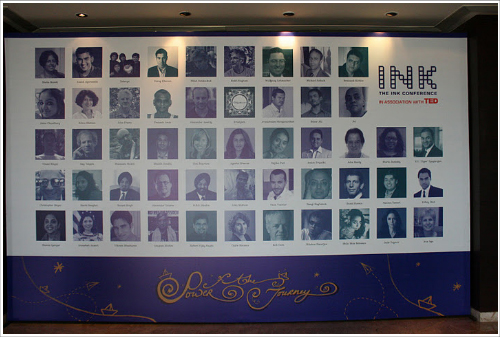 'The Road Less Traveled' was the theme of second session. Madhumita Halder, founder of the World's First Indian word game – Aksharit, i.e. Scrabble in Hindi, shared her thoughts and her caravan of exploration. Vineet Singhal also had a task at hand, that was to get a million marrow donors registered in 2012 and to accelerate the creation of marrow registries in countries like India and Indonesia. He informed us that there is no registry counter in India for bone marrow presently.
The evening ended with Drumjam, where all INK attendees participated in a jam session with Drumjam. We all turned expert percussionists for this evening. It set the tone for the entertainment that was planned for us for the evenings ahead.
Day 2
First session of Day 2 was 'Meeting of Minds'. We ended day one by jamming with Drumjam, and started day 2 with Vasundhara Das and Roberto Narain, partners of Drumjam. Robert Cook showed us the hard work that goes into animating each character and making it look perfect in animation movies. Lisa Straprans was inspired by the culture, colors and diversity of India. She henceforth launched designs that speak their story, by using eco-friendly materials and fabric made by local Indian artisans. To ask questions is not incorrect. This is what Deepak Ravindran proved with his innovation SMS Gyaan. A common man (who does not have access, or does not have knowledge of Internet) can ask a question through his mobile, and Deepak's team will answer the question with the vast Internet knowledge.
Second session was called 'Making Connections'. A boy with small eyes has no chance to make a successful career in a traditional Indian dance form like Bharatnatyam, commented people on Charles Ma, on his choice to learn Bharatnatyam and pursue his career in dancing. We were blown away by his graceful performance. Kalyan Varma, the wildlife photographer, decided to allow people use his clicks without paying him, just because he wanted his clicks to reach out to a wider audience. He spent hours and days in jungles and ghats to get the perfect picture. Ruchi Sanghvi entered the boys club, and became the first female engineer at Facebook. She turned everyone's personal information, like a newspaper, which after much agitation, was liked by all. Shirin Juwaley asked us a question, why should you treat disfigured people differently? She is an acid attack victim, and is now a human rights activist. Her question left us pondering.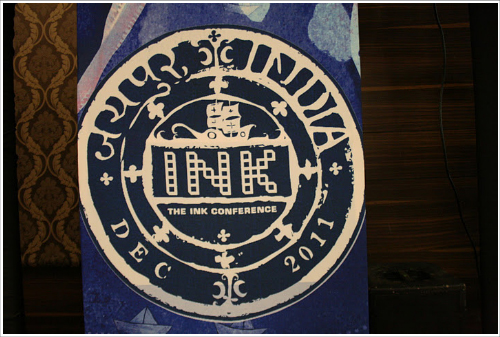 Another standing ovation was given to Prakash Amte, who runs Lok Biradari Prakalp, and is son of Baba Amte. Like father, he also decided to cure leprosy patients and gave medical help to village people. He has given an open invitation to visit his place and see his work. 🙂  Next session was named 'Crossroads' which opened with the traditional beats of Talavya tabla players. Anu Aga shared her story of losing her husband and then her son, and being loaded with responsibility of running her company Thermax, in such a mental phase. She, however, was a fighter, and stood up with the help of her daughter and relatives. Nikhilesh Das took up the issue of oil pollution and showed us how we can use substances, that can absorb the oil. He demonstrated how human hair, bird feathers and sawdust can absorb oil and is now in process of inventing a machine that can be used for lessening oil pollution.
Shobha Murali explained us how superstarch was formed, for helping Diabetic patients, in order to stabilize their sugar levels. Yann Vasnier decided to be a perfumer, as his fascination of fragrance began at the age of 10 years. He surprised us with 9 different smells under our chair, stuck on a sheet. 'Leap of Faith' was the last session of day 2. Rajika Puri with Suchet Malhotra performed Bharatanatyam and Odissi and is known for her story telling through dance. Abhishek Bhagat invented a cooking machine, which makes your cooking sessions easier, while trying to give you 'maa ke haath jaisa khana'. Harpal Singh implemented an idea, of giving a sapling to every woman patient who came to his hospital. He wished to do something for women, and hence this initiative was taken. He said that he was disturbed by the dirty surrounding of The Golden Temple, and his initiative has now led to transformation of that area. He also said that in his family, women have been more powerful than men, and it was his source of inspiration.
Day 2 ended with dinner in Amer Fort, which was specially decorated for all the INK attendees. 🙂
We are so overwhelmed with joy after attending INK, that the talks just won't end here. Watch out for how we spent Day 3 and 4 in our next post! 🙂
Do NOT forget to check out all the photos, tweets and lots more on our INK 2011 Dashboard.