Last year's INK conference was a great experience for us! We shared our observations and learnings with you, through the Best of INK Conference. INK had amazing speakers last year, from varied industries of technology, design, science, etc. We heard Anand Kumar, the trend setter of Super 30, James Cameron – Filmmaker & Inventor, Babar Ali – Youngest Headmaster and many such inspiring personalities. Last year's theme was 'Untold Stories', while this year, INK will celebrate the 'Power of Journey'. With 'Power of the Journey' as the theme, the second edition of the INK Conference promises to be an ideas powerhouse exploring different journeys from outer space to the depths of the ocean, and everything in between
INK will have the world's most innovative thought leaders who will share the stories of journeys that mattered to them, that inspired them and journeys they believe would make a difference in the world.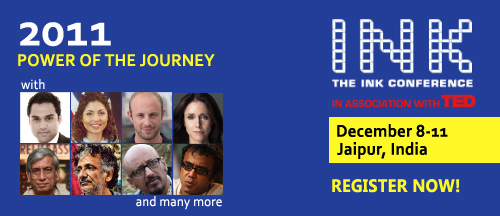 INK Conference 2011, will be held this year in Jaipur city, Rajasthan, from December 8th – December 11th. This year's INK conference will give you more reasons to inspire and get innovative with ideas.
Get influenced by speakers of INK Conference 2011; read about some of them below:

Abhay Deol: Indian film actor Abhay Deol is a self-described fan of "cinema that has the 'real' element." He feels movies can be entertaining as well as socially conscious. Abhay, often hailed as a 'thinking actor' in the Hindi movie circles, has appeared in popular films such as Dev D and Oye Lucky! Lucky Oye! He recently turned producer and hopes to make films that are relevant.
Chris Meyer: Chris Meyers mission is to anticipate and shape the future of business. He has worked as an econometrician (Data Resources), strategy consultant and practice leader (Mercer Management Consulting), think tank director (Ernst & Young), and entrepreneur (Monitor Talent). His book BLUR was a bestseller in fourteen languages, and Standing on the Sun will be published February 2012. All focus on the interaction of economics, technology, and business.
John Hardy: Jewelry designer John Hardy co-founded the extraordinary Green School in Bali, where kids get a holistic and green education. At the Green School, students learn in open-air classrooms surrounded by acres of gardens that they tend; they learn to build with bamboo; and meanwhile they're being prepared for traditional British school exams. The centerpiece of the campus is the spiraling Heart of School, which may be called Asia's largest bamboo building.
The INK Fellows Program is an annual program that recruits 20 young innovators to attend the INK Conference and become members of the INK Community. The INK Fellows of 2011 are inspirational young leaders, that are full of energy and passion to do something in their industry. Have a look at INK Fellows of 2011.
Dhaval Chadha: A Harvard and Singularity University trained social scientist and futurist, Dhaval Chadha is a co-founder and Partner at Cria, an innovation consultancy and accelerator focused on shared value businesses. Dhaval was Manager of Innovation at CDI, blogged on Social Edge, and curated TEDxSudeste in Brazil. He is a mentor at TechoLab and part of the Sandbox Network.
Dina Buchbinder Auron: Dina Buchbinder Auron has introduced an innovative, action-oriented education model, called Deport-es para Compartir, to a Mexican education system that has long struggled with passivity and rigidity. Deport-es para Compartir empowers teachers from a variety of school settings to foster social and environmental awareness while also teaching values such as teamwork and fair play.
Kalyan Varma: Kalyan Varma (Read his interview at BlogAdda) is a wildlife photographer and filmmaker specializing in environmental issues in India. He is a freelancer with many of the world's leading magazines and channels like National Geographic and BBC. Kalyan has co-founded India Nature Watch, the largest online community of wildlife photographers, and also shares his knowledge of photography and wildlife with people in various platforms.
We hope like last year, INK will inspire many lives and celebrate the Power of Journey, through their visionary team of speakers. This is going to be an awesome experience for all those who attend. Do have a look at INK Talks and Apply to attend INK 2011. You can also watch videos of a few speakers of INK conference, 2010.