Do you too belong to the simple three strand braid club since you were in school? Well, you're not alone! It's the simplest to make, especially when you think that the more elaborate styles are too intimidating! Easy braid styles are hard to find as most of them need precision and patient expertise to get them right.
Your hair can become your canvas if you wish to experiment with different styles. If you get it wrong, just start over! With monsoon wreaking havoc on your silky locks, braids are the best choice to keep them healthy, protected and intact. From pretty waterfall braids to French braids and rope braids, the world of hair art has innumerable options to keep you looking chic stand out in the crowd. So here we are to make your entry into braid world oh-so-smooth!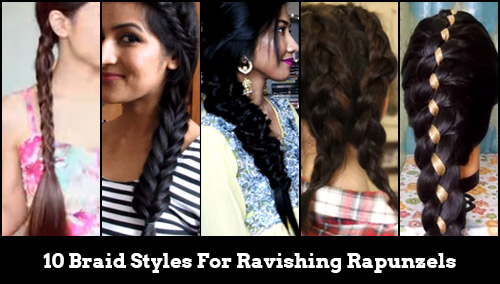 It might look real tough, but this Pull Through Knotted braid is super easy to weave! The intricate design won't take more than ten minutes and will crown you with a perfect classy look. Wear this one to a prom night or a romantic date, and make the crowd swoon over your Boho hairstyle.
https://www.youtube.com/watch?v=jGutSOMNNAk
Flatter yourself with a mystical and heavenly mermaid look with this super easy messy mermaid braid. Pair this one with a flowing gown and be the princess you always wanted to be. Or, you may go the other way for a carefree look and pull this off with a hat on your mane!
https://www.youtube.com/watch?v=pwFiyhfDihM
If your hair is in the mood for a smooth and silky hairdo, let's take the conventional mermaid braid to another level! Look like a Greek goddess with this six strand mermaid braid and own the streets with a maxi dress and your beautifully braided hair. We're sure people will ask you for your hair secrets!
4. 3D/4D Fishtail Braid

Well, this one might need some attempts to get right, but once exercise your fingers and get the hang of it, this 4D Fishtail braid is going to raise some eyebrows for you! To make things easier, here's a song for you to keep keep your spirits up as you braid!
Let your inner hippie child spring back to life with this Double Dutch braid. This one is a great way to tie up your hair tight before you hit the gym or step out for a run! These super cute braids are perfect for a trek or a road trip too, keeping your hair well behaved through the journey. What's more, it looks just as cute on short hair too!
Messy braids are always a hit with chic Boho outfits and street fashion. Spice up the conventional Dutch braid with some twists and turns to get this beautiful princess braid. What's next? Get into some bright hues and florals to pull this one off like a damsel without distress!
7. Pull Through Knotted Twin Braid

This one comes super handy if you have two day old washed hair and can't be bothered to shampoo! Pull two strands and play with them to get this sweet little braid perfect for mornings when you're running late. It will trick people into think you've spent hours on this perfect look!
Get into the festive mood with this ethnic braid style. Wear this pretty plait style with a an elegant saree or a  salwar kameez and get ready to make heads turn! Pssst…Here's a li'l secret! This one actually has no braiding involved. You can also play with hair accessories and take this style to a whole new level.
Let braiding get more fun with another strand! Forget the usual three strand braid and add in dollops of style with another strand of ribbon! Perfect for your little girl to rock her birthday party, this one would make all the mamas envy you! Or perhaps, try it on yourself and let the compliments flow!
https://www.youtube.com/watch?v=PlGx0uYdDOM
Braids have to be the most versatile hairdos! Here we are with a single part braid and behold, there are 8 different styles with a single braid of beauty! Which style did you love the most? Do let us know in the comments below!
https://www.youtube.com/watch?v=FYhHOA-dtKA
With these super awesome and easy to braid styles, we are sure taming your hair is going to be seamless fun! Which one of the braid styles flattered your style the most? Do you have an equally ravishing braid style in your hairstyle journal? Well, let us know in the comments below or send us your video on Twitter, and we would love to have a look!