Writers are a strange species (in a good way). They have an inbuilt instinct to filter out moments into stories that could be read by all, heard by all and stay forever. To a writer, every creation is a piece of his mastery, close to his heart, like his own child. Once inspired, a writer doesn't breathe easy till it's out on paper. But there's a catch – since we want the final story to come out in the perfect form, we sometimes put off writing the story, and it remains saved in our drafts forever! Every writer has at least one story that is nearly ready, but hasn't been presented to the world yet. If you have it, we want it!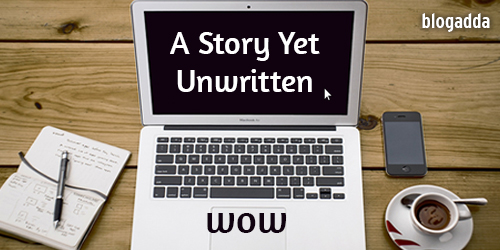 This week's WOW prompt is – "A Story Yet Unwritten"
Half written in your notes or drafts, words scribbles on scraps of paper waiting to be sculpted into a blogpost, the wait of your incomplete stories is now over. Do you have a story that you always wanted to write but couldn't or didn't? Perhaps you had other ones on your mind or daily chores never let you sit down and work on it. Well, here's your shot! We are here to get that elusive story out of your mind this weekend. This week, keep the world aside, and finally turn your attention to the story that was never written. Give it some TLC, pore over it, and make it realize its destiny!
Complete your unfinished symphony and share it with the world through this week's WOW and give it the glory it deserves!
BlogAdda and Miami Blues will give sunglasses worth Rs. 2500 each to the Top 3 WOW entries.
Bloggers are requested to add the mandate line in their post and submit their entry through the submission form for their WOW entry to be considered valid. Remember, you have time only till Sunday midnight to submit your blog posts and have a chance to get the WOW badge!
Include this code:
'This post is a part of Write Over the Weekend, an initiative for Indian Bloggers by BlogAdda.'
Good news! There is now an easier way to submit your WOW entries, so just click on the submission link below for your WOW entry to be considered valid.

Every weekend, we give creative writing prompts for you to write blog posts. Hope you enjoy our creative writing inspiration for this week. 🙂