Tenu kala chashma jachda ae, Jachda ae gore mukhde te, tenu kaala chashma jachda ae…this is the song that we've been singing in our heads (and sometimes out loud) in the BlogAdda headquarters since last week. There is something about dark sunglasses that is so mysterious, so much so that our celebrities don't want to let go of them even in the dark of the night!
Well, BlogAdda thinks sunglasses ARE pretty cool, why else would we be giving away Miami Blues sunglasses worth Rs. 2500 everyday at BlogAdda through the month of August? Ehh, what?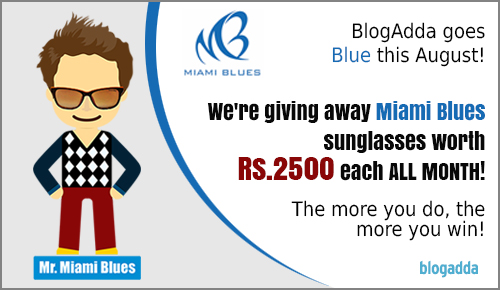 Yes, this August, which is *ahem ahem* BlogAdda's birthday month, we're making it rain Miami Blues sunglasses!
We welcome Mr. Miami Blues to the BlogAdda office, where he'll stay for the next month, and make sure that BlogAdda's bloggers never run out of Wakhra Swag with his carefully curated collection of sunglasses worth Rs. 2500 each designed to make you look sizzling hot!
Mr. Miami Blues comes to BlogAdda! *BlogAdda pins him down for a quote on this breaking news*
BlogAdda: So Mr. Miami Blues, BlogAdda main aapka swaagat hai. So what's going to happen at BlogAdda in August?
Mr. Miami Blues: Well, I'm parking myself here for the whole month with my huge bag filled with the latest sunglasses. I love the work that BlogAdda members do – the way they write, tweet, shoot, comment, all of it. So I thought I should show my appreciation by giving away the best of what I have – Miami Blue sunglasses!
BlogAdda: That's music to our ears! So what will bloggers have to do to get their eyes, we mean their hands on these sunglasses?
Mr. Miami Blues: It's pretty simple. Here are the bloggers who will be seen in Miami Blues sunglasses soon!
1. Valuable Video Reviewers
The book #SixDegrees is already getting many stunning video reviews and will receive many more in the times to come. The 10 best video book reviews will find Miami Blues Sunglasses in their mailboxes.
2. Perky Tweeters
I love Twitter! The kind of updates and fun stuff I find there is unmatched. And when people see me laughing on a Monday, they think I've lost it, when I'm actually just reading Perky Tweets! The 3 #PerkyTweets that make me LMGO (Laugh My Glasses Off) every week will get Miami Blues Sunglasses too!
3. #TangyTuesdayPicks & #SpicySaturdayPicks
I get it. Blogging is tough. Coming up with eye popping blog posts every week is no child's play. Writing posts that catch the eye of BlogAdda's editorial team must be especially difficult, right? I want to thank the bloggers who open my eyes to new avenues every week with their Tangy Tuesday and Spicy Saturday Picks. The top 2 posts in each of the picks every week will get sunglasses from me! And no, I will not stop making lines with 'eye' in them.
You can send in your blog posts for Tangy Tuesday Picks here or submit your entries for Spicy Saturday Picks here
4. #WOW
Weekends are my most favourite time, and I like anything that makes them better. Something like the WOW prompt. I'm constantly surprised by how different people can write so many unique posts on the same prompt. And in this spirit of pleasant surprise, I'm giving away a pair of sunglasses to the Top 5 WOW posts every weekend this month!
5. Commentators
No no, Harsha Bhogle or Arun Lal are not getting sunglasses from me. I mean people who comment. Don't we all love conversations? I sure do. So the Top 5 comments every week will get a pair of Miami Blues sunglasses too!
6. Parenting Blues
Parenting is supposed to be the most difficult and rewarding job in the world. Well, the contributors at Parentous are surely going to get their reward! The contributors for the month of August all get a pair of Miami Blues sunglasses!
Apart from these, I will also be hanging around the Twitter, Facebook, Instagram & Youtube profiles of BlogAdda. Will keep springing surprises in the form of contests, quizzes and much more, all of which will come with sunglasses to win! So make sure you follow and subscribe to all of these so you don't miss out!
BlogAdda: Whoa! Now we know what you mean by a shower of sunglasses in August. Any advice for bloggers as a parting shot?
Mr. Miami Blues: I'm very excited for this! My only advice…PARTICIPATE! The more you participate, the more your chances to win! And yes, carry an umbrella, coz it's going to be a thunderstorm, baby!
There you go, we've started off your August with a bang! Stay tuned for more such big announcements. We'd love for you to win and flaunt Miami Blues sunglasses this month!
We are happy to partner with Miami Blues for these activities. If you are a brand/agency & want to work with us, mail us at marketing@blogadda.com