It's not September yet, but we're still waking you up. If you chuckled, then good for us. If you didn't, all is not lost as we have a bunch of #PerkyTweets to make you smile. August has started, and BlogAdda has pledged to make your month sunnier with its Miami Blues sunglasses giveaway! Once you've checked it out, and gathered your jaw which has hit the floor, take a look at the hilarious Indian tweets that we harvested specially for you guys.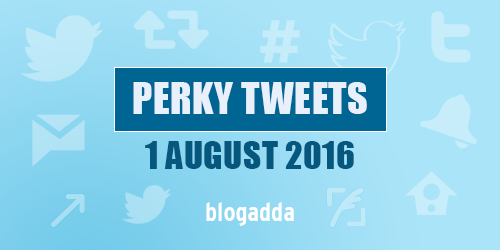 Aamir Khan made a statement in November 2015 & Manohar Parikar is reacting now, i think its high time he should leave Internet Explorer.

— Swami (@mohitraj) July 31, 2016
*fills UPSC form*
Relatives: tumse na ho payega beta

*becomes IAS officer*
Relatives: humne toh pehle hi kaha tha ladka heera hai heera

— The Crazy Doctor (@ekdoctor) July 29, 2016
At the age of 23:

Friends: U are too young to get married.
Parents: U are old enough to get married.

Nt sure kiski aakhein jyda kharab h 😒

— Anamika (@MiishNottyAna) July 30, 2016
People need not say anything to me.
I'm more than capable of overthinking and driving myself to depression.

— Her. (@TheSepticHermit) July 29, 2016
How Gurgaon developed.

-Lets set up offices here!
-Need homes for employees now!
-Need wine shops for them!
-Oh roads banana to bhool gaye!

— Apurva (@Hud_Hud_Dabbang) July 29, 2016
The greatest mystery for me is why don't guys get lipstick transfer after kissing in movies etc.

— Ra Ch Na (@raggedtag) July 24, 2016
Dear foodies. The plural of crab is crab. Crabs is an infestation that no one wants to eat. PLEASE LEARN TO WRITE CORRECTLY. #grammarnazi

— Nicole Mody (@nicolemodyy) July 24, 2016
Don't mention a person's past mistakes when they are trying to change..That's like throwing rocks at them while they climb a mountain..!

— Syaappaaaa..! (@ruby_woooo) July 25, 2016
Nitin Mukesh named his son 'Nil' when he saw the number of expressions on his son's face.

— Sagar (@sagarcasm) August 1, 2016
The human body is 70% water and 30% racist.

— Johnny Blue (@Test_of_Steron) July 28, 2016
Did these #PerkyTweets work for you? Tell us which ones you liked the best in the comments section below! Submit your own funny tweets here with #PerkyTweets or send them here to win cool Miami Blues sunglasses!