In Buzzing Blogsophere, we at BlogAdda try to keep an eye out on what bloggers' thoughts are revolving around this week. There were many snippets of news that needed to be covered in recent times, and bloggers did not disappoint. Ever alert as they are, no development escaped the sharp critical eye of their mighty pens. So, without further ado, here is the round up for this week.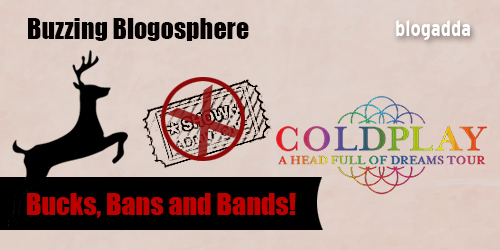 Salman Khan is acquitted in two poaching cases
This news was 18 years in the making and now that it has finally broken, it has wreaked havoc. For some it has created nothing but outrage, while for others it is a sense of relief that their hero has been let off. The case dates back to 1998 when the actor was shooting for Sooraj Barjatya's 'Hum Saath Saath Hai' in the jungles of Rajasthan. During a break in shooting, he was accused of shooting the endangered black buck and chinkara. He was arrested on two counts of poaching and has since been out on bail. Madhuri Prabhu points out the reasoning behind the sensational verdict.
[pullquote]"As per the verdict, the court held that the pellets recovered from the Chinkaras were not fired from Salman's licensed gun. The driver of the jeep that was used by Khan and his co- stars on their alleged hunting mission has been missing, weakening the prosecution's case against the movie star."[/pullquote]
However, this ruling has angered many, especially since it comes so soon after the ruling for the hit and run case which was also lodged against Salman. Like this one, Salman was also let off scot free from that case as well, leaving many to claim that Bhai is above the law. In fact, Shilpa Godbole blames the public for his so called good luck.
"You see, Mr Khan was expected to be found guilty in a hit-and-run case, we all know how that went. He was accused by a co-actress/ex-girl friend of harassment, we saw how that went. Then there were remarks/tweets about the 26/11 attacks, hanging of Yakub Memon, which many thought were inappropriate, but Mr Khan does and says what he wants to, the latest being comparing his level of tiredness for filming of the movie Sultan to the pain experienced by a rape victim… But then again, just as Houdini inspired wonder for his logic-evading great escapes, Salman enthrals us with his powers of circumventing culpability for his actions and words. And guess who helps him with a feel-good pat on the back every time he escapes? Oh yeah, it's us, the aam janata."
Director Mahmood Farooqui convicted of rape
Speaking of feeling like a rape victim, there is no one who can actually understand the pain of a raped woman, but that woman herself. This is exactly how the woman must have felt after she was raped by Mahmood Farooqui. But her pain is disregarded, because it inconveniences those in power, as Nishtha Gautam point out. Yet, at least in this case justice was done, and Mahmood Farooqui has been convicted of rape.
[pullquote]"A Delhi court finds Farooqui guilty and thus comes closure for the woman. It is heart-warming to see that justice was neither delayed nor denied… [/pullquote]But why does this victory not taste sweet? Despite a positive outcome, why does this case not fill us with joy?… the annoyance has only been at what Farooqui, not his victim, had to suffer. Facebook posts, tweets and soiree conversations after the chargesheet was filed were dripping with how poor Farooqui did not deserve such irritation in his life. The victim was blamed, as evident in the statements issued by Rizvi and the defence counsel, but fortunately it rang hollow."
Stuck in Gurgaon
It's the monsoon, hence it is only expected that there will be some potholes, water logging and slow down in traffic. Yet, this week, Gurgaon had come to a standstill just because of some rain. Manika Raikwar Ahirwal tries to paint a picture of the chaos that was Gurgaon.
"Last night, starting around 7 pm, people in the city simply abandoned their cars and walked home for kilometres, getting home only at midnight or later. (I dread to think of what single women or families with children went through.)"
Manika was not the only one facing problems. TOI readers got a first hand glimpse of the mayhem in the city through Twitter.
"Widespread rain continued on Sunday in North India, bringing the mercury down even as the water-logging created havoc on all major arterial roads.The office-goers across the city were the most affected as water logging on several roads caused massive traffic snarls."
All this havoc has left residents frustrated at the state of the city. Many residents like Nandagopal Rajan claim that the capital and its surrounding areas is still a gaon.
"But let's not kid ourselves, or let the swanky new skyscrapers or brand brandishing metro stations fool us. This is Gurgaon — good when you look up towards the towering MNC offices and 'gaon' when you look at the mindless traffic on the roads and general lacks of civic, or any, sense."
Floods in Assam
Gurgaon was not the only area that has been so badly affected by rains. Corrine Abrams tries to highlight what horrors the state of Assam is going through.
"Flooding hit India's northeastern Assam state, killing at least three people and affecting 1.6 million others, authorities said. Roads and bridges have been damaged and have become impassable as monsoon rains sweep across the subcontinent. Authorities have opened 472 relief camps that can house more than 112,ooo people, according to an update on the Assam State Disaster Management Authority's website, and relief has been distributed."
All the destruction in Assam has led to bloggers such as Madhumita Phukan to call out to citizens to help Assam in its need.
"Though not vastly, but yes! Local and National Media has covered Assam flood….and I am sure most of the conscious people are now aware of Assam flood, may be through Facebook, TV, Twitter, few mainlines and may be by word of mouth. We helped Chennai, we helped Nepal, we helped Kashmir during the natural disaster. Now, Assam is really in need of your help in her dire state."
Yet as Swapnil Kotoky points out, this is not a one time occurrence, in fact, it is a yearly one. One that we as citizens of this country and as humans of this world ignore.
[pullquote]"As everybody celebrates festivals such as Holi, Diwali, Durga Puja, national media thinks people of Assam celebrate flood.[/pullquote] I mean when a great river like the Brahmaputra flows through its heart, so flood is a natural phenomenon. As we Indians don't believe or support only unnatural acts – all thanks to Baba Ramdev and his lackeys – so it's only natural that we don't give a batsh*t about some natural act happening in some distant corners of the country."
'Dishoom' banned in Pakistan
In lighter news, Dishoom starring John Abraham and Varun Dhawans released, giving many people a light hearted masala movie, one that is Bollywood's speciality. Vikram Bondal gives his take on the movie.
[pullquote]"So when the trailers of Dishoom showed up, they promised old school masala with a mix of maar dhaad action and some David Dhawan styled humor, but does Dishoom deliver on this promise? [/pullquote]To sum it up, Dishoom is one of those masala movies that is all flash and almost no substance, which is a pity, as it could have been a throwback to the buddy cop movies of the 80s, and a refreshing change of pace from the otherwise intense cinema that Bollywood's developed a fondness for lately."
However, the plot revolves around a cricket star being kidnapped so that he can't play in the final against Pakistan. This obviously ruffled some feathers in Pakistan, so much so that as Amaze Post points out, it has been banned in Pakistan.
"John Abraham and Varun Dhawan-starrer Dishoom seems to be getting a good response in India with its high masala content. However, Pakistan is not happy with this full-on entertainer and has reportedly banned Dishoom…Varun clarified that Dishoom has nothing against Pakistan but as per the country's censor board, the film has shown Pakistan in a bad light. Dishoom deals with the kidnapping of an Indian cricketer just 36 hours before the final match between Pakistan and India. After the trailer released, eyebrows were raised on the other side of the border….The banning of Dishoom in Pakistan will certainly be a loss for the film. Meanwhile, some other reports also state that Dishoom has got into censor troubles in some Gulf states."
Coldplay coming to India
There is nothing bigger than a music fan than to finally watch their favorite band play live, however for many Indians who listen to international music, this dream becomes almost impossible as most international bands skip India on their tours. However, for Coldplay fans, this dream may finally be coming true. Pooja Pandey tells us why.
[pullquote]"I'm not even going to tell you to calm down because this is huge. From a Coldplay fan to a Coldplay fan, you can take a moment to sit down and relax your beating heart. Take a glass of water if you need. You need to be alive to read what follows.[/pullquote] Coldplay might be coming to India and this is not a joke. Chris Martin's army might be headed to India for A Head Full Of Dreams tour fulfilling that dream we all had."
While non-music fans might not understand the hype, Insanity Networks points out the reason why this is such a big news. After all, we were so close and yet so far away.
"The band was in Delhi in June last year when they did an impromptu gig in a cafe and broke the hearts of many fans. They had again visited in September to shoot for their video Hymn for the Weekend."
This week had been a whirlwind of news. There had been so many different news that we had a difficult time shortlisting them, but we had to, otherwise we'd all still be here reading. So, did you enjoy our roundup? Or do you think we missed something important? Please do let us know in the comments below.