"Whatever we plant in our subconscious mind and nourish with repetition and emotion will one day become a reality" -Earl Nightingale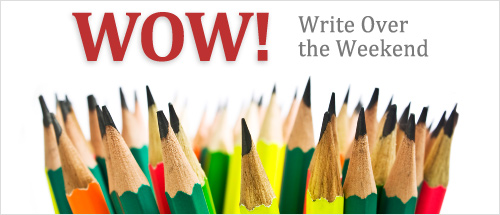 Write Over the Weekend theme for this week
This time your entry has to have one sentence that is repeated at least thrice in your post.
Please Note that you cannot repeat the sentence consecutively.
Are we all set? Start writing and keep blogging. Remember, you have time till Sunday midnight!
Include this code:
This post is a part of Write Over the Weekend, an initiative for Indian Bloggers by BlogAdda. We give out themes for creative writing each weekend for Indian bloggers.
All those who are featured in WOW can now flaunt the WOW badge on your blog. Download your badge now!
You can check the list of the picked WOW posts for last week at http://forum.blogadda.com/discussion/207/wow-ignorance-is-bliss

To read more about WOW, visit https://blog.blogadda.com/2012/09/28/write-over-the-weekend-wow-indian-blogs
Give us 10 minutes of your time and fill this survey so that we know you bloggers better!