Have you always wanted to solve a mystery? Are you a fan of thrillers and whodunnits? Do you always try to analyze and solve mysteries in your mind? After the overwhelming response to the 'Tribute to Mom' contest, we are back with another one. πŸ™' This week it is 'Whodunnit' contest.
Update: Sidin Vadukut will be ready with the results pretty soon. He had to hire some CBI guys to help him in this one. πŸ™'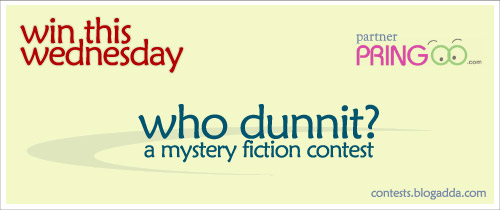 BlogAdda, in partnership with PringOO, is proud to announce this Mystery Fiction 'Whodunnit' contest.
Read the story written by the talented Ajay Nair titled 'Reunion'

Reunion
There were five of us who were suspects – and each one of us had a motive.
Three of us were ex-husbands. Lila was democratic that way; she liked to spread her love around. M. was her first husband, someone she had married when she was only twenty three. M. was a loud, brash young kid at the time. He liked bikes, bikes and bikes, in that order. Lila settled for riding pillion for a while but she wasn't the sort to do that indefinitely. Their marriage lasted six months.
I was the second husband. Lila courted me for three years and bagged me. She was twenty nine at the time. When I look back at all the wooing she did, what I can remember is that at no point did she let me realise that I was the one wooing her. She was smart about that. Very smart. Our marriage lasted six years. It was the most miserable period in my life. Like I said, Lila was democratic – she liked to spread her love around.
After our divorce, I didn't keep in touch with her. I heard from someone we both knew that she married R. soon after. R. had been the guy I had confided in during the troubles of my marriage and I had been surprised that he had stopped returning my calls soon after my divorce. Evidently, he hadn't listened to me closely enough. They lasted one year. From what I know now, R. has since proclaimed celibacy and joined some religious cult. He sported a short rosary with beads. He said it helped him stay focussed.
And now, fifteen years after our divorce – and from the last time I'd seen her – she'd called me to this party. When you are over fifty, old memories fade to an in-between shade of nostalgia and old hurts have the texture of the pleasant pain that you feel when you pull at a loose nail. A heady mix of wistfulness and curiosity took me to her house. I shouldn't have been surprised to see M. and R. there too.
What surprised me – and I suspect surprised everyone else as well – was G. turning up. G. was the last lover she'd had. Theirs had been a public spat – he'd cheated on her in the open and in a weird twist, she'd left him for that. She'd used all her fame – and she was famous – to drag his name through mud. It had not been a seemly spectacle.
Then there was the affable Sia, her twin. Sia had abandoned Lila long before any of us had come into the picture – and all of us knew the story of how they'd once tried to drown each other. As far as twins go, they weren't exactly equipped to feel each other's pain. They said they found it funny. They carried identical arm-bands wherever they went. To remind them.
That was the common thread between us, of course. We all had tried to kill Lila. M., in an act of breath-taking foolishness, had tried to drive his bike off a cliff with her holding onto him, when things had gotten ugly between them. He had chickened out the last moment and instead of shooting off the edge, they had tumbled down a slope. Lila was proud of the scars she acquired from that. She even retained a piece of the muddy scarf from that day.
I'd been more subtle. I had tried to poison her – I used to serve her tea in bed everyday. Every day, a little concoction that I'd brewed was mixed with it. Sadly, all it resulted in was a long stay in the hospital in the last few months of our marriage, something she capitalized on during the divorce proceedings. I couldn't find the tea leaves again though. She must have got rid of them. Like I said, Lila was smart.
R. had shot her. Twice. And missed. She had retrieved the bullets though. She wore one of them as a pendant around her neck. It was embarrassing. G. had been more successful. He'd given her the virus.
And that brings us to the party. Lila, even at this age, looked magical. In my invitation, she'd mentioned that she'd only a few years left to live and wanted to bury the past. Well, the past came alive when I saw her. My notion of beauty had changed with time, but she'd remained a constant benchmark. At the party, she proved why that was so.
Her easy wit rolled comfortably over the awkwardness of the guest list. Everyone knew she was suffering. G. managed to look suitably penitent. After dinner, she called us all one by one to her bedroom – a procession of ghosts from her past.
When it was my turn, I offered her a single yellow rose. Not because I was foolish or sentimental – we were beyond that – I just did not want to go empty-handed. She took it with a smile and asked me whether I had sprayed some new poison over it. I let the remark slide by.
We talked about this and that. She talked about how she tried to remember the good times. There was some of that, especially in the beginning. I waited for an apology but it never came. My head ached. She offered me some strong tea. I refused. I looked around the room for water. There was none in the glass jar. A beautiful arm-band lay by its side. Shaped like a snake. The hood gleamed. Without warning, she asked me to send R. in.
The last to go in was Sia, and she was weeping when she came out. For all their twin-ness Sia was as different from Lila, as possible. Quiet and dignified, plain. One was sweet, the other was smart.
When Lila came out, she looked withdrawn, anxious. Her words and gestures were hurried. Gone was the easy grace and charm of her performance at dinner. Just when it had gotten to a breaking point, all of us ready to leave, she asked us to wait for a minute and went back to her room. She never came out.
The cops later surmised that one of us had done it. They searched but found nothing on us. They did find some interesting pieces in her room though.
Stray mis-shapen beads on the floor of the bathroom.
A crumpled scarf beneath the pillow.
Pieces of cracked porcelain cup.
A mangled arm-band.
An open bejewelled case on her bedside cabinet, emptied of its contents. It could have been anything. A bead, a pendant, a bullet!
The fact that each one of us had a motive and an incriminating history was particularly inconvenient.
As I looked at the rest of my fellow-suspects – some crying quietly, others stiff, I think I had a fair idea of who it was. After all, there was only one person in this house capable of killing Lila. And perhaps, only one person who really wanted her dead, after all these years.
M., despite his receding hairline, had yet to acquire the maturity or the sophistication to pull something off which required planning. Besides, he was still plainly in love with her, the fool.
R. had been brainwashed sufficiently by his cult; he now believed women are divine entities to be worshipped. The inherent flaw in that line of thought escaped him. Though given that he directly experienced the proof of Lila's indestructibility when he shot at her – and her divinity was a better excuse than his inability to shoot straight – maybe there was some logic to his belief.
G. – well – G. had already killed her. In that sense, he was the only one among us who didn't really want to intentionally kill her earlier – perhaps, that's why he succeeded in causing her genuine damage. Sia did not have a motive any more. Among all of us, she escaped Lila earliest.
That left me. I did have the ability to pull it off – the problem is – I simply didn't care enough to try to kill her again.
Like I said, there was only one person capable of killing Lila in the house – and that person had succeeded.
You have to guess the killer, there are a lot of hidden clues, some are obvious some are not, some are distractions, some are for real


so you have to get very smart to crack the puzzle. πŸ™'

Tell us WHO killed Lila? How/Why? Post the answer on your blog, answering these questions in less than 400 words.
Incorporate an image (with a linkback) of an object you think you saw at Lila's house from Pringoo.
Add a Link in your blog post, mentioning this BlogAdda contest announcement AND leave a comment here (stating the link to your post), so we know for sure, that you are participating.
CLUE: A big clue lies hidden in the T&Cs itself!!'
The contest runs an entire week, starting Wednesday May 12, '10 and ends on Tuesday, May 18, '10, 11:59 pm IST. Entries will be judged on the basis of correct answer, and most creative reason behind your answer.
Results will be announced on the BlogAdda website by Friday, May 21, '10.
And here's the most interesting part, the TOP THREE winning entries can choose personalized goodies (T-Shirt/Mug) from Pringoo and will also be showcased on the BlogAdda website for the entire duration of the contest. So, what are you waiting for? Here is a chance to discover the detective in you and solve this mystery. Let us help the police find the 'Real' Killer.
Make sure you solve the mystery on YOUR blog and just provide a link to it here.
Thank you Ajay Nair for writing this wonderful mystery as a part of the contest.
Thank you Pal for thinking about this mystery contest and editing this story.

Ajay Nair lives and works in Mumbai. He is an entrepreneur at a live music events firm, having been a private equity investor, an investment banker and a business consultant in the past. He believes that Tendulkar is god, which regrettably is a notion his wife Anita disagrees with.  More of his writing is up at http://ajaynair.wordpress.com and at http://www.fictionaut.com/users/ajay-nair.