Modi's Minimum Government went mega as last Tuesday's cabinet reshuffle saw the number of ministers in the NDA led Central government swell to 78. The reshuffle, which was promised to be just an addition of ministers with no real surprises, ended up being a shocker by the time the new portfolios were announced.
The Modi government has committed to improvement in the areas of gaon, garib aur vikas. The much needed reassignment of roles in his team makes sure Modi keeps his focus on driving the nation towards constant progress. New faces debuting in the cabinet, reassigned roles, drastic demotions and progressive promotions kept bloggers giving their opinions on this eyebrow raising change. Has the reshuffle been a good change or does it further cement grounds for the opposition to criticize the Centre, is the burning question of the week. We try to find some answers through these interesting blog posts.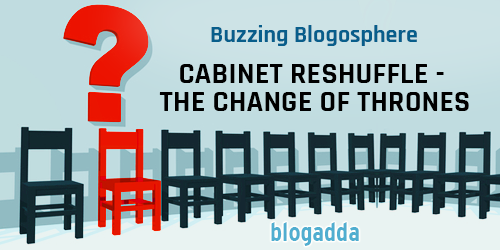 The beginning of the third year of Modi's tenure was welcomed with brickbats about how the promised achhe din were nowhere in sight, and the PM's constant silence over issues has further eroded the work done by the government. The work done so far has been overshadowed with the growing talk about intolerance and incompetence. This long overdue reshuffle, which was being whispered about, was announced last week, putting rest to speculation. Once this change was in the offing, people started putting forth their expectations. For example, John Elliott wrote,
"There has been some speculation that Arun Jaitley, the minister of finance and company affairs, as well as information which makes him the main government spokesman, will be moved or at least shed some of his work. Along with Shah, he is the prime minister's closest ally, but he clearly has too many jobs to be able to focus in depth, even though, as a top lawyer, he is well used to mastering a variety of briefs quickly. Critics say that the country could do with a hands-on economics oriented finance minister able to over-ride top finance ministry bureaucrats who seem to have led Jaitley into some traps, especially on taxation."
The cabinet redesign finally happened last Tuesday on July 5, with an influx of 19 new ministers hailing from diverse fields. Despite the culling of 5 ministers, Modi's team burgeoned to 78 members, falling just short of the maximum limit allowed. The cabinet also has been filled with brand new faces coming from varied backgrounds, keeping the talent, intellect and social representation in mind. This was some major reassignment of portfolios, reflecting a thorough performance appraisal, as posted by Kanaga Lakshmi.
"Prime Minister Narendra Modi's expansion of his Council of Ministers turned out to be a redrawing of his entire team, with major changes in portfolios held by senior members. This seems to be a consequence of a very thorough performance appraisal done by Mr.Modi of his Ministers over the last three months, during his monthly meetings with his entire council. Prakash Javadekar, promoted on Tuesday morning to cabinet rank, was one of the biggest gainers in the prestigious Human Resource Development portfolio. He replaces Smriti Irani, who has been handed the Textiles portfolio. This brings to an end Ms. Irani's controversy ridden tenure, which saw unrest break out in campuses across the country. By all accounts Modi's Cabinet reshuffle is novel and major but it will not change the contours of the power balance at the top. "
One of the headline makers was the shunting of Smriti Irani from the key ministry of Human Resource and Development to the less prestigious one of Textiles. The critical role of training and educating our youth was handed over to veteran Prakash Javadekar. Whether the shuffle is in the interest of the coming elections in UP or corrective action in view of recent developments, one cannot tell. The 'shocker' of a move was seen as long coming, and political observers wasted no time in talking about the fiery former HRD Minister being one upped. Is this really fair? asks Suparna Chawla Bhasin,
" I am not making this an issue of women representation or misrepresentation, or trying to understand why and on what political pretexts was this decision taken, but in organizations, I have seen explicitly that women making 'noise' do not share a sturdy ground with men – they are usually shown their place. Whether the reasons attributed to Smriti Irani's demotion are true or not, is best left to her to answer, but building this point in the organizational context, I personally feel that you can find the likes of Smriti Irani almost in every organization – women leaders who have been targeted. Sometimes, the reasons are a lack of autonomy, lack of coordination or the straight factor or 'being a woman'. "
This change has made headlines everywhere, and analyzed with a fine comb. Many consider Smriti Irani's relocation not as a horizontal move, but a demotion because of the (largely negative) spotlight that Smriti brought to the ministry. The positive side of this being that the reassignment of roles is that Javadekar has the dual advantage of being a known performer and a soft spoken minister. Clearly, Javadekar has his hands full as one of the world's youngest countries looks at him with a ton of expectations. A blog post in Economic Times quotes,
"The elevation of Prakash Javadekar from minister of state to Cabinet minister is welcome. His conduct as environment minister has been effective, even if the functioning of the forest ministry, which also he heads, has been far from perfect, particularly vis-à-vis its ability to function in harmony with the ministry for tribal welfare.
More importantly, he conducts himself with dignity and sense when he interacts with the public, something that cannot unfortunately be said about every minister."
When he took his oath in 2014, Modi had planned to keep the country growing with his lean 45 member Council of Ministers, the smallest in a decade. As history could tell, Manmohan Singh's large council was not known as the most efficient one, and this stark change promised less red tapism and more efficiency. Yet, with elections in major states around the corner, it is evident that this reshuffle looked at not just administrative requirements, but electoral ones too. Rajesh Roy wrote,
"Uttar Pradesh, Uttarakhand and Goa are some of the key states where elections are scheduled to be held next year. Mr. Modi's Bharatiya Janata Party is looking to beef up its tally in the upper house of Parliament, where it's in a minority, and to do this, it needs to please more state legislators. In India, state legislators elect members of the upper house, or the Rajya Sabha. On Tuesday, the government included 19 new members to the council of ministers hailing from more than 10 states. Officials working closely with Mr. Modi and his office said the latest appointments were to further speed up policy making and increase representation of key states in the central government. "
The biggest changes came in the Law Ministry, which was taken off from the hands of Sadanand Gowda and given to Ravi Shankar Prasad owing to his lacklustre performance in the same. Arun Jaitley was also relieved of The Information and Broadcasting Ministry, freeing his hands for the more important portfolios that need his attention. Rifat Jawaid writes,
"Relieving Jaitley from additional responsibility of Information and Broadcasting ministry means that the prime minister wants his perceived number two in the cabinet to give unflinching attention to the economy as the country's finance minister. With I&B ministry, Jaitley often got the flak for not doing justice to the finance ministry particularly when the global economy continued to pose challenges to India's growth story. Losing I&B ministry also means that Jaitley will now be less criticised for wielding undue influence on the country's news channels."
While ministers generally feel that their berth is reserved at least for 5 years, this reshuffle was a major wake up call for the entire government. Culling, reallocation and addition in the major portfolios gave the clear signal that no one's place is reserved, and performance and loyalty will be the only way to keep the hold over a ministry safe. Rahul Shrivastav pens down,
"If searching for messages from the cabinet reshuffle and expansion exercise yesterday, this is the stand-out: PM Modi has indicated that no one is indispensable. A total of 15 ministers have been impacted. Top guns have amended roles; among them: Arun Jaitley, Venkaiah Naidu, Ravi Shankar Prasad, Ananth Kumar and Sadananda Gowda. The change in Smriti Irani's portfolio, which, let's face it, is a demotion, indicates a push for team play and that proximities don't matter. "
This shake up does promise better performance in most of the ministries it affects, but that doesn't necessarily mean that it was an effect of report cards of the team. With state elections not far away, electoral needs are assumed to be a major guiding force in the reshuffle. For many, it appears to be a make over that accommodates the wishes of those playing behind the scenes. Shivam Vij comments,
"Having HRD and I&B ministries manned by people from the RSS fold was a major demand of the RSS before prime minister Modi. The BJP needs the RSS as an election campaign army on the ground. It is crucial that this change comes months before the Uttar Pradesh assembly election, as the RSS was perceived to not have done its best for the BJP in Bihar and Delhi in 2015, both states where the BJP lost."
The juggle of thrones voiced out Modi's reigning mechanism clear – Work is supreme and performance shall not be ignored. Overall, the cabinet reshuffle under Modi reflects a falling away of the old and establishment of a new order. With this addition of new hands, there is added responsibility on the Centre to deliver on all its promises, as minimum government can no longer serve as an excuse. This reshuffle has been an administrative and populist game of chess, and we hope that it's India that wins in the end.