It's a monsoon Monday and #PerkyTweets has arrived to shoo away the drab and dull clouds of boredom and get you excited about everything that's happening around us. Read tweets from these Indian Twitter accounts to follow (if you know what's right for you)  and let the chuckles begin!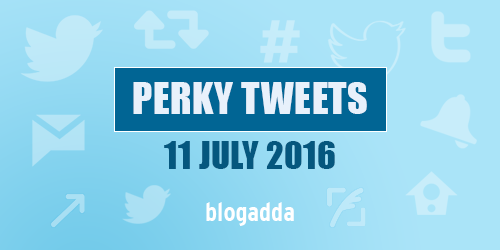 Pic 1: built in 1656 by shivaji maharaj
Pic 2: built in 2015, state govt

No comments pic.twitter.com/D52c2L2fx8

— AstroNerd ❄️ (@ssaig) July 6, 2016
Terrorist : Hum shaheed hone ke liye paida hue hai

Army. Lol. Done

Terrorist : Aise kaise. Is desh main kanoon vyavastha hai ki nahi! 😰

— Vande Mataram (@UnSubtleDesi) July 10, 2016
*arranged marriage interview*

She: where do you want to see yourself 5 years down the line?

He: teaching our kids to ask better questions

— Chikoo (@TweetErrant) July 8, 2016
Number of hair & make-up videos I've seen: 15806429742

Number of times I've gotten the look right: 0

— Jahanvi (@intrinsiclutter) July 7, 2016
TL
G1 : Ronaldo out.
G2 : I'm literally crying.

DM
G2 : kaise hua didi ?
G1 : LBW 😭

— harshil (@Lagharvaghar) July 10, 2016
If Messi was Indian there would be thousands of supporters outside the court saying "bhai ne tax fraud kiya toh kya goal bhi toh kiye h na?"

— Ojas. (@Ojasism) July 6, 2016
I love how the cabbies think so hard about your destination before refusing you. It really is a life changing decision if you think about it

— Shweta Sangtani (@penguinhowler) July 11, 2016
Baby doesn't like Mahesh Bhupathi.

Baby ko Paes pasand hai.

— Sulagna C. (@BeingChatterjee) July 10, 2016
What is the theme song of a drone's life?

"Hover karengey hover karengey hover karengey"

— June Paul (@journojuno) July 5, 2016
Girl's Bio on tinder
"Not much a chat person.No Personal questions.Nt here for the hookups"

Me:Ok didi ghar pe bhajan rakho to jarur bulana

— डि.के. (@itsdhruvism) July 4, 2016
The End. That's all the fun we have for you through Perky Tweets this week. Tell us which ones you loved, and perk up your brain and send your tweet here with #PerkyTweets or submit it here so that we can feature your tweet in this space next week!