With the intention that Holi should be celebrated without a care in the world, BlogAdda and Parachute Advansed brought to you the #KhulKeKheloHoli activity – an attempt to remind you of those childhood days when we couldn't be bothered about our hair or skin. All that mattered was spreading the colour and love to our hearts' content! We hope you too took the Parachute Advansed #KhulKeKheloHoli pledge this Holi. And without further ado, here are the winners of the #KhulKeKheloHoli blogging activity.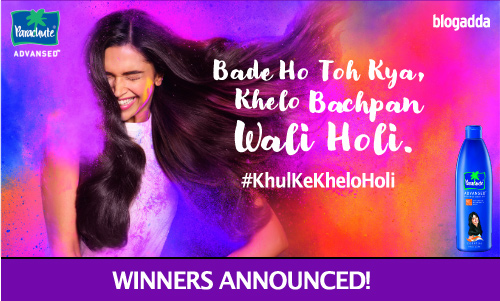 Holi came, the heat conquered, yet the nation was painted in bright hues as we all took to the streets with one aim in mind – to #KhulKeKheloHoli! There is little in this world that can be compared to the joy of playing Holi; when else can you use a pichkaari to splash gulaal on that ever irritable chacha in the neighbourhood, and get away with it? Not to mention all the fun in stuffing our mouths with gujiyas, malpua and thandai amidst all the colourful enthusiasm! Now it's time for some more fun with the winner announcement!
3. Ila Varma
A big congratulations to all the winners and thank you to all bloggers who shared their favourite Holi memories from their childhood with us all. May the pomp, fervour and spirit of Holi live on!