It's that time of the year again, where we will scream and shout, "Holi Hai"! As India's most colourful and fun-filled festival is back, gulaal will blast from pichkaris around every corner, delicious gujiya will be washed down with thandai, and everyone will jump and dance with 100% masti!
But a sad reality – fewer people celebrate our favourite festival in all its glory. Whether it is busy schedules, tempting getaway plans or plain old laziness, there are so many amongst us who just treat it like any other holiday. What's worse, we have so many inhibitions about playing Holi, which go against the carefree spirit of the festival-"Will my skin get damaged? How can I protect my hair from the harsh colours? I don't want to get so dirty!" Well, we're having none of that. BlogAdda and Parachute Advansed want you to shout out loud – #KhulKeKheloHoli!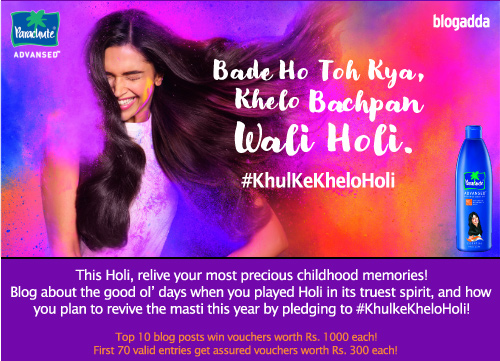 We want you to relive and revive the spirit of one of India's happiest festivals through your words. How? By blogging for the #KhulkeKheloHoli activity, of course! We want you to travel back in time to the memories where you celebrated Holi to the fullest- your childhood! A time when you played Holi without a care in the world, except for how to put the most gulaal on your friends and family, when you spent the whole day running to each other's houses, gorging on Holi delicacies and having fun together!
Write to us about your favourite childhood memories of Holi, and how you used to celebrate in the good ol' days! You could share some old pictures if you like! Revive these precious recollections of the past, and tell us how they have inspired you to bring back the colour in your celebrations and #KhulKeKheloHoli this year! It's time to bring back the fun and madness of Holi, so get blogging now!
Prizes:
10 best blog posts win vouchers worth Rs. 1000 each!
First 70 valid entries get assured vouchers worth Rs. 300 each!
Click on the button below to submit your entry!
Mandates for the activity:
1. The word limit for every blog post is a minimum of 400 words.
2. This activity is open only for Indian bloggers.
3. Please include the line, "I'm pledging to #KhulKeKheloHoli this year by sharing my Holi memories at BlogAdda in association with Parachute Advansed."
4. Only blog posts submitted through this form will be considered valid.
5. The last date for submission of this blog post is midnight, 22nd March 2016.
6. One blogger can write a maximum of 2 blog posts for this activity.
7. Please embed the below video in your blog post for it to be considered valid.
So what are you waiting for? We know the world is facing a water crisis, but a shortage of water doesn't mean a shortage of love! We can have a dry Holi, and still celebrate it to the fullest! Shower your loved ones with colour and love this Holi. So go ahead, as we are waiting to hear your exciting stories and how you plan to #KhulKeKheloHoli this year!