Institutions like IIT are the birthplace of new ideas and ventures. The canvas has also expanded now and includes a lot more diversity. IIT Roorkee is about to play host to 'Cognizance 2016', a distinct technical fest and by far one of the largest in the country. It's that time of the year again. The time when everyone at IIT Roorkee faces the coolest of all challenges, to help Cognizance live up to its tag of being one of the largest college technical fests in Asia; and it is exactly as difficult as it sounds. How will they beat all that? How will they better the event that has had Coke Studio and Eluveitie entertaining its guests? They're going to give it a shot this March. Cognizance '16. You don't want to miss this one!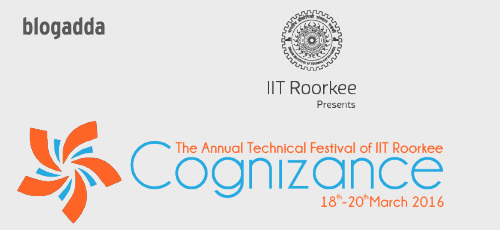 The hosts of Cognizance 2016 will be competing with the standards they have set for themselves in the past few years. They've been host to some dexterous artistes like Anthony Cappetto, Kate Chruscicka, Amar Sen and Andrew Lee, just to name a few. The genius of people like Prof. CNR Rao, Sam Pitroda, Ajoy Ghatak, Vinita Bali and Harry Kroto have also graced the fest with their presence. Go ahead, hit them all up on Google and gift yourself some awe.
With the departments of Electrical Engineering and Civil Engineering, among others, organizing their own special events, and social initiatives like SAAF, IITR's own contribution to the Swachh Bharat Abhiyan, Cognizance has managed to pique the interest of everyone it has had the pleasure of hosting. If that's not enough, exhibitions and workshops dealing with the latest in technology and robotics, and events that help participants get a chance to innovate and share their ideas make Cognizance an unforgettable three-day extravaganza.
At Cognizance, they play it honestly when it comes to giving back to the society. Case in point? Their collaboration with International Year Pulses (IYP 2016) as declared by the FAO, United Nations, to bring awareness about this major source of protein and to promote food security and safety is just one of the many ways they have tried. The FAO and WHO, for the longest of times, have been harping on the chord of food security. Exciting contests like the 'National Signature Dish Competition', IIT Roorkee's (Cognizance) own version of MasterChef, and a case study entitled "Project Hunger" in 6 cities of India namely Delhi, Dehradun, Bhopal, Lucknow, Chandigarh, Jaipur to fight the problem of hunger by 2020 along with an event which aims at setting up a new Limca World Record are all a part of their efforts to stress on the importance of food security.
They also attempt to promote the various schemes of the Indian Government and its various departments, like the Ministry of Social Justice and Environment, the Department of Electronics and Information technology (DEITy) and the Ministry of Communication and Information Technology. One such highly publicized policy of the Parliament is the "Accessible India" campaign, which hopes to make government buildings and reforms more disabled-friendly. They also support the "Digital India" crusade, which, as the title very explicitly explains, aims to digitize the country. Cognizance endorses these ambitious progress drives of the parliament wholeheartedly. The Chief Guest of Cognizance 2016 is Mr. Manohar Parrikar, the Defence Minister of India. The event will kick-start with a curtain raiser event, proceeded by the software freedom activist Richard Stallman. So, come over to witness the aura and grandeur only at IIT Roorkee.
BlogAdda stands proud to partner with this event. For technology has changed our lives in indefinable ways, and it stands at its best when it brings people together. Exhibitions at Cognizance 2016 promise to bring contemporary technology like Addit Concept tool, Oculus Rift, Google glass, Google Cardboard, Neurosky Mindwave, Leap Motion, Kinect- Virtual Dressing room, Makey Makey, Eventajoy,Syma Drone, Wifi box, DIY Smart Watch, Home automation, Raspberri Pi-Development boards, 3D Printer, 3D Scanner, 3D Printer, Chess Automated, ISRO exhibition for the awareness of space and astronomy.
Auto-Expo is a promising platform for displaying the recent developments in the automobile industry, branded bikes, jeeps and cars ranging from Audi, Dugga, etc. Sharing knowledge and learning new things are two potential growth strategies in life. Workshops ranging from Internet of Things, tall building design, mobile control robotics, ethical hacking, sphere drone, webpreneurship, stock hunt, Arduino development, sixth sense reality, vision robotics, and cross platform app development aim at introducing new skills to individuals.
Adding to last year's extravaganza they have panel discussions on incorporating the Make in India campaign in the Defence sector- 'Ballistic of Tactics' along with 'Accelerating the Digital transition', panelists ranging from the defence minister of the nation to various eminent personalities with mammoth experience in the subject would definitely add to the stature of the technical event. |
Cognizance, obliged to carry forward the great vision of Startup India, Standup India and supporting the avant garde, introduces before you Let's Venture, aiming to bring unique and outstanding ideas and their creators under one roof and to set the stage for the startup revolution. They will be facilitating the interaction between entrepreneurs and venture capitalists and providing a golden opportunity for startups to get noticed and nurtured. Open discussions, idea pitching, investment strategies, passionate stories of great endeavours and lots more will be in store at Cognizance 2016!
For more details, visit the website: Â www.cognizance.org.in