There are some moments in life that will never be forgotten; times spent with dear ones that are etched in our hearts forever. These memories live on, at times serving as rays of hope and at other times bringing smiles to our faces through the tears. These recollections make us strong, deepen our relationships with those we love and are constant reminders of the fact that the best things in life come free to us. Sharing our greatest memories is what we had in mind when we at BlogAdda in association with HDFC Life brought to you the #MemoriesForLife blogging activity. And now it's time to announce the winners of the activity.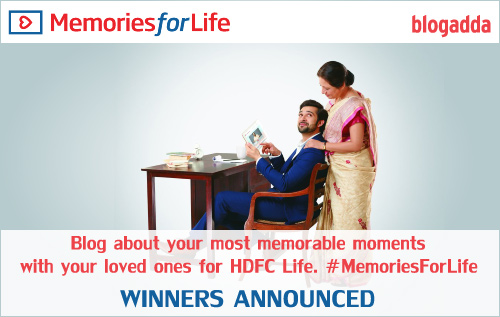 We wanted to celebrate your special moments; to remind you of those times in life when everything was perfect, just because friends and family shared them with you! After all, as George Foreman said, "It's great to reminisce about good memories of my past. It was enjoyable when it was today. So learning to enjoy today has two benefits: it gives me happiness right now, and it becomes a good memory later." Thanks for all the wonderful blog posts that you wrote, reminding us that our loved ones are our greatest treasure. 
Here are the winning posts of the #MemoriesForLife activity that won our hearts…
Rekha Mishra
Gurjeet Chhabra
Ashwini G
Congratulations to all the winners and a big thank you to all of you who shared your wonderful memories with us. Let's vow to leave our worldly cares behind and to continue to make #MemoriesForLife with our favourite people. Because, there's nothing like the joy and solace memories can bring!