All of us are in an invisible race today, running towards money, fame, stability and trying to check off items in our 'must want' list. But as they say, when you look back at your life, you will remember the time you spent with your loved ones, and not the figure you've accumulated in your bank account. Memories that you make with your loved ones are the true treasure that you accumulate through your life. And we want you to share these #MemoriesForLife with us through a blog post!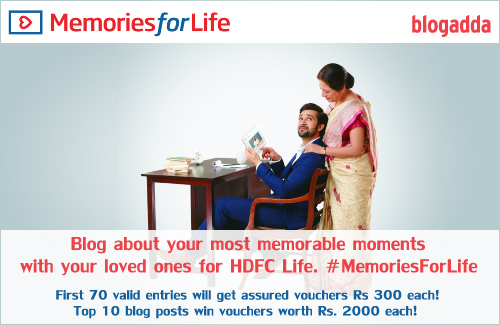 We spend time with a lot of people, but our fondest memories are reserved for our dearest ones. It may be your mother, father, siblings, relatives, or close friends. Simple moments with such close people transform into everlasting memories to cherish. Blog about the memories with your loved ones that you'd like to remember forever. Here's what you'll have to do.
Blog about your best memories with a loved one.
Click here and make a video or scrapbook of these memories with HDFC Life. To know how to make the video/scrapbook, check out this link.
Once the video/ scrapbook is done, you'll get a link of your creation to share with your loved one through mail. You'll also get a confirmation mail of the same with the link, which you need to insert in your blog post. (Please check the Other folder for the mail if you don't see the mail in your Primary tab)
Submit your entry by clicking the button below and get assured vouchers and a chance to win amazing vouchers!
You can watch the amazing video below to get you in the zone to reminisce about your favourite memories with your loved ones.
Prizes
Top 10 blog posts win vouchers worth Rs. 2000 each!
First 70 valid entries will get assured vouchers Rs 300 each!
Click on the button below to submit your entry!
Mandates for the activity:
1. The word limit for every blog post is a minimum of 400 words.
3. Please include the line, "Share your #MemoriesForLife like I've done at BlogAdda for HDFC Life."
4. Only blog posts submitted through this form will be considered valid.
5. The last date for submission of this blog post is midnight, 16th March 2016.
6. One blogger can write a maximum of 2 blog posts for this activity.
7. Please include the video or scrapbook that you create in your blog post for it to be considered valid.
So go ahead, share your best memories with the special people in our life along with us, and make the bonds with your loved ones even stronger!