Every relationship is different, but there are some essentials that form the foundation for every single one of them. They are love, trust, commitment and promises. Every couple makes some promises to each other, and we're not talking just about wedding vows. These promises are unique to every couple, and that's the beauty of them! So ladies, this is your chance to tell your partner/ future knight in shining armour the kasams you'd like him to make! Participate in the SetWet #SadaSexy activity and get assured vouchers and a chance to win vouchers worth Rs. 1000 each!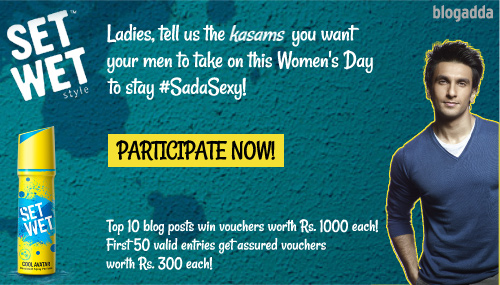 Some men promise to take care of their ladies forever, some promise not to crib no matter how long a shopping spree lasts, and some men swear that they'll spend more time with their lady love. So we want women bloggers to think about what's important to them and tell us the kasams and vaadas that they'll like their men to make to them! These kasams can be heartfelt, romantic, funny, crazy or downright wacky! Think hard and think fast ladies, and submit your coveted list of promises just in time for Women's Day!
Prizes:
10 best blog posts win vouchers worth Rs. 1000 each!
First 50 valid entries get assured vouchers worth Rs. 300 each!
Click on the button below to submit your entry!
Mandates for the activity:
1. The word limit for every blog post is a minimum of 400 words.
2. This activity is open only for Indian women bloggers.
3. Please include the line, "I'm blogging about the kasams I want from my man this Women's Day with the #SadaSexy activity at BlogAdda"
4. Only blog posts submitted through this form will be considered valid.
5. The last date for submission of this blog post is midnight, 8th March 2016.
6. One blogger can write a maximum of 2 blog posts for this activity.
7. Please embed the below video in your blog post for it to be considered valid.
So get blogging ladies, for not only you can show your blog post and get some amazing kasams from your man to make your life more beautiful and interesting, but you can also get assured vouchers and a chance to win exciting vouchers for it!