Hello Readers! How was your weekend? We have finally stepped into our countdown to celebrating Diwali and are excited for the holidays ahead. This Monday we are back again with fun and frolic screaming out from Twitter! Every Monday we make sure you grab some giggles and laughing jokes as you start a fresh week and this time too Twitter has left us rolling on the floor! Laughter Alert ahead as we get the funniest jokes and crackles from our Twitter people and #PerkyTweets!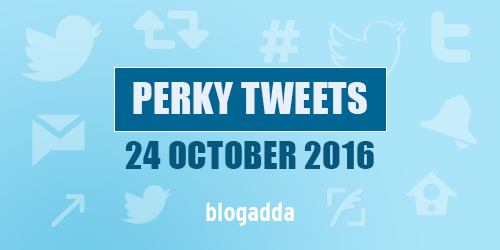 @blogadda
When she told me I was average, she was just being mean!#perkytweets #WorldMathsDay #blogger

— sonam chamaria (@sonamchamaria) October 15, 2016
#PerkyTweets #WorldMathsday I aspired to become mathematician and I solved all the sums on calculator

— ILA VARMA (@VARMAILA) October 15, 2016
Parenting is lik maths. The equation jus refuses to balance! #WorldMathsDay #PerkyTweets @blogadda

— Nidhi Sethi (@iam_agog) October 15, 2016
Pray your nails are long enough when you have Mehndi on both hands and you need to scratch your nose!! #perkytweets #karwachauth @blogadda

— Reena chopra (@rynachopra) October 17, 2016
#WorldMathsDay. Something in which I was an absolute Zero, and understood it very well. #PerkyTweets @blogadda

— TallBoyKarthik (@tallboykarthik) October 17, 2016
My name is Dash, And I have boards on so many sites. @blogadda #PerkyTweets #dashboards

— Durga Dash (@dpdash67) October 11, 2016
I asked a female candidate" What your age ?"
She replied" u r asking an illegal question.. 😛 😛 @blogadda #Perkytweets

— Travel,food,fitness (@Sapnabansalgarg) October 11, 2016
Dear @piersmorgan, our man @virendersehwag never needed footwork on the field; doesn't need grammar now. #perkytweets @bhogleharsha

— Vrijilesh Rai (@ChaiBiskutBhai) October 19, 2016
Siblings no longer fight over toys, the brawl is over charging points 😂 #techlife #gadgets #perkytweets

— Nidhi Sethi (@iam_agog) October 21, 2016
Thanks to online shopping portals who remind us of upcoming festivals 😜 #busypeople #perkytweets

— lavi (@Lavitiwari_10) October 18, 2016
Would you like to send us some laughter potion? Well, here's your chance to make your tweet feature in our #PerkyTweets next week! Submit it by tagging @blogadda in your tweets with the hashtag #PerkyTweets!