Hello, lovely readers! After a long relaxed weekend, it's time we update ourselves about events that created buzz in our nation. India is a country that is diverse with its culture, customs and traditions. Nonetheless, it's a platter full of debates and discussions. While the country works wonders in keeping at peace all the religions and cultures, the freedom of expression makes sure we all keep expressing our woes and make sure our representatives voice them out in the decision making process. Last two weeks saw a lot of ruffling on Triple Talaq, the debate on Uniform Civil Code, India v/s New Zealand Test Series 2016, to BRICS Summit 2016 and the festive Karwachauth. So put on your glasses, gear up your masks and get ready to dive into the pool of Buzzing Blogosphere as we take a look at the views of our Indian bloggers.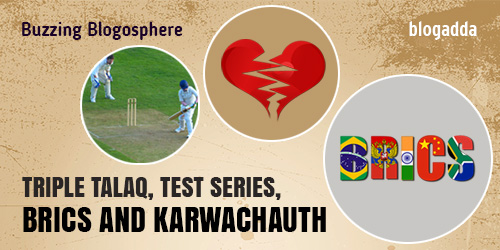 Three Life Changing Words: 'Triple Talaq'
India is a country that celebrates so many religions and their beliefs. Lately Triple Talaq was the big issue that created a big buzz in our country. The three words that question a women's integrity, respect and safety, 'Triple Talaq'n Muslim law, have been under revolutionary scrutiny since a few days. The argument on this topic has flared up from the last few weeks since this has raised questions on beliefs that affect woman's rights and position in the society. Lifestalker explains us as to why and how this is a serious issue and needs to be changed.
"In past few months, there is a lot of buzz about abolishing triple talaq, a practice by which a Muslim man can divorce his wife by uttering the word 'talaq' three times. The buzz is positive, if we look it in sense of a step to bring down gender disparity, but many suspects the foul play in the Government stance. They are accusing the Government that they are hiding things under 'triple talaq' debate to impose the Hindu values on Muslim and other minor communities. They maybe right or they may be wrong but before getting into any conclusion, let us start with little backstory."
The debate on 'Triple Talaq' has led to emergence of many other issues as well. The Government which is trying to get uniformity in the practicing of rights while on the other hand the All India Muslim Personal Law Board is opposing to the motion. How the women have become victims is explained in the Cafedissensusblog, take a look!
"The present government is trying to reform the personal laws. This is seen with suspicion in the wake of the beef laws, which have falsely hounded Muslims for the possession of beef, harassed and, in some extreme cases, killed. These incidents have left a big question mark on the intentions of the government, which many claim is using the TT issue to further its anti-Muslim hatred and to eventually implement the Uniform Civil Code (UCC), which is widely seen as a majoritarian law.

In this whole episode, the Muslim women are the ultimate victims. She is caught between the unrelenting AIMPLB and the supposedly agenda-driven government. The woman has nowhere to go and her voice will be further gagged. Many Muslim and non-Muslims men are commenting relentlessly, trying to reinforce their narrative, which has little or no space for the Muslim women. Many People from all groups are trying use the issue to further their ulterior motives; trying to be the voice, while in fact curbing the real voice of the Muslim women."
A radical approach towards women and their rights is what India needs right now. Youthkiawaaz enlightens us with some of the really important factors that need to be discussed for a better tomorrow!
"The Union Government has officially opposed the 'triple talaq' in the apex court after the recommendation of Law Commission of India. Unfortunately, the All India Muslim Personal Law Board (AIMPLB) has come to the rescue of these regressive personal laws by justifying it and protesting any amendments to it. They have cited some incoherent and absurd reasons to justify these practices. The most worrisome fact is that no political party has come to a crystal clear stand on this contentious issue, apparently to shield their share of Muslim votes, given the fact that elections are afoot in many provinces.
AIMPLB stated that the quashing of the aforementioned practices is anti-constitutional. But their statement looks like a paradox to me. In fact, these practices are more anti-constitutional than anything else. The fact is that our constitution stands on the fulcrum of Article 14 and Article 15 which secures equality before law and prevents any kind of discrimination emanating from gender."
Sunnis and Shias are two major denominations of Islam, demarcated by their principles of faith and beliefs. Where the Shia have different procedure to Divorce, the Sunnis practice the other ideology to it. A clear and crisp outlook is highlighted as Bhavya Srivastava write under The Quint,
"The three words that can change a life forever are not, "I Love You", anymore. The gravity of any three pronounced word can be judged by the ongoing discussion of a religion. "I divorce you" three times, and all is over for a woman, and surely many options are opened up for a man.
Though Islam has prescribed the process of a woman seeking divorce from a man –known as Khula – this goes by a qazi under certain circumstances. The three words have so much power, in terms of support from all the existing sects of Islam. Sunnis and Shias have few different ways to handle the triple talaq matter. Sunnis can say talaq to their wives before telling anyone, but Shias have to publicly announce the beginning of the divorce process."
The Uniform Civil Code:
Triple Talaq was opposed by the Indian government in the interest of Indian women. This is turn gave rise to a whole new topic of discussion that is the Uniform Civil Code which was lying untouched since seven decades. The Constitution of India under Article 44 seeks to provide Uniform Civil Code in the entire nation with respect to marriage, divorce, inheritance, adoption and maintenance. Why the Uniform Civil Code should come into wake is explained by The Frustrated Indian,
"Coming to the issue at hand, Uniform Civil Code under Article 44 has been lying unimplemented as a 'dead letter' for the last 70 years, prohibiting India to have a single uniform law in terms of marriage, divorce, succession, inheritance and Judicial separation.

And while the advocates of regressive practices continue their vociferous campaign against the implementation of Uniform Civil Code, it is important to understand the implications of enforcing it in India. The difficulties involved in bringing persons of different faiths and persuasions on a common platform are enormous, but the end result of having a Uniform law for all, would always be beneficial for the nation and its citizen's in the long run."
Victory For India: India v/s New Zealand Test Series (3-0)
After the downfall in the previous test series, this time India's tour to New Zealand proved to be a victorious one. India proudly won the test series with New Zealand this time, by scoring (3-0) in the matches held in Kanpur, Kolkata and Indore. 1tip1hand blog celebrates this victory, giving due credit to Ravichandran Ashwin, and lists down some important things about our cricket team and match, that are a must read.
"Most recently, the Kiwi challenge was swept aside 3-0. Finally, Kohli's India grabbed the no.1 test ranking. Here's our wrap-up of the India v New Zealand test series. Ravichandran Ashwin is the main man – He is just about unstoppable. Top ranked bowler, top ranked test all-rounder, 27 wickets in a three test match series. Add to the wickets his crucial runs in the first innings of the first two tests. No surprise when he picked us his seventh man of the series award in tests (and fourth consecutive award). A fellow off-spinner holds the record for most Man of the Series performances in test matches but Ashwin looks like he is in a hurry to break that record. The next set of visitors to India (England) will need to come up with a plan to combat India's MVP."
BRICS SUMMIT 2016
This year, India hosted the 8th BRICS Summit from 15th to 16th October in Goa. The theme of this year's summit was 'Building Responsive, Inclusive and collective solutions'. The major highlights are very well summarised here by Col DJS Chahal,
"The New Development Bank (NDB) was formally inaugurated during the BRICS Summit, which was held at Fortaleza, Brazil in 2014. The Group signed the mandatory documents to create the US$100 BRICS Development Bank on 15 July 2014. During the latest BRICS Summit at Goa, the NDB President presented a Report on the work of the Bank during the first year of its operations and also brought out the progress regarding operationalising the Africa Regional Centre (ARC) of the NDB. The New Development Bank (NDB) has commenced its operations with release of first set of loans in the renewable energy projects to BRICS countries."
On the lifestyle sphere, after the nine nights of festivity, Indian women basked in glory as they glimmered despite the Karwachauth fast! The Karwachauth definitely was a buzz keeping us all waiting for the moon! This year, we have found a beautiful post dipped in the other side's ink! Saket Suryesh gives a husband's sentiment to the one day fasting festival for married women!
"She is a woman of her own mind, a feisty woman as they say, and we argue and we fight. But she is also the biblical woman who was made out of the spine of Adam and I am proud to say that she is my spine, she is the starch of my soul, which keeps my soul in shape. I had almost decided not to post it, but then I am posting this, in view of all the bile that is flowing degrading women who are observing this fast. I stand by my wife as she celebrates Karva Chauth and I will stand by her when she decides not to. I think it is absolutely unfair to laugh, at her faith, to denounce it and to not be proud of it. I might be making fun of her, but that is about me, this fast is about her. Karvachauth is about women, it is not about the men at all. We, men are accidental beneficiary, a benefit which could well be all fictitious."
Isn't that too sweet? We wrap up our news hour for the day and wish you all a safe and healthy week ahead. If you have an opinion on the ongoing trends and happenings, do blog about it and tag us along! We would make sure the blogosphere echoes your voice and makes a change in the positive direction. Till then, we take your leave and promise to come back with another round of opinions with our next Buzzing Blogosphere!
Did you catch up with The BlogAdda Weekly series? Grab a couch and do check out the brand the new series For Your Eyes Only! We are already done with Episode One and Episode Two, and are waiting anxiously for the next one that is out this Wednesday! Buck up with the story for we meet Guru and Vrinda in the next 48 hours!