What are you wearing this Diwali? Well, Diwali is back again to spread light, joy, strength and good health in our lives. It's that time of the season where the entire nation brims with lights, sparkle and shine all over.As the whole country gleams  along lanterns and diyas, the fashionistas have their own walking ramp ready! It is quite a task to find an ethnic outfit that reflects the modern woman in you! Guess what? We are here to create the right balance between tradition and today! As light takes over the darkness, let's gear up for a voguish look this Diwali with some jazzed up attires and earn high fashion scores.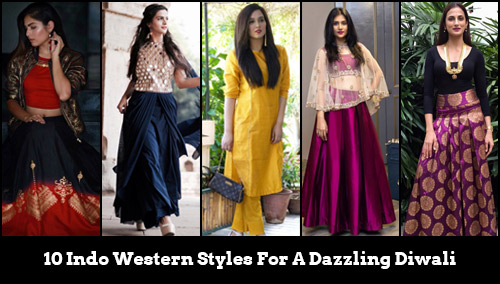 This Diwali add a glint of fashion and glamour to your wardrobe. Dress to impress and enhance your beauty with some mind boggling outfits. We dived into the Insta pool and have fished out 10 looks to swoon the crowd this Diwali. So, dress up and pout with your beautiful selfies!
Jacket up your ethnic attire this Diwali as you welcome the autumn this season! A lehenga worn with a crop top well coalesced with a jacket, is a perfect festive outfit. This Diwali let your fashion meter roar stylishly. Put on your modish mode and look sparkling this season.  
Be it any occasion, gowns are always fashionably elegant. This Diwali pop right out of a fairy tale as you go Pastel in a flowy gown. Let the glamorous gown and dreamy confections make everyone go gaga! For a more classy look carry a ritzy clutch and let your look do the talking!
Bored with the regular lehengas? Let's set the trend meter on fire this Diwali. Wear this splendid plum skirt and jazz it up with a gold cape embellished with golden flowers. What's best? You don't need to carry any dupatta. As the cape makes you look all spiffy with an ethnic touch!
Revamp your dressing style this Diwali by adding some modern drama to your ethnic attire. Blaze up the modern diva look with a skirt and lounge tees. Perk up your look with the conventional jewellery. Shilpa takes the trendsetting to the whole new level. Take a look!  
5.Modernise Your Saree With A Blazer
The nine yards of ageless beauty are a permanent gem in every Indian woman's wardrobe. This Diwali pick that Banarasi saree from your Mom's wedding collection! For a change get in tune with modern yet Indian look and add a glint of style to your saree by wearing a milter blazer and let the jaws drop!
Indo ethnic outfits have always been in trend. Let the mirror personify your wardrobe virtues this season. Divya sets the style parameters by dazzling up with the mirror work in this long navy blue dress! 
7. Flare Out Your Shoulders With Style 
Let the stylish lass in you shine more this Diwali. Ooze out your voguish style and carry the cold shoulder kurti with some flares. This Indo western attire is a must in your wardrobe. 
This Diwali let's go modern desi with a dhoti. The white dhoti pants mingled with a long shrug and white embroidered blouse is a perfect fit for this festival. Doll up yourself like a modern desi chic and don't worry for the breaking hearts!
9. Break The Barriers With Palazzos
Let's bid farewell to those heavy designer outfits and step into the most comfy look for this Diwali. Achieve your glamour goals by wearing a comfortable kurti with a palazzo and look super cool!
10. Classy Cigarette Pants
https://www.instagram.com/p/BLgHZMVlskZ/?taken-by=pariichoudhary
Doll up yourself this Diwali with these fancy cigarette pants and a classy Kurti. Style it up with a smart purse and heels and go set the festive season on full trance!
Ladies, aren't these looks  extremely mesmerising and breathtakingly beautiful? Ditch your usual dressing regime this season and get ready to soar up the temperature this Diwali. Add some glamour and funky style to your attire and make this festive season a stylish affair! Tag us with your fashion outfit ideas for this festive season and grab a chance to be featured in our collective!
Now enjoy the video compilation of these indo-ethnic wear, only at our youtube channel!