Just like the Yin Yang portrays, life too has a shady and a sunny side to it. There are days when things seem out of control while others seem to give us a high on life. Time waits for none, yet memories stay, deep rooted in our hearts, with the happy times as well as times of difficulty. Life should be remembered for its good days, when everything seemed bright and shining. Days when we were truly happy and content. This weekend we want you to be happy and chirpy! Enough of the daily bickering , it's time to cherish the good this Friday.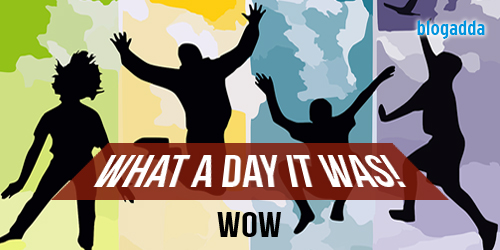 This week's WOW prompt is: "What A Day It Was!"
Yes, no matter how much we try, our brain doesn't allow us to forget the past and often choses the bad when replaying memories! This weekend, take a trip down the memory lane and recall one day that was dipped in smiles and laughter for you! The day you became a parent to the day you got your first salary or that special walk with your special one, tell us about that one day that was the definition of beautiful to you. A day that still makes you say- "What a day it was!"
We at BlogAdda love to hear stories! And what could be better than hearing all the good ones? Perhaps, its time to reminisce about the good days that went by to have an even brighter smile for the days to come! So grab your keyboards and get writing for we are eager to relive that one spectacular day of your life that till date leaves you smiling!
Bloggers are requested to add the mandate line in their post and submit their entry through the submission form for their WOW entry to be considered valid. Remember, you have time only till Sunday midnight to submit your blog posts and have a chance to get the WOW badge!
Include this code:
'This post is a part of Write Over the Weekend, an initiative for Indian Bloggers by BlogAdda.'
Good news! There is now an easier way to submit your WOW entries, so just click on the submission link below for your WOW entry to be considered valid.

Every weekend, we give creative writing prompts for you to write blog posts. Hope you enjoy our creative writing inspiration for this week. 🙂