Happy Independence Day! Doesn't your heart swell with pride every time you see the Indian flag fluttering in the wind? Don't you get goosebumps when you hear the National Anthem being played? This is what makes our country one of the best in the world – the way we all feel about our motherland. If you have dreams for India, tell us about them for the WOW prompt – Vision 2050 (yes we have extended the deadline till Monday midnight this time..yayy!) and get a chance to win Miami Blues sunglasses! For now, get some freedom from boredom with this week's #PerkyTweets – the best tweets Indian Twitter users came up with this past week.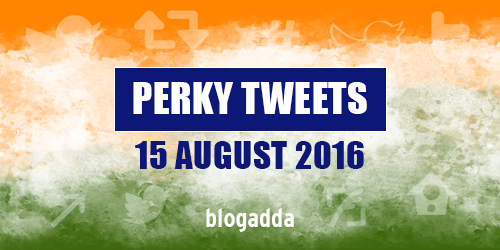 If I ask my mom to take a picture of me with my phone, it'll be a video of me yelling"tap the screen ANYWHERE"

— Malavika Mavinakuli (@malavikavtiwari) August 13, 2016
There is always one patriotic frnd in grp who will send "new year tha toh 50 din pehle wish kiya, independence day hei toh kisi ka msg nahi"

— Chikoo (@TweetErrant) August 13, 2016
*Mohenjo daro*
1pm
Friend:Hello?
Me:Talk later, watching movie
9pm
F: Hello
Me:Talk later watching movie
2months
F: hello
Me: talk later….

— Tyler (@EngineeRoholic) August 13, 2016
SRK delivered many blockbusters. Perhaps, USA confused those for bunker busters. #PerkyTweets #ShahRukhKhan

— suman Deb Ray (@Sumandr) August 12, 2016
That long patriotic weekend again when we figure we got our independence for Liberty, Equality, and upto 50% off at Lifestyle and BigBazaar.

— Vaibhav Vishal (@ofnosurnamefame) August 13, 2016
Mind is like Earth and water is like negative thoughts, 79 % of the mind is covered by negative thoughts.

— Mojo (@Singhlicious) August 13, 2016
Wish i could take some no. of flowers from Snapchat filter for Ganpati Decoration.

— Puddin' (@kronosVB) August 11, 2016
*Bangalore
Man1:What's your plan for the long weekend
Man2:Kuch nai ek din Rustom dekhne chala jaunga
Man1:Baki 2din
Man2:Traffic me rahunga

— Akshay (@ComedyBanda) August 11, 2016
Indian mothers can strike a conversation with any goddamn person in the world, even the ones who cannot talk

— Limited Edition (@Engineeratloss) August 12, 2016
Draupadi's engagement ring. pic.twitter.com/hqA24Zxm2U

— Urban Sanskaari (@RohanDasgupta) August 13, 2016
That's our Independence Day edition of #PerkyTweets which covered nearly all of trending topics of the week.If you have an original tweet that you'd like to submit to us, or come across a funny tweet, tag @blogadda and #PerkyTweets or submit them to us here. You'll get a chance to be featured here and also a chance to win cool Miami Blues sunglasses worth Rs. 2500!