Its that time of the week again, time for Buzzing Blogosphere, where we give you the weekly news roundup. The news this week ranges from good to bad, from sports to politics. This week's Buzzing Blogosphere covers updates from Indian athletes shining at the Olympics, to a bomb blast in Pakistan, to Irom Sharmila ending her fast, to other news such as the Swachh Bharat Abhiyan ad and ‪‪Rakhi Sawant's umm…interesting dress. So, let's catch up with all these news, after all we don't want to be left behind, do we?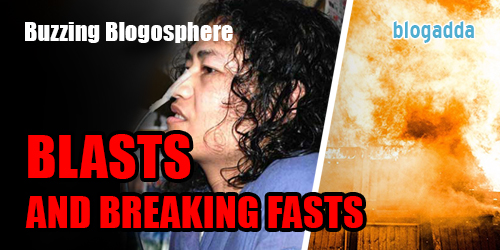 India shines at Rio
Dipa Karmakar might have ended up in 4th place, but she managed to bring some much needed attention to lesser known sports in the Olympics. In addition to Dipa, Manoj Kumar and Deepika Kumari are two other contenders that are bringing a spotlight to the abilities of Indians. Shuvro Ghoshal points out their claim to fame in Rio 2016.
[pullquote]It was yet another dramatic night for India in Rio de Janerio with Deepika Kumari returned to doing what she does best – winning – and Manoj Kumar following it up with one of the biggest upsets of the tournament so far.[/pullquote] "Manoj ensured the half-month long celebration continues by spoiling the party of London 2012 bronze medallist, Evaldas Petrauskas of Lithuania, winning by a split decision in the Round of 32 of the men's Light Welterweight (64kg) category… Deepika Kumari exorcised the demons of London in style by getting the better of World No. 8 Georgia's Kristine Esebua 6-4 in the first round. She then outscored World No. 17 Italian Guendalina Sartori 6-2 to storm into the Round of 16."
Despite of all of these achievements by athletes who have spent their entire life training, many claim that India's presence in the Olympics is useless because India never seems to win any medals. This includes noted columnist Shobhaa De. On 8 August, she tweeted, "Goal of Team India at the Olympics: Rio jao. Selfies lo. Khaali haat wapas aao. What a waste of money and opportunity."
As expected she has received a lot of flak for her insensitive remark, with many highlighting the hardships that Indian athletes face and yet manage to compete with at international levels with athletes who receive the best facilities and training. Pooja Pandey shares her thought on Shobhaa De's tweet and why it was in poor taste.
"What Mrs. De needs to realize is that in a country where unless you're a cricketer, you're of no value, these people have pursued their passion. Despite of knowing that they might never get anything out of it, they decided to break stereotypes and step into a world India is still unknown to. Today, every kid knows who Sachin Tendulkar is, but if you ask them about Dipa Karmakar, they won't know who you are talking about.[pullquote] I'm not saying Sachin Tendulkar isn't a great sportsman, I'm saying Dipa Karmakar, or any other sportsman deserves the exact amount of respect and admiration.[/pullquote] The remark made by Shobhaa De is exactly what's wrong with the mindset of our country. Reaching at the level of Olympics is not cakewalk. Not anyone and everyone can do it. Nobody can imagine the amount of hard work these brilliant people have put in to make us proud. It's not about winning all the time, and instead of making remarks like these, we could all support our heroes and make them feel that their appreciated."
Like Shobhaa De, there are many who would claim that sports are a luxury or in any case, not a necessity. Why should we care about sports? Shouldn't we focus on economics and social welfare first? All of these are legitimate issues, yet as Francois Gautier points out, sports are important as well for all the following reasons.
"The same people who tell you that it is all right for India to let go of Kashmir, will in the same breath, write that sports is of no great importance. But they are wrong: a nations' progress cannot be only measured in terms of economy, politics and reform in society, but also on how well it performs in sports. It goes with power, whether it is capitalistic, as in the case of the USA, or socialist, like in the erstwhile Soviet Union and today's Russia… [pullquote]Why is sports important Mr Narendra Modi? Because it is a reflection of a nations's pride, vigour, youth and enthusiasm, it is a barometer of nationalism. [/pullquote] Also sir, because a nation's health is your wealth: more working hours, better minds, less burden on your hospitals costs and higher life expectation."
Bomb blast in Quetta, Pakistan
These days it seems that even before the world has gotten a chance to understand and accept the news of a terror bombing, yet another happens. Another bombing occurred last week; this time the attack took place at a hospital in Quetta, Pakistan. DailyBite provides us with the details.
"[pullquote]Terror scars Pakistan again, as a suicide bomb attack killed at least 70 people at a hospital in Quetta, Balochistan, in south-west part of the country.[/pullquote] At least 120 others were injured in the blast, which occured at the Quetta Civil Hospital, as a group of journalists and lawyers belonging to Balochistan Bar Association had gathered at the entrance to the emergency department where the body of a prominent lawyer – Bilal Anwar Kasi, shot dead earlier on Monday – was being brought…A faction of the Pakistani Taliban – Jamaat-ul-Ahrar – has said it was behind the bombing, though the Balochistan chief minister, Sanaullah Zehri, has "blamed RAW" (India's Research and Analysis Wing) in a despicable display of insensitive blamegame."
Veengas Yasmeen talks about the National Action Plan (NAP), a plan that was established by the Government of Pakistan in January 2015 to crack down on terrorism and to supplement the ongoing anti-terrorist offensive in North-Western Pakistan, claiming that it allows such attacks to happen. She raises the question of why the plan is not effective in stopping these attacks.
[pullquote]Let's be honest here, the Quetta blast has revealed the real face of the NAP and how the government has failed to work on it with any honesty. [/pullquote] "Under the nose of the NAP, banned militant organizations are allowed to move in Balochistan. Who allows them? How can they work freely in the province? What is Chief Minister of Balochistan doing? Is he not aware of the 'nationwide movement' regarding banned militant organizations?"
Usama Khilji also comments on the state of the government and the country. He claims that if the mindset of the officials changes, only then will Pakistan be able to make developments.
"Taliban and IS/Daesh affiliate Jamaat-ul-Ahrar has claimed responsibility for this attack. We still have a cleric sitting safely in the capital stone's throw away from the ISI headquarters who has publicly pledged allegiance to IS/Daesh, yet we hear officials and the media look to RAW for our problems. Our state requires a rethinking of structural approaches to issues that have cost us more than 60,000 lives in the past decade." [pullquote]Supporting militant groups for strategic goals has the biggest bearing on nobody but Pakistanis, and this policy must end. Only then will our children be able to go to school, the sick to hospitals, lawyers to the courts, and women anywhere, safely.[/pullquote]
Irom Sharmila ends fast after nearly 16 years
Irom Sharmila, one of India's most prominent political activists ended her hunger strike after nearly 16 years. During this time, she was being force fed through a tube in her nose by order of the government, which had her arrested her, citing her hunger strike as attempted suicide, a crime under Indian law. Krishna Pokharel states the reasons behind Irom Sharmila's hunger strike.
Ms. Irom started her indefinite fast in November 2000 in a protest against the law, the Armed Forces (Special Powers) Act, or AFSPA, which is designed to rein in militants and separatists active in Manipur and other states in northeastern India."A similar law is in force in Jammu & Kashmir, the disputed state bordering Pakistan. Under both versions of the law, if there is "reasonable suspicion" that a person is acting against the state, security forces are empowered to search properties without a warrant, and to arrest and to shoot without any fear of civilian prosecution. Ms. Irom says the law is abused, leading to killings, "disappearances," rape and other violent acts."
However, she has now decided to end her strike despite the fact that the law has not been repealed. While some are disappointed by her decision, claiming that she is giving up, she states that she has no intention of giving up, rather she is just changing tactics, as AP Images Spotlight points out.
"She said she plans to run in the next Manipur state elections, in early 2017, to fight to have the security act struck down. [pullquote]"I need power to remove this act," said Sharmila, 44. "I am the real embodiment of revolution."[/pullquote] Asked how she felt to finally eat, she said "I will never forget this moment."
Swachh Bharat Abhiyan ad commands respect
When PM Modi launched the Swachh Bharat (Clean India) campaign, it received a lot of hype. Everyone was urged to take part, yet over time all that enthusiasm has fizzled out. Well the new Swachh Bharat Abhiyan ad is sure to recapture that lost hype, especially since it plays so well with Indian sentiments. Jayshree Bele highlights the importance of the ad.
"When we talk about Cleanliness Is Next To Godliness, it's also about the country that we stay in. Thus, this ad by director Pradeep Sarkar named as '#DontLetHerGo is made to spread the Swachh Bharat Abhiyaan awareness. It features popular Bollywood actors Amitabh Bachchan, Kangana Ranaut Ravi Kishan & Isha Koppikar." [pullquote]It promotes cleanliness habits in the Indian society and makes sure that it isn't just our government's duty but we who need to respect our India as our home.[/pullquote]
Rakhi Sawant stuns in daring new dress
Rakhi Sawant is not new to controversy, in fact she thrives on it. Seems like she felt it was about time that she did something attention grabbing and lo and behold the Modi dress was born, as Akriti Mishra lets us know.
Rakhi Sawant always manages to grab the attention of media, whether it involves any controversy or dressing sense. "But this time, she has taken attention to a whole new level. You guys don't believe? This time she wore outfit with Narendra Modi's face printed all over it."
Ms. Sawant claims that she meant it as a compliment, and it should be noted that she has expressed her love for Prime Minister Narendra Modi on multiple occasions. However, the dress has gotten people talking, leading many to call her out for her ill taste. As The Quint reports, many are calling for action against her.
"According to a report on India.com, an FIA Chicago Trustee Mr Shareef was upset about Sawant's attire and said, "I'm sure the Consulate General will take action on this since he has always been very particular about the roles and there is an official code of ethics." [pullquote]I am demanding the Consulate should take action on this, having the Prime Minister's picture on your body in a half dress in this way just unacceptable.[/pullquote]"
Pokemon GO is a nuisance?
The launch of Pokemon GO has created a culture of its own. Its takeover has created quite a stir and that is even before it has been officially launched in the country. However, while young people are obsessed with the game, many others have pointed out the dangers of playing Pokemon GO, which include but not limited to self endangerment, public endangerment, and other safety issues. Citing these reasons, the Vadodara museum has banned Pokemon GO players from its premises. Prabir Ghose provides us with the details.
[pullquote]"Vadodara museum has officially banned Pokemon GO players from its premises because of security reasons and safety of visitors to the museum…[/pullquote]The museum administration have also increased security in the premises to tackle the nuisance of players walking into the premises. The apparent reason for this decision was reports from several guests and visitors who complained that Pokemon GO players were barging into the premises and disturbing them."
The news this week ranged from good to bad, covering everything from sports to politics. Do you think we covered all the news worth covering? Or do you think we ended up missing out on something? Hey, we are just human after all. Let us know your thoughts in the comments below.