Hello India! Little paper and plastic flags have started making an appearance at traffic signals and in trains, heralding the day which makes our hearts swell with pride. Monday will mark our 70th Independence Day and will make us realize once again that the date 15th August holds supreme importance in every Indian's heart. The day marks the India's freedom from years of British slavery and their oppressive reign of hundred years. 70 years in, India as an independent nation has made giant strides of progress. Now we want you to imagine what India will look like in 2050, and write a WOW post about it!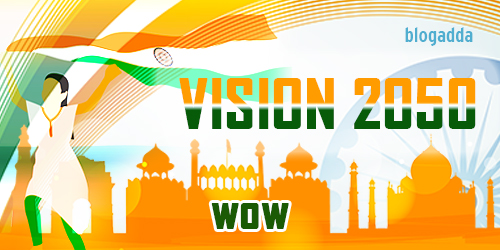 This week's WOW prompt is: Vision 2050
Every year on this day, India pledges to make sure that we continue to keep the spirit of freedom fighters alive, and make them proud of the milestones that we cross. We, as a sovereign state, may have our limitations, but we are united in our diversity. No nation is perfect, still, we can strive to be the best version of ourselves. What do you think that version can be?
Where do you see India by 2050? This week, we want a space on your blog dedicated to India, with a vision of where you think India will be in the year 2050. India is already seen as a force to reckon with in the world, and we'd love to hear what you, the citizens of India, think the potential of this nation is. And with that, we want to know how you will contribute to that vision in the coming days. This Independence Day, gaze out into the future and not just predict, but shape the flight of our Sone Ki Chidiya by 2050.
And what's more, the top 3 posts will win a pair of sunglasses, courtesy of BlogAdda and Miami Blues. Want to increase your chances of winning the sunglasses? Show us your love for India on Instagram or tweet to us your plans to do that lil bit effort in making India shine brighter. Don't forget to tag @blogadda with #CelebrateBlogging and #Vision2050 on your Instagram and Twitter before Sunday midnight to make sure we don't miss your Desh Bhakti!
Bloggers are requested to add the mandate line in their post and submit their entry through the submission form for their WOW entry to be considered valid. Remember, you have time only till Sunday midnight to submit your blog posts and have a chance to get the WOW badge!
Include this code:
'This post is a part of Write Over the Weekend, an initiative for Indian Bloggers by BlogAdda.'
Good news! There is now an easier way to submit your WOW entries, so just click on the submission link below for your WOW entry to be considered valid.

Every weekend, we give creative writing prompts for you to write blog posts. Hope you enjoy our creative writing inspiration for this week. 🙂