Dance while you can, because when you do so, happiness and celebration push through the doors to enter your life! This is going to be one of our favourite winner announcements as it is full of DANCE! We had given bloggers a chance to showcase their dancing skills with the help of #MaxFreshMove's Phase 3 activity. The BlogAdda team enjoyed watching your videos and we almost danced along and even tried to mimic your fantastic moves to the song! We were thrilled about the contest and now we're equally enthusiastic to declare the winners!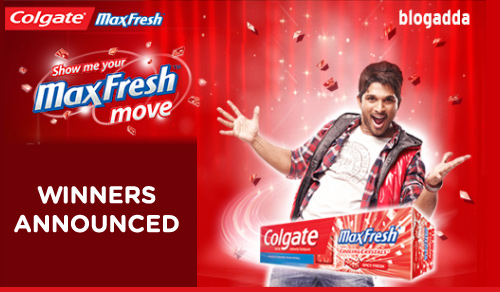 We thank all the bloggers to show us different ways to groove to the #MaxFreshMove song. We'll be copying them at our next party for sure!
Here are the names of the winners –
1st Prize (Voucher worth Rs. 30,000)
Hetal Kachalia
2nd Prize (Voucher worth Rs. 15,000)
Shivani Shourie
Best videos from each theme (Vouchers worth Rs. 5000 each)
Dance solo
Manisha
Dance with your friends or family
Kunal Chheda
Kids dancing to the music
Anshul Bhatia
10 runner-ups who win vouchers worth Rs. 3,000 each
4. Isha Khanna
6. Dr.Titas Kar
9. Amit Chahar
Congratulations to all the winners! Keep dancing, blogging and enjoying! Every valid entry will get a mail from us soon with information about their vouchers!
Now please pardon us as we take a break and go dancing to the #MaxFreshMove song. Check out the #SoftestForBabySkin activity at BlogAdda where you can get assured hampers and a chance to win vouchers worth Rs. 2500 each!