For a human so tiny, babies do tend to invoke a lot of reactions from adults. From 'Awww so cute!' to 'I want to nibble on its teeny little toes' (just kidding), we just can't seem to get enough of babies. But the one common response that babies elicit is protectiveness. When you're with a baby, all you want to do is make it safe, by filling its world with soft, comfortable and cuddly things. A baby's skin is the first barrier against the world, and keeping it warm and safe is the responsibility of the caregivers. And this is what we want you to write about in the Pampers #SoftestForBabySkin activity.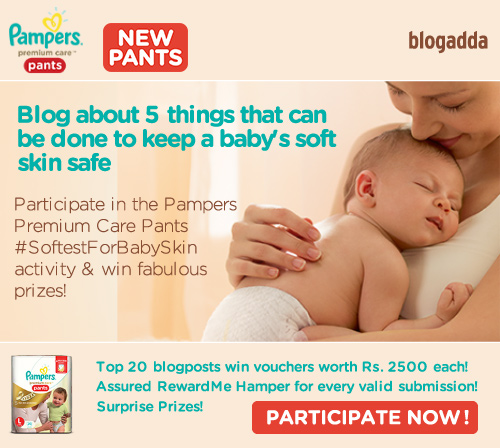 When it comes to babies, especially your own, you try to keep them as far as possible from problems, issues, dangers and anything that can poke a hole in their happy and safe bubble. Such a soft environment ensures the best conditions for a baby to play, laugh, learn and grow up perfectly. What's your way of ensuring that your baby's world remains soft and safe?
"Blog about 5 things that can be done to keep a baby's soft skin safe."
If you're closing this window thinking this is only for parents, STOP! The good news is, anyone can participate in this activity! Parents can write about their own experience, while bloggers who don't have kids can write about their 5 ideas of keeping babies' skin soft. It could be anything from buying only the softest fabrics for them to not letting them out in the sun without protection. Awesome, isn't it?
Prizes:
The top 20 blog posts will win vouchers worth Rs. 2500 each!
And yes, every valid blog post will get an assured RewardMe hamper worth Rs. 400!
There are also surprise prizes to be won during the duration of the activity, so keep your eyes and ears open!
Click on the button below to submit your entry!
Mandates for the activity:
The word limit for every blog post is a minimum of 400 words.
Please include the line, "Pampers brings you the softest ever Pampers Premium Care Pants. Its cotton-like softness is #SoftestForBabySkin and allows it to breathe, thus keeping baby's skin soft and healthy, and your baby happy. "
Only blog posts submitted through this form will be considered valid.
The last date for submission of this blog post is midnight, 30th November, 2015.
One blogger can write a maximum of 2 blog posts for this activity.
So get blogging, and make it a safer, softer world for babies!