The end of the year is a time for celebrations. Be it the age old traditional festivals or the modern ways of engaging in the fine arts and pleasures of life through music, dance and culture. Waves'15 at BITS Pilani KK Birla Goa Campus calling you to experience the edge in celebrating and escape reality to reach the inner heaven.
So what kind of a fine art engagement brings you alive at the brim? It could be dance, literature, music or dramatics. You need not choose one as Waves'15 promises you the best of everything. It is time to leave the good, better and the best of the year behind and dive into Waves'15.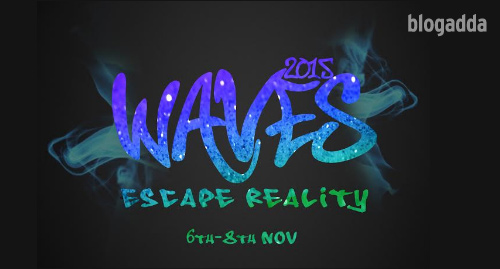 Waves is the annual cultural event of BITS Pilani KK Birla Goa Campus. This year the event will be held between 6th and 8th November 2015. The event is aimed to attract crowds from around the country and is one of the most awaited cultural events in the country.
The event has the best of Indian and International talent lined up for 3 days of unmatched and magical performances. Some of the eminent personalities stepping on the stage include names like Shankar Mahadevan, Malayali Guitar God Baju Dharmajan and more. From the international grounds we have Candice Groove to complete your musical cravings. If you think that is not enough, there is the AIB gang to make you bust a vein laughing.
From the finest of artists and performances we now tell you about the events at Waves'15. This year you can look forward to diversity and creativity come alive from across categories under one roof. Having created a mark for itself in the past years, this year too these events promise to give you long lasting memories.
So this November, surf the Waves at BITS Pilani KK Birla Goa Campus for three days of fun, engagement and rocking performances! For more information, log on to their website or check out their Facebook page.