If you are happy and you know it, then don't just clap your hands, DANCE!
We know everybody loves to dance. Some are good at it and some are not. Some dance alone, whilst others dance in groups, clubs, parties, weddings, roads… well basically everywhere! The point is, there is a dancer hidden inside you and it is time to unleash him/her to win the Colgate #MaxFreshMove contest.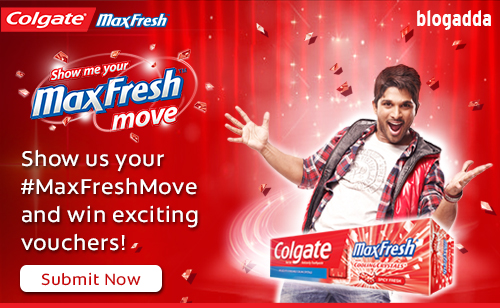 We'd like to thank all those who participated in Phase 1 and Phase 2. Those of who participated in Phase 1, we can't believe how well you meshed the music to some situations. And the ones who participated in Phase 2 of Colgate #MaxFreshMove Contest we've got your playlist and we love it! The winners will be announced soon! Keep your eyes open for the winner announcements on our blog. If you are looking for a contest with higher rewards then this is your chance!
#MaxFreshMove is back with Phase 3. In the previous phases, you had seen Allu Arjun and Anushka Manchanda grooving to the #MaxFreshMove song. We'd like to see how well you can groove to the same song. Do you give thumkas like Madhuri? Or, do you dance like someone with two left feet? Well, it doesn't matter because every person and their idea of dancing are unique. Therefore, we can't wait to see how well and differently you perform!
Submit videos filled with dance moves and it could be either one theme or more than one theme if you wish. The themes are as follows:
Theme 1 – Dance solo
Theme 2 – Dance with your friends or family
Theme 3 – Kids dancing to the music
You can perform either on one theme or more than one theme and submit it to us by August 23rd, midnight. You need to use the #MaxFreshMove song and dance to the music. This will make you win exciting vouchers!

Prizes
1st Prize – Rs. 30,000
2nd Prize – Rs. 15,000
10 runner-ups – Rs. 3,000
Best video from each category will get Rs. 5000
Vouchers worth Rs.1000 for first 100 valid entries
Mandates For the Activity:
Submit videos on more than one theme or all three if you wish, but, one is minimum.
The word limit for each blog post is a minimum of 200 words explaining how the song energized you!
Every blogger can submit maximum up to 3 blog posts with videos for this activity.
Every video has to be performed using Colgate MaxFresh pack as a prop and to the Taazgi ka Dhamaka tune.
5 Tweets and 2 Facebook posts about the activity is a must.
The blog post should contain the mandatory code "I am dancing for #MaxFreshMove activity at BlogAdda. If you are not blogging, you can join me by participating in this #MaxFreshMove facebook activity."
Only blog posts sent through the submission form will be considered valid.
The video should be minimum 25 seconds long.
The entry has to include a YouTube link of your video.
The blog posts have to be submitted before midnight of August 23rd, 2015.
First 100 valid entries will get selected for rewards, so submit your videos at the earliest!
If you are wondering how to make videos, then it is extremely simple! Here are some helpful links:
https://support.google.com/youtube/answer/2797449?hl=en
Remember, we will accept only YouTube videos as valid entries.
P.S. Those of you who participated in Phase 2 – we have included so many of your songs in our personal playlist, we'd like to thank you for eating up several MBs of our phones!
Grab your dancing shoes and get grooving!