A moment is all you are searching for, a moment in love with yourself. A moment of freshness is all we need to jump into a pool of things that otherwise just take a back seat. A road trip, a jam session or a song that is close to your heart, such pop ups have surprising and healing effect on us considering the amount of madness that we all go through in our everyday lives. It is time for a Taazgi Ka Dhamaka with music.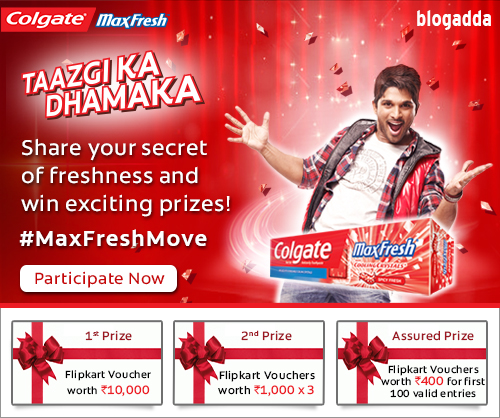 Music is passion for a lot of us. It is an age-old adage that music showers universal love. The blend of rhythmic sounds and lyrics that is available in huge diversity works like magic on our senses. So is music your window to freshness? If yes, then here is your chance to win exciting prizes in a musical activity. Share with us your rhythm divine and tell us how it brings you back to the state of liveliness.
Below are your two choices. Choose any one and blog on why your choices are the way to Taazgi Ka Dhamaka
 Tune in your beat with Taazgi Ka Dhamaka. Include this video and add 9 more music videos to make your own playlist.
Watch the music video of Taazgi Ka Dhamaka. Tell us which are your favourite dance moves by sharing screen shots of that particular step(s) from the video and where could they be used to freshen up the moment.
If you choose option one, you need to make a playlist of 9 best videos that you think of as energy boosters and share it along with the Taazgi Ka Dhamaka song/video. If you choose the second option, you need to watch the video of Taazgi Ka Dhamaka and pick your favourite dance moves from the song that you would love to groove on to freshen up your dull moments and blog about it.
Prizes
1st Prize – Rs. 10,000 Voucher
2nd Prize – Rs. 1000 x 3 vouchers
Rs. 400 assured vouchers for first 100 entries.
Click on the link below to submit your entry
Click To Submit!
Mandate for this activity
The word limit for each blog post is a minimum of 400 words
Embed this video in your blog post
Every blogger can submit up to 2 entries for this activity.(1 for each theme)
The blog post should contain the mandatory code "I am blogging for #MaxFreshMove activity at BlogAdda in association with Colgate MaxFresh"
Only blog posts sent through the submission form will be considered valid
The blog posts have to be submitted before midnight of July 14, 2015
So gear up, share your secrets and spread the freshness !