They say variety is the spice of life. We will go a step ahead and say that freshness is the fuel of life, something that we all crave. It is the one factor that keeps us going, which is why we look for freshness in everything from our food to our relationships and jobs.
Participate in the #MaxFreshMove contest and get a shot of freshness!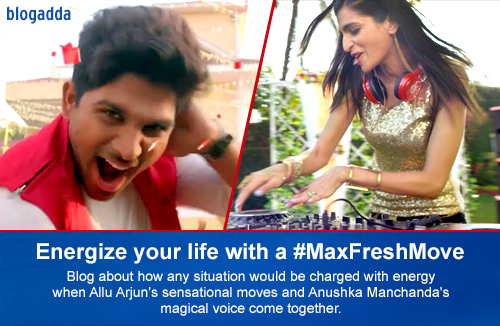 Everyone's way of bringing this freshness might be different, but the one thing that majority of people will agree with is that there is nothing better than some dance and music to jazz up your life. Be it unwinding with some music at the end of the day or venting energy in a club by busting some moves, dance and music make us shed our proverbial skin and renew our vigour for life.
When it comes to dance, there's no one better than Allu Arjun, and Anushka Manchanda accompanying the performance with her vocals would take it to another league altogether. Blog about how any situation would be charged with energy when Allu Arjun's sensational moves and Anushka Manchanda's magical voice come together.
The possibilities are endless – it could be the waiting lounge of an airport or a college festival. You can even be a director on your blog and dream up a situation where Allu and Anushka are performing together – for a movie or a concert!
We want you to get as creative as you can, because we have given you the best performers in the business to work with (through your blog post of course!)
Prizes:
1 x Rs 10000 Flipkart Voucher
15 x Rs 1000 Flipkart Voucher
Rs 500 Flipkart voucher assured for every valid entry!
Click on the link below to submit your entry!
Click To Submit!
Mandates:
For the Activity:
The word limit for each blog post is a minimum of 400 words
Every blogger can submit upto 2 entries for this activity
The blog post should contain the mandatory code "I am blogging for #MaxFreshMove activity at BlogAdda.com. Are you?
Only blog posts sent through the submission form will be considered valid
The blog posts have to be submitted before midnight of June 15, 2015
So put on some music for inspiration and get blogging for the #MaxFreshMove contest!