Picture this. You have just finished cooking a lovely meal for your family and friends for the party tonight. The house looks fantastic. You look great. Everything is a perfect setting for the party, yet there is something annoying. That constant twitch in your nose. A nagging scent that is not so appealing to the senses. Something smells dreadful. You are in a fix. You want to light up an incense stick or a scented candle but you are afraid that will make the house too smoky. The doorbell rings. Your guests have arrived. What do you do?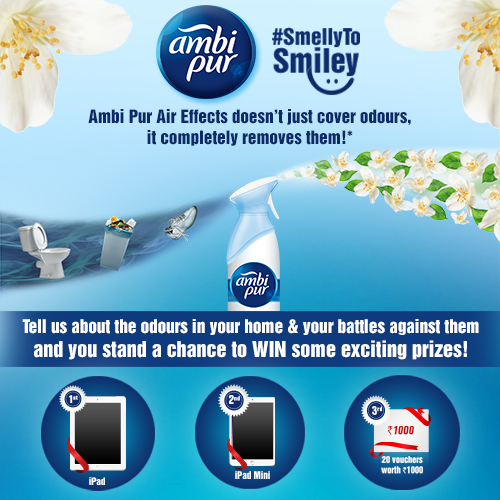 Participate in the #SmellytoSmiley contest with Ambi Pur on BlogAdda and breathe a sigh of relief.
There are several ways of making your home odour free. Flowers, incense sticks etc. However, we all know all of these options just last for a short time until you and your guests can pick up that horrid scent again. Ambi Pur Air Effects versus Regular Aerosols does not just help by covering the odours it helps remove them completely!
Wouldn't you like your home to be smelling fresh and lovely and want to have more get-togethers instead of going out all the time? During the crazy monsoon season especially when we get wet sock and smelly shoes after you or your kids return from school or from the playground, a house can smell quite bad.
Did you know more than 2/3rds of Indian husbands prefer meeting up with friends and extended family outside rather than at their own home due to bad smells. 89% of most Indian wives agree with their husbands that a bad smelling home is not a home to invite guests.
Several wives find it annoying and difficult while trying to get rid of odours like fish, wet clothes, garbage, and expectedly their husband do not like coming back to a smelly home too.
There would have been several times when you would be waiting for guests to arrive but have been struggling to get rid of that horrid smell from the house. In fact, you would have also faced several situations while visiting someone else at their homes too. 2 out of 3 women agree that household odors are common in every home.
You wouldn't like to punish your guests by making them sit in a smelly house, would you?
When it comes to making a great impression about the party at home, there is nothing better than to have an odour free home thanks to Ambi Pur Air Effects.
Tell us about the odours in your home & your battles against them and you stand a chance to WIN some exciting prizes!
Prizes:
1 x iPad
1 x iPad Mini
20 x 1000 vouchers.
Click on the link below to submit your entry!
Click To Submit!
Mandates:
For the Activity:
The word limit for each blog post is a minimum of 400 words.
Every blogger can submit upto 2 entries for this activity.
The blog post should contain the mandatory code "I am blogging for #SmellyToSmiley activity at BlogAdda.com in association with Ambi Pur
Only blog posts sent through the submission form will be considered valid
The blog posts have to be submitted before midnight of June 21, 2015